A messiah rises in this true-life story drama from the Dominican Republic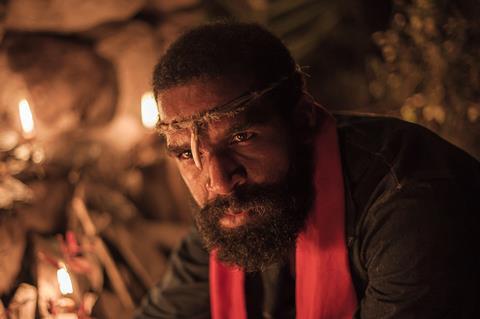 Dir. Nino Martínez Sosa. Dominican Republic/Puerto Rico/Qatar 2021. 99 minutes.
Having put the Dominican Republican on the world-cinema map with the Cocote in 2017, leading man Vicente Santos and producer Fernando Santos Díaz re-team for another religion-themed drama in Liborio. Recounting a fascinating episode from the Caribbean island's turbulent first decades of the 20th century, it's a solidly promising debut feature from director Nino Martínez Sosa who also shares production, writing and editing credits. World-premiering in competition at Rotterdam,
Liborio is generally a more accessible affair than Cocote and should enjoy a similarly busy festival run in the months ahead.
Subverts expectation at several crucial junctures
While this may be Martínez Sosa's first spell in the directing chair (apart from one 2014 documentary short), he has dozens of credits to his name as an editor, having learned the trade as assistant to Ángel Hernández Zoido (whose filmography includes several prominent box-office hits in Spain.) This highly seasoned pair share the cutting here, delivering seven brisk chapters which successfully eschew the slow cinema tendencies that still tend to dominate festival-oriented offerings from Latin America.
They sock over an arresting opening, as a husky, bearded fellow is drenched by a howlingly wild tempest in a hillside forest. Seeking refuge in a cave, he encounters a tethered goat who may or may not have divine and/or supernatural connections. Later sections identify the prologue's protagonist as Liborio (Santos), a religious leader — his philosophy a forerunner of Liberation Theology, his Christianity enriched by folk rituals — whose death-defying experiences during and after the storm are seen as a quasi-divine resurrection by his followers.
The remaining six segments are told from the perspective of a different character, each relating to Liborio in slightly different ways. The story proceeds in chronological fashion over a period of around eight years as Liborio's renown steadily spreads across the land. The passage of time is signalled most obviously by the character of Plinio, whose traumatic birth is supervised — and then salvaged — by the resourceful "witch doctor" Liborio, and who as a watchful little lad (engagingly played by Gabriel Medina) takes centre stage for the concluding chapter.
This section, and thus the film itself, ends on a satisfyingly abrupt, quietly dramatic note — one that, like much of what has gone before, takes a productively ambiguous stance towards Liborio's supposedly messianic qualities. Martínez Sosa and company provide hints that this charismatic individual may indeed be endowed with such abilities. One choice sound-editing flourish contrarily suggests that his follower Popa (Ramón Emilio Candelario) could actually be the gifted one; or maybe Liborio's talents somehow rub off on those around him.
An inspirational figure domestically at the time because of his commune's stern resistance to the 1915-16 invasion by the United States — events which trigger the nerve-racking, action-heavy climax here — Liborio is intriguingly reimagined for a new century's struggles. Featuring mainly hand-held cinematography by another old pro, Óscar Dúran, the picture unobtrusively evokes period and place as backdrop for a narrative which manages to subvert expectation at several crucial junctures.
Production companies: Balsié Guanábana Macuto, Quenepa
International sales: Pluto Film, info@plutofilm.de
Producers: Fernando Santos Díaz, Nino Martínez Sosa, Maite Rivera Carbonell
Screenplay: Nino Martínez Sosa, Pablo Arellano
Production design: Eumir Sanchez
Editing: Ángel Hernández Zoido, Nino Martínez Sosa
Cinematography:Óscar Dúran
Main cast: Vicente Santos, Karina Valdez, Fidia Peralta, Gabriel Medina, Ramón Emilio Candelario, Jeffrey Holsman, Anderson Mojica