Behind the scenes at Egypt's unorthodox training camp for champion female weightlifters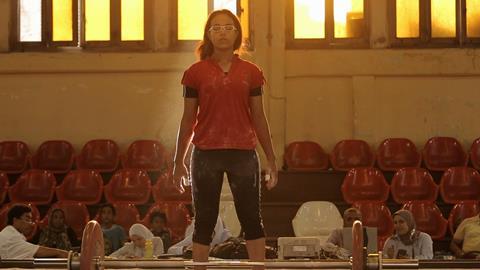 Dir/scr. Mayya Zayed. Egypt, Germany, Denmark. 2020. 92 mins
Filmed over the course of four years, this scattershot but engaging documentary follows Zebiba ('raisin' in Arabic), the latest potential Egyptian female weight-lighting champion to come from the stable of unorthodox coach Captain Ramadan. In fact, to call it a stable is misleading in that it suggests that the Captain's training facilities have a roof. Rather, the wizened, bluntly forthright Captain shapes the weightlifters of the future in a rubble-filled vacant lot next to the screaming traffic of an Alexandria highway. Although cluttered in its approach, the film is deceptively deep: covering sporting ambitions; gender roles and the motivating power of a certain kind of personality.
Deceptively deep
Having premiered at TIFF in September, this fly on the wall picture is starting to enjoy a healthy festival run, picking up prizes at DokLeipzig and Cairo International Film Festival. With its crackling energy and warmth, this is certainly a crowd pleaser, and could prove attractive to specialist documentary distributors looking for novel angles on tales of female empowerment.
Central to the film is the enormous personality of Captain Ramadan. With a voice like ground glass and a tendency to break out into jubilantly crude songs when one of his girls places at a competition, the Captain has a training approach which is as rough as the patch of wasteland where he berates his aspiring weightlifters day in, day out.
Zebiba (real name, Asmaa), who is fourteen at the film's opening, is the most promising of the current crop. And perhaps for that reason, Captain Ramadan is particularly hard on her, describing her as a "rascal" and a "piece of shit". The constant hectoring sounds a lot like bullying at times, but it clearly works. Captain Ramadan's "Factory of Champions" has produced four Olympic, nine World and seventeen Pan African champion female weightlifters, including his own daughter, Nahla Ramadan, a former World champion and Olympian. More importantly, his students think the world of him. The filmmakers are clearly enamoured of the Captain, and understandably so. But this does mean that there is a little bit too much aimless hanging around, listening to the Captain's gravelly monologue as he chainsmokes his way through noxious-looking cigarettes.
While the Captain doesn't treat his female trainees with kid gloves, the very fact that he has dedicated twenty years of his life to creating an Egyptian women's weightlifting movement is, in this still largely patriarchal society, somewhat revolutionary. But the film throws up some interesting gender contradictions. While Ramadan will happily chuck a piece of rubble at heckling boys, stating that "prioritising boys is outdated; girls need to be as strong as a bull," the Captain's choice of language is telling. He repeatedly tells his trainees to "be a man, to lift like a man."
Punctuated by a cheerfully clanging score which sounds as though it is being bashed out on the scrap metal that is strewn around the training space, the film changes tone strikingly after a key event, leaving Zebiba adrift but with the determination that the Captain's camp has imbued in her.
Production company: Cleo Media, Jyoti Film, Rufy's Films
International sales: contact@cleo-media.com
Producer: Mayya Zayed
Cinematography: Mohamad El-Hadidi
Editor: Sara Abdallah
Music: Marian Mentrup