A single mother struggles to protect her pregnant daugter in Mahamat-Saleh Haroun's Cannes Competition title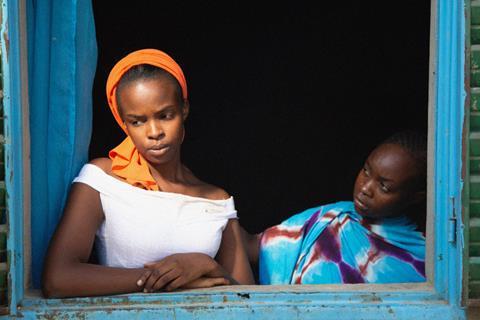 Dir/scr: Mahamat-Saleh Haroun. Chad, France, Belgium, Germany. 2021. 87mins
A single mother living in the outskirts of N'Djamena in Chad, Amina (Achouackh Abakar Souleymane) must not only toil to support herself and her 15-year-old daughter, Maria (Rihane Khalil Alio), she also has to deal with the stigma and the judgement of society for her unmarried status. The discovery that her daughter is pregnant – mirroring her own fate – tips her already delicately balanced existence into a desperate freefall, in this schematic and rather naïve piece of storytelling from Mahamat-Saleh Haroun.
In its own rather clunky way, this strikes a blow for feminism in central Africa
This is the seventh feature from Haroun, who is a fixture on the festival circuit, having previously won the Jury Prize in Cannes, 2010, for A Screaming Man and the Special Jury Prize in Venice, 2006, for Dry Season. This picture however, although solid and socially engaged, seems unlikely to follow suit. With its rather familiar narrative of women oppressed by the twin forces of patriarchy and religious conservatism, it may struggle to connect with audiences beyond the festival circuit.
There are moments, though, that are intriguing and richly informative. And one such moment is the film's wordless opening sequence which follows Amina, clad in a filthy shapeless t-shirt and dripping with sweat, as she attacks a truck tyre with a machete. It's back-breaking work, and it takes a while before we understand what is the point of it all: the tough metal wires that she strips from the tyre rims which are then painstakingly fashioned into woven metal baskets. These she hawks along the screamingly busy city streets, weaving serenely in her brightly coloured abaya between deathwish motorcyclists with a teetering pile of metal baskets balanced on her head. It's a moment which is symbolic of Amina's life in general – she negotiates a precariously balanced existence with grace and dignity.
Perhaps the reason that this opening sequence stands out is it's one of the few instances in the film in which Haroun chooses to show rather than to tell. Much of the rest of the story is imparted through flat and declamatory dialogue. Take the marriage proposal from the rather handsy older neighbour who attends the same mosque as Amina, a proposal which doubles as a fairly direct chunk of exposition. "Everyone scorns you because you are a single mother", he announces. "I'll give you protection."
Maria's plight is a grave one. Her school, having somehow discovered that she is pregnant, has expelled her. "It's bad for our image," says the school principal. Amina's religious faith means that she is vehemently anti-abortion – she slaps her daughter for even suggesting it. But Maria insists that she wants to terminate the pregnancy: "I don't want to be like you. Everyone thinks you're a loose woman." The fact that abortion is outlawed in Chad means that the operation will need to be done covertly, and at considerable cost. Despite her reservations, Amina strives to find the money to buy her daughter back her future.
Haroun sketches a society which is sharply divided along gender lines, with the men either hectoring blowhards (the Iman) or worse (the neighbour), and the women forced to band together to outwit them. In its own rather clunky way, the film strikes a blow for feminism in central Africa, and Amina, who strikes several literal blows on the man who impregnated her daughter, ends the film unexpectedly empowered by the experience.
Production companies: Pili Films, Goï-Goï Productions, Beluga Tree, Made In Germany
International sales: Films Boutique valeska@filmsboutique.com
Producers: Florence Stern, Diana Elbaum, Melanie Andernach
Cinematography: Mathieu Giombini
Editor: Marie-Helene Dozo
Music: Wasis Diop
Main cast: Achouackh Abakar Souleymane, Rihane Khalil Alio, Youssouf Djaoro