Dir. Garth Davis. Australia, 2016, 120 mins.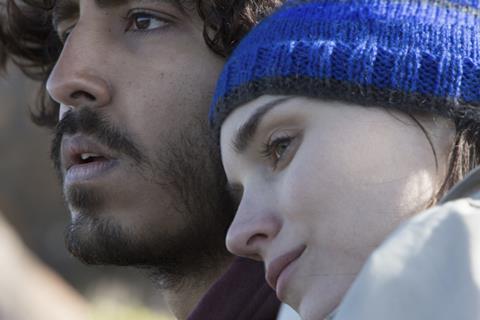 It was an astonishing story that only true-life can deliver: Saroo Brierly, lost at the age of 5, found on the streets of Kolkata, adopted by an Australian family. Decades later, with only the vaguest memories of his village, he used Google Earth to find his way home. This is the kind of overwhelming story that cinema often doesn't distil very well, but in the hands of Garth Davis (Top of the Lake) Lion becomes a dignified, authentic yet highly-moving crowd-pleaser. With knockout performances from Dev Patel, Nicole Kidman and the young Sunny Pawar, Lion should straddle both commercial and awards play, welcome news for backer The Weinstein Company which is a past master in both arts.
There may be a sense of inevitability about Saroo's ultimate destination, but what counts here is the journey.
Comparisons will be drawn with Slumdog Millionaire, but this is a far grittier pearl. Probing insistently at the tangled ideas of family and brotherhood through Greig Fraser's elegant camera, Lion proves to be a powerful and distressing reminder of how fragile and disposable a child's life can be. Yet its most truly Dickensian scenes are played out calmly, with respect, meaning this is a film which consistently engages. It's only at the end that this 120-minute feature bows to inevitability and the score begins to over-state its case – but by then, Lion has earned an indulgence.
Although Dev Patel headlines, Sunny Pawar leads the way. Most of the film and certainly its most successful elements are set in a parched, dusty India where train tracks frame the story. And if Lion isn't in India, the country is in the heads of its leading characters. Starting out on a steam engine in the northern province of Khandwa in 1986, Davis gives us the brothers Gaddu (Abhishek Bharate) and his adoring acolyte Saroo (Pawar), who steal coal in exchange for milk to bring their labourer mother (Priyanka Bose).
One night Saroo begs to be brought along when Gaddu goes to find work, and the two are separated when Saroo falls asleep on a station platform. He becomes trapped in a locomotive travelling 1600 miles to Kolkata and, in short order, his very existence – let alone survival – has become tenuous, beyond fragile. He speaks Hindi, not Bengali, making him even more isolated. He steals food from offerings to Ganesh. He watches as street kids are rousted; he meets a woman who sets him up with a dangerous man; he ends up with the police but doesn't know his mother's name or where his village is – he calls it Ganestelay, but that's an approximation.
But Saroo is lucky. He is adopted by a loving couple from Tasmania, John and Sue Brierley (David Wenham and Nicole Kidman). They also take in a second child from India, who is far more troubled than Saroo.
If India is dust and orange and vast spaces in which to frame a tiny child, Tasmania is wild and beautiful as Davis positions his camera above, drawing parallels to Google Earth's perspective and tilting his players' worlds on his axis. The Australian sequences are more difficult to stage, with Davis forced to shut down one chapter and move into an entirely different arena with brand new players. He's helped tremendously by the quality of his cast. Dev Patel more than holds the centre as the adult Saroo, the lost boy who finds it impossible to become a man. Nicole Kidman is magnetic as his forceful adoptive mother Sue, and Rooney Mara helps as the girlfriend he meets on a hotel management course in Melbourne. The script, by Luke Davies, is consistently sensitive.
Davis, making his much-anticipated debut here after the admired Top of the Lake, which he co-helmed with Jane Campion, never seems to struggle, however: Lion is always calm. When Saroo becomes haunted by Gaddu, it seems like a natural thing, mirrored by his struggles with his adoptive brother. Fittingly, with its Indian roots, Lion has a strongly spiritual element. The story dictates that Saroo should spend a lot of time on Google Earth, of course, but Davis doesn't allow the search to weigh down the film's themes. By this time, anyway, much of the audience will be reaching for their handkerchiefs.
A word for Lion's technical team: Davis' achievement in capturing Saroo's trek across India is notable. While Greig Fraser's beautiful camerawork is clearly a star, and the framing never less than striking, production design by Chris Kennedy is also spot-on, giving a redolent sense of space without resorting to the usual colour-splash sub-continent clichés (the team even managed to close Kolkata's Howrah Bridge for some of the film's most affecting shots). And sound: the noise of India fades in and out as it might to a child. Silence at crucial moments returns to a deafening clamour.
If Saroo's story seems out-of-this world, the team behind this film have risen to meet the challenge it sets. There may be a sense of inevitability about Saroo's ultimate destination, but what counts here is the journey.
Production company: See -Saw Films
International sales: The Weinstein Company
Producers: Emile Sherman, Iain Canning, Angie Fielder
Executive producers: Bob Weinstein, Harvey Weinstein, David C. Glasser, Andrew Fraser, Shahen Mekertichian, Daniel Levin
Screenplay: Luke Davies, from Saroo Brierley's A Long Way Home
Cinematography: Greig Fraser
Production design: Chris Kennedy
Editor: Alexandre de Franceschi
Music: Dustin O'Halloran, Hauschka
Main cast: Nicole Kidman, Dev Patel, Rooney Mara, David Wenham, Sunny Pawar, Abhishek Bharate, Divian Ladwa, Priyanka Bose, Pallavi Sharda