Insightful, wide-ranging documentary explores Liv Ullmann's life and work in cinema and activism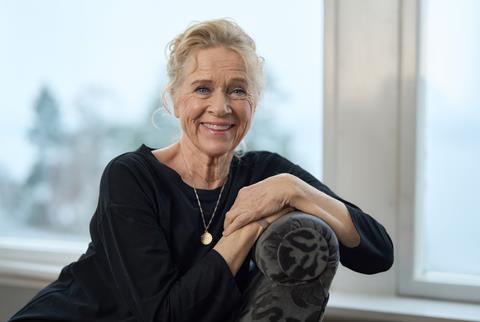 Dir. Dheeraj Akolkar. Norway. 2023.132 mins
If you didn't already adore Liv Ullmann then you will after watching Dheeraj Akolkar's elegant, admiring documentary. Liv Ullmann – A Road Less Travelled does full justice to Ullmann's life and career as an actor, writer and director. There are fulsome tributes and choice clips but, more importantly, lengthy interviews with Ullmann who is typically candid, insightful and self-deprecatory. A tailor-made feast for cinephiles and arts channels (there is a feature and three-part TV version available), this is also the perfect excuse to revisit some of Ullmann's landmark performances.
Does full justice to Ullmann's life and career as an actor, writer and director
Akolkar previously directed the documentary Liv And Ingmar (2012) and has worked with Ullmann on subsequent projects. Divided into three chapters ('The Actor', 'The Storyteller', 'The Traveller'), the film begins in Hollywood in March 2022, as Ullmann receives an honorary Oscar. We are then lead through her life story from her birth in Tokyo in 1938 to post-war Norway and her decision to pursue an acting career. She jokes about her disbelief at being rejected for theatre school and their inability to recognise her talent, and recalls her early film work on Edith Carlmar's The Wayward Girl (1959). She also discusses her relationship, both personal and professional, with Ingmar Bergman, who told her that they were "painfully connected".
There are clips from Persona (1966) and The Passion Of Anna (1969), illustrating Ullmann's wonderfully expressive eyes and how the intense scrutiny of a lengthy close-up allowed her to reveal so much about her characters' inner thoughts. The film also boasts behind the scenes footage from the shooting of A Bridge Too Far (1977), Autumn Sonata (1978) and others, and is filled with fascinating tales of the acting process. Ullmann talks honestly of her time in Hollywood, where Rock Hudson was charmingly protective of her, and her refusal to play the games of glamour and celebrity. She recalls Broadway triumphs, including A Doll's House (1975), opposite Sam Waterston, and Anna Christie (1977) with John Lithgow.
Throughout the film, we see Ullmann reading extracts from her books Changing (1977) and Choices (1984). They capture her sense of compassion and curiosity about the world, her desire to engage with it and her capacity to analyse and reflect on her life choices. She is open, fair-minded and well-adjusted as she considers how she was constantly striving to become a more fully-rounded person. Elsewhere, Akolkar has chosen his interview subjects wisely from among those who have known and worked with Ullmann. Cate Blanchett and Jessica Chastain are clearly in awe of her, but there is such genuine affection and admiration for Ullmann that you can excuse some of the gushing.
If nothing else The Road Less Travelled should lay to rest the lazy label perennially attached to Ullmann of being 'Bergman's muse'. There is an inextricable connection with Bergman that runs throughout her career, but also so much more to her life. The 'Storyteller' chapter, for example, celebrates her work as a writer and director, including the 2009 stage production of A Streetcar Named Desire with Blanchett and the 2013 film Miss Julie with Chastain.
Later, 'The Traveller' chapter focuses on Ullmann's work with the International Rescue Committee, her time as a UNICEF Ambassador and her part in forming the Women For Refugee Women and Children organisation. She clearly has an admirable ability to connect with individuals and to understand wider political issues through the plight of one person or one family.
The Road Less Travelled is perhaps a little light on Ullmann's personal life, although her grandson accompanies her to the Oscars and her nephew recalls her love and support when he came out as gay. It is a small quibble with an otherwise compelling, wide-ranging film; one which packs an emotional punch as we grow to comprehend the full extent of what Ullmann has achieved, and her importance as a champion of women in what she has too often found to be a male-dominated world.
Production companies: Teddy TV, Vardo Films
International sales: Teddy TV/Viaplay Content Distribution, vimish.gandesha@viaplaygroup.com
Producer: Kaare Hershoug
Screenplay: Kaare Hershoug
Cinematography: Haug Hallgrim
Editing: Tushar Ghogale, Jacob Risdal Otnes
Music: The Nerve, Universal Production Music
Features: Liv Ullmann, Cate Blanchett, Jessica Chastain, John Lithgow