Dir. Bao Nguyen, US, 2015, 81 mins.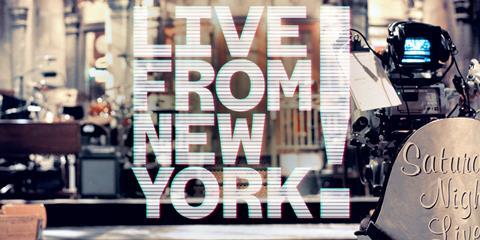 Opening the 2015 Tribeca Film Festival , the documentary Live From New York! skips briskly through 40 years of US satirical comedy institution Saturday Night Live. At 81 minutes and crammed with appearances from US comedy royalty alongside politicians and news commentators, Live From New York! is easy, modest small-screen viewing and should perform nicely, even in overseas markets where the show isn't quite so familiar (although its comedians certainly are). After 800 episodes, though, Saturday Night Live is almost too much for one documentary: every topic director Bao Nguyen bounces off seems to merit its own show – in particular, that first Saturday night in 1975, with producer Lorne Michaels assembling Garrett Morris, Laraine Newman, Jane Curtin, Dan Ackroyd, Chevy Chase, John Belushi and Gilda Radnor.
It features a seemingly endless procession of the world's funniest men and women, from Steve Martin and Chevy Chase through to Tina Fey and Dana Carvey, Chris Rock, Jimmy Fallon, Leslie Jones and Andy Samberg.
There are other elements of Saturday Night Live which might merit feature-length investigation – how the show reacted to 9/11, for example (New York's then-Mayor, Rudolph Guiliani, comes on to reminisce). Or how Tina Fey and Amy Poehler, with their skewering of Sarah Palin and Hilary Clinton (not to mention Darrell Hammond and Al Gore), changed political careers; or even Sinead O'Connor ripping up a picture of the Pope – to see her trembling in front of the camera is to remember a time when the Catholic Church was thought to be beyond such reproach.
Other parts of Bao Nguyen's documentary are less successful – SNL's much-discussed chauvinism, for example, and its lack of diversity, sit uneasily in this zippy run-through, deserving a more considered approach in a film which is a little less reverential. There's also an element of radical subversion from 1975 in a post-Vietnam, pre-Guiliani rough-and-tough New York City (the film starts with Gil Scott-Heron's The Revolution Will Not Be Televised) which Nguyen fails to follow through on. When Chevy Chase (almost unrecognisable now) says: "It was time to destroy TV," he meant it. How those early shows came together – who dominated, what was deemed acceptable, and what didn't make the cut in those three months of pre-production – is the untold story of Live From New York! How influenced were they by Monty Python or That Was The Week That Was? Questions remain. Nguyen's documentary certainly leaves the viewer wanting more.
Executive produced by SNL's costume designer Tom Broeker, Live From New York! devotes time to the look of the show, as well as its ground-breaking use of musical acts (Howard Shore being the original music director). Nguyen and his team also interview writers, guests (Candice Bergen and Alec Baldwin in particular), politicians (Al Gore, Ralph Nader) and political commentators and a seemingly endless procession of the world's funniest men and women, from Steve Martin and Chevy Chase through to Tina Fey and Dana Carvey, Chris Rock, Jimmy Fallon, Leslie Jones and Andy Samberg. Jones and Fallon are irrepressible while Fey, understandably as a writer, takes a more analytical approach. More, though, could easily be heard from Julia-Louis Dreyfus – how did she come to make her debut as a 21-year-old on SNL with no real idea about the comedy business? It's clear she thinks the show was sexist, but Live From New York! is too jam-packed to investigate further.
Technically, Live From New York is unambitious, using a wealth of archival material alongside talking heads in a display of editing professionalism. It's a look which doesn't stray too far away from the rough-and-ready ethos of its subject.
Production companies: Jumpline, Behind The Line Productions
Producers: J. L. Pomeroy, Kimmie H. Kim, Sarah Cowperthwaite, Owen Moogan
Cinematography: Caleb Heller, Bao Nguyen
Editors: Marikeiko Gonzalez, David Osit
Featuring: Jimmy Fallon, Tina Fey, Rudolph Guiliani, Amy Poiehler, Dana Carvey, Al Gore, Leslie Jones, Fran Lebowitz, Jane Curtin, Andy Samberg, Julia-Louis Dreyfuss, Adam Horowitz, Alec Baldwin, Steve Martin, Candice Bergen, Chevy Chase, Chris Rock, Paul Simon.