Dir: Werner Herzog. US, 2016. 98mins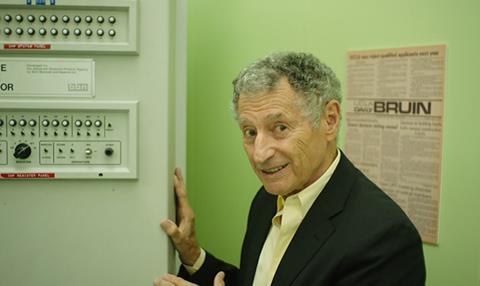 Examining the internet not as blessing or curse but simply as a staple (and reflection) of modern life, Lo And Behold, Reveries Of The Connected World is a modestly profound and consistently fascinating musing.
Much like the world wide web itself, the documentary seems to stretch out in lots of different directions, offering much to consider and plenty to absorb.
Unconcerned about delivering any sort of definitive exegesis on an impossibly complicated subject, documentary filmmaker Werner Herzog instead happily ambles around, speaking to hackers and radio astronomers, entrepreneurs and web historians, to get a sense of how the internet has shaped our lives in ways great and small. As is often the case with Herzog's films, Lo And Behold features colourful characters and a playfully cosmic spirit of awe, but the movie can also be incredibly moving and sobering.
Debuting at the Sundance Film Festival, Lo And Behold should appeal to Herzog's fans, although that audience could expand because of the topical subject matter, provoking coverage from tech-centric media outlets and scientific publications. (Even concerned-parents groups may be interested due to the documentary's portrayal of the internet's invasive dangers.) Good reviews and strong festival play should translate into decent theatrical business.
Divided into chapters, Lo And Behold offers no grand thesis, merely offering a collection of diverse talking heads who speak about their own experiences with the internet. (Appropriately, the documentary begins with Leonard Kleinrock, a computer scientist who was at UCLA in 1969 when the internet was, essentially, invented.) Although Lo And Behold addresses the disturbing downsides of an interconnected society, Herzog is largely in a more light-hearted, philosophical mode, veering closer to the contemplative, hushed tone of Cave Of Forgotten Dreams than the stark moral seriousness of Into The Abyss, which dealt with America's death penalty system).
One suspects that experts in, say, artificial intelligence or internet ethics — merely two of the topics touched upon in Lo And Behold — will be frustrated that Herzog jumps around from issue to issue rather than doing a deep dive into any specific one. But that criticism would miss the director's desire to conduct a broad overview of our evolving online existence.
Herzog clearly wants to begin a conversation about how we, as people, start to come to terms with the fact that the internet is rewriting social norms while making us more and more dependent on its technology for even the most basic of services. (One of the film's best sections concerns an examination of how everything from solar flares to catastrophic natural disasters could cripple essential infrastructure which is now reliant on the internet.)
True, any of Lo And Behold's 10 chapters could be expanded into its own feature-length documentary, but Herzog's glancing blows at different issues result in a film that's thought-provoking and pleasingly open-ended. Many of Herzog's documentaries are, at their core, reveries about what it means to be human, and Lo And Behold is no different, providing him the launching pad to discuss everything from manned trips to Mars to the elusive nature of falling in love. Above all, the film seems to be a necessary acknowledgment of how little we think about our growing online world. In this regard, Lo And Behold's buffet-style discourse calls attention to the many conversations we aren't having about this ubiquitous, powerful, still nascent tool.
Although the film is presented by NetScout, a cyber security company, the director makes sure to include both the best and worst tendencies of the internet, showing us remarkable innovations produced by far-flung individuals but also shining a light on some who have been victimised by or addicted to online communities. (In a poignant digression, Herzog even visits a tiny town where there is no internet, the city's inhabitants shunning the technology because they believe its radiation is making them sick.)
In the past, Herzog has sometimes set his interview subjects up to be oddball laughingstocks, but Lo And Behold avoids the freak-show exhibitionism to give us a compassionate menagerie of thinkers, scientists and ordinary men and women who, because of the web, are more connected now than they would have been at any other time in human history. That's a quiet but impactful point made by Lo And Behold, and it's not the only one. Much like the world wide web itself, the documentary seems to stretch out in lots of different directions, offering much to consider and plenty to absorb.
Production companies: Saville Productions, NetScout, Pereira & O'Dell Entertainment, Skellig Rock
International sales: Magnolia Pictures
Producers: Rupert Maconick, Werner Herzog
Executive producers: Jim McNiel, Dave Arnold, Tennille Teague, David Moore
Cinematography: Peter Zeitlinger
Editor: Marco Capalbo
Music: Mark degli Antoni, Sebastian Steinberg