Fanny Ardant shines in Nadir Moknèche's warm drama about a trangender parent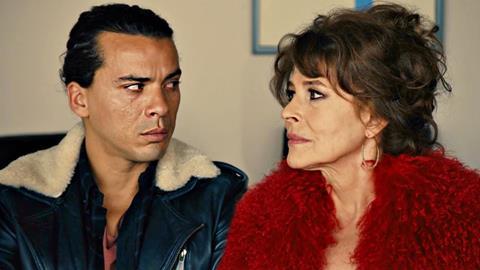 Dir/scr: Nadir Moknèche. France/Belgium. 2017. 95 mins
The path from resentment to reconciliation may be well-worn but it is travelled with a good deal of charm and sensitivity in Lola Pater. The story of a father and son reunion is given added complication with the discovery that the father is now a woman and it is a captivating central performance from Fanny Ardant that lends this modest drama commercial appeal, especially when it opens in France on August 9.
Lola Pater may be sentimental but Ardant's performance grounds everything in an emotional reality
The first feature from Nadir Moknèche since Goodbye Morocco (2012), stars Twefik Jallab as piano tuner Zino. When his mother dies, Zino goes in search of Farid, the father he hasn't seen in twenty-five years. The couple never divorced and, if nothing else, the father needs to know that he benefits from the estate.
Farid has fully transitioned into Lola (Ardant), a transgender woman who runs belly dancing classes and has a female partner. Zino is initially hostile to the very idea that Lola is the father he never knew, muttering: "I don't know why I don't bash your head in." We suspect only too readily that the anger will melt into acceptance sooner or later, but it is how the film gets there that makes it worthwhile.
Setting aside the issue of whether a transgender actor should have been cast in the role, Fanny Ardant is completely endearing as Lola. She captures a winning sense of both weary vulnerability and brave defiance. Lola is far from perfect but she has chosen to embrace life and been true to her own desires. In the way she carries herself and the vulgar, eye-catching wardrobe and high heels the character sports, Ardant's Lola presents herself to the world as a confident woman and dares anyone else to disagree.
We never question Lola's transgender identity but merely connect with her humanity because of a performance that is subtle and heartfelt. Ardant even carries off a drunk scene in which an excess of Dutch courage transforms Lola into an embarrassment for her son. Ardant is constantly looking in mirrors to scrutinise the woman she has become or testing whether she can still charm a man. Assertions of her femininity and allure reflect a need for reassurance, stressing the insecurity beneath an apparently strong facade. It is a real thrill for her when she is described as a "cougar".
Every other character feels underdeveloped compared to Lola but Twefik Jallab nicely underplays the role a young man with his own emotional insecurities. Nadir Moknèche never plays anything for cheap laughs and maintains an admirable sense of restraint throughout. There are elements of humour, misunderstanding, a few flashbacks that never feel intrusive and even when the film takes a turn towards the melodramatic it quickly gets back on course.
Lola Pater may be sentimental but Ardant's performance grounds everything in an emotional reality and helps the film succeed as a story of embracing life and whatever face it presents to you.
Production companies: Blue Monday Productions, Versus Production
International sales: Doc & Film International sales@docandfilm.com
Producers: Bertrand Gore, Nathalie Mesuret, Jacques-Henri Bronckart, Olivier Bronckart
Cinematography: Jeanne Lapoirie
Editor: Chantal Hymans
Music: Pierre Bastaroli
Production design: Johann George
Main Cast: Fanny Ardant, Tewfik Jallab, Nadia Kaci