Dir: Ferzan Ozpetek. Italy. 2010. 113mins.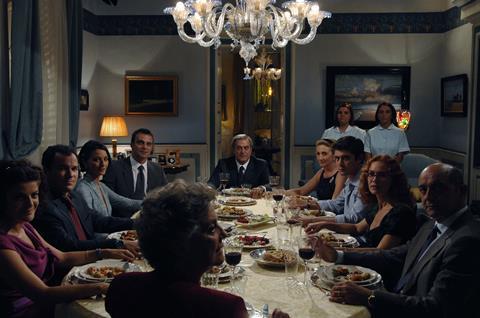 After struggling with his last three films, Italo-Turkish director Ferzan Ozpetek is back on form with the breezy but passionate Loose Cannons, a likeable and commercially viable coming-out comedy set in Italy's Deep South. With its themes of family secrets, oddball character parts, bittersweet tone and sunny outlook, this is the easily the most Almodovar-esque of all Ozpetek's films.
This film suggests that Ferzan Ozpetek is moving towards a contemporary revival of the commedia all'italiana genre, which can only be good for him and for audiences
Italian to its core, the film will work especially on home ground, where it is set for release on March 12 through 01 Distribuzione. It may be old hat in Hollywood, but Ozpetek proves that in other territories there is still plenty of mileage in the coming out story, not least because provincial attitudes lag well behind the urban norms. Unfortunately, however, this could mean that the mainly metropolitan audience for foreign language fare might view this as a sweet but rather dated curio that's a little too broad to be taken seriously.
Set in Lecce, a sandstone city in the heel of the Italian boot, the film focuses on the extended Cantone family, who make pasta on an industrial scale. Within three minutes, Ozpetek's restless camera is circling a table of happy Italians eating their meal in the courtyard of a big old Pugliese house: youngest son Tommaso (Italy's current favourite romantic lead Riccardo Scamarcio) is just back from his studies in Rome, while serious elder brother Antonio (Preziosi) manages the pasta factory. Haughty mother Stefania (Savino), jovial but over-demanding father Vincenzo (Fantastichini), wise grandmother Oma (Occhini), and eccentric, sexy aunt Luciana (Ricci) complete the family portrait.
But their prosperous contentment turns out to be a sham. The next day, Tommaso confesses to his brother that he harbours ambitions to be a writer and is studying literature in Rome rather than business. He also announces that he is gay. But that evening Tommaso is trumped when, just as he is about to announce his secret, Antonio steps in and drops his own bombshell – he himself is gay, and has been having an affair with a worker at the factory.
Unbelieving and then incensed, patriarch Vincenzo casts Antonio out of the family nest, and then suffers a minor heart attack – at which point Tommaso is forced to put his own revelations on hold and step into the family business he's been trying all his life to get away from.
Ozpetek has changed co-writers a few times recently, but in Ivan Cotroneo, he seems to have found a congenial spirit able to channel that mix of social comedy and social comment that the director has always favoured but never quite nailed. Stories of unrequited love – including a sequence involving the grandmother – lend emotional heft, while Tommaso's attempts to teach his parents some modicum of tolerance while keeping his own secret under wraps provide some moments of comedy.
But the all-out laughs only kick in when Tommaso's boyfriend and three other gay friends turn up from Rome, and are sold to the townspeople by proud Vincenzo as 'lock up your daughters' lotharios.
There's a sense in Loose Cannons that Ozpetek, after experimenting with ever more lurid forms of melodrama, is moving towards a contemporary revival of the commedia all'italiana genre. Which can only be good for him – and for audiences.
To sign up for Screen's weekly Reviews Newsletter with all the week's new releases, international openings and full festival reviews delivered free to your mailbox every Friday, please click HERE
Production companies
Fandango
Rai Cinema
International sales
Fandango Portobello Sales
(44) 20 7605 1396
Producer
Domenico Procacci
Screenplay
Ivan Cotroneo
Ferzan Ozpetek
Cinematography
Maurizio Calvesi
Production design
Andrea Crisanti
Editor
Patrizio Marone
Music
Pasquale Catalano
Main cast
Riccardo Scamarcio
Nicole Grimaudo
Alessandro Preziosi
Ennio Fantastichini
Lunetta Savino
Ilaria Occhini
Daniele Pecci
Carolina Crescentini
Elena Sofia Ricci