A man living in isolation falls in love with a wounded woman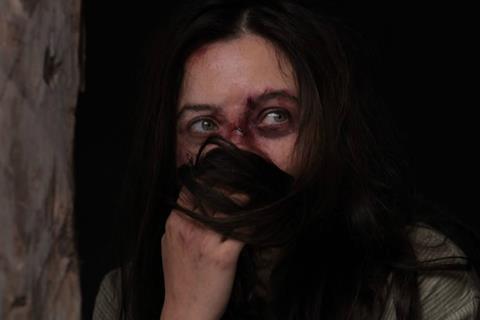 Dir: Florin Șerban. Romania-Poland. 2018. 103mins
Simion (Valeriu Andriuta) lives in isolation in forests at the foot of a mountain range, his only company being donkey and a dog. Then he finds a young woman, Irina (Cosmina Stratan), beaten almost to the brink of death and brings her back to his cabin, where he gradually nurses her back to health and begins to fall in love. But his rough-hewn woodsman's social skills leave him ill-equipped to deal with emotional complexities, and his desire to protect her morphs into a need to avenge and possess her. This austere, atmospheric but slow-moving drama leaves much unsaid, with ominous question marks hovering over the past lives of both characters.
The story is one which is deliberately unmoored from a specific period
Love 1. Dog is the first of two films dealing with the theme of love from Romanian director Florin Șerban. The second, Love 2. America, has yet to screen. This is Șerban's fourth feature and represents a move away from the gritty naturalism of his Berlin Silver Bear-winning breakthrough picture If I Want To Whistle, I Whistle (2010) and towards a more more mythic, enigmatic style. It should see further festival interest following on from its premiere in Sarajevo, yet this intriguing but low key film might not have the momentum to propel it into the theatrical circuit.
Șerban's use of location – a vast expanse of Romanian forest – is striking. Repeated wide shots show Simion's figure dwarfed by the pine trees and the vast, indifferent craggy foothills of the mountain range. It's a beautiful place, but a cruel one, which is stalked by wolves that "will eat each other when they are hungry."
The story is one which is deliberately unmoored from a specific period. There are no clues which anchor the film in the past or the present. The interior of the home is a simple peasant dwelling with no electricity and rudimentary furniture. It could be a tale from the last century; equally, it could be set right now, the story of a man who has retreated from the modern world.
What's certain is that Simion has the kind of timeless skills that a ranger needs to stay alive. He kills and cooks his own food, over a fire outside. And when he runs his hands over Irina's limbs to check for broken bones, its with the practise of a man who has tended injured animals in the past — and has most likely put several them out of their misery.
If Simion is dour, with hard edges of anger which show through occasionally, at least he is easy to read. Irina, however, is an enigma. She refuses to reveal the details of what caused her injuries; she says nothing about her past. Perhaps its the fact that she is unknowable which makes Simion possessive of her in a way which can only, ultimately drive her away. While there is a quietly fascinating quality to Stratan's stillness and restraint on screen, the evasiveness of the character gives us very little to work with, and means that the film is ultimately not as satisfying as it could have been.
Still, it is an accomplished piece of filmmaking: unhurried, unvarnished, with just the bare minimum of a score embellishing a soundtrack which tunes us in to the haunting sounds of this wild and isolated place.
Production company: Fantascope, Harine Films
Contact: oana.kelemen1@gmail.com
Producers: Florin Șerban, Florentina Onea, Oana Iancu, Izabela Igel
Screenplay: Florin Șerban
Editing: Florin Șerban
Cinematography: Marcin Koszalka
Production design: Mihaela Poenaru
Music: Pauchi Sasaki
Cast: Cosmina Stratan, Valeriu Andriuta