Family tensions are exacerbated by tragedy in Koji Fukada's emotional melodrama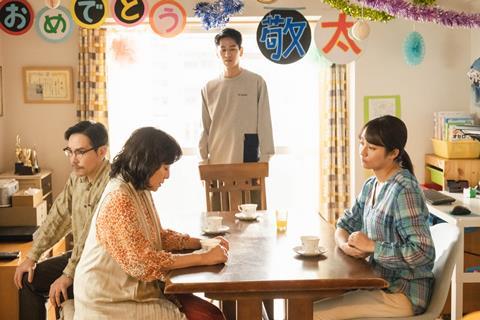 Dir/scr: Koji Fukada. Japan/France. 2022. 123 mins.
Sometimes the closest of families can find themselves the furthest apart from each other. Taeko (Fumino Kimura) and her husband Jiro (Kento Nagayama) live with Keita, her six-year-old son from her first marriage, in a port city in southern Japan. Jiro's parents reside in a neighbouring apartment. But what at first seems a convivial set-up is strained by tacit tensions. And then a tragedy strikes, bringing Taeko's deaf and vulnerable ex-husband Park (Atom Sunada) back into her life, straining her current marriage to breaking point. The latest picture from Koji Fukada is an unabashed melodrama which puts both its characters and its audience through an emotional wringer, but strains credibility at times.
Relative proximity and distance between the characters becomes a recurring detail
This is the first Venice outing for Fukada, who previously won the Jury Prize at Cannes' Un Certain Regard in 2016 for Harmonium. His previous film, The Real Thing, was named as part of the cancelled Cannes 2020 selection. Love Life is handsomely mounted and perceptively observed, with Kimura in particular delivering a persuasively complex performance. As such, it should prove to be a popular addition to further festivals. Arthouse interest is not out of the question, however this picture lacks the flashes of humour which bring levity to the similarly sentimental domestic portraits of Hirokazu Kore-eda.
Fukada takes a song as his inspiration for this story. Akiko Yano's early 1990s ballad 'Love Life', which plays out in full at the end of the picture, contains the line, "Whatever the distance between us, nothing can stop me loving you". Relative proximity and distance between the characters becomes a recurring detail throughout the film. It's an effective device.
The air is sucked out of an intimate family celebration in Jiro and Taeko's compact apartment by the fact that Jiro's father can barely bring himself to look at Taeko, such is his disappointment in his son's choice of wife. Later, it's not until Taeko has crossed the sea to Korea that she can see more clearly her relationships with husbands past and present. And there's a particularly poignant shot in which Taeko and Jiro, reunited after a period apart, decide to go for a walk together, elegantly framed in a single uncut shot. The space between them, although not more than a couple of metres, seems almost insurmountable.
Love Life is at its most acute in its observations on the way that grief can divide as well as unite; the way that two people, on the same page about everything else, might be very differently affected by a bereavement. The wedge between Taeko and Jiro, prompted by a freak accident for which Taeko, rightly or wrongly, shoulders the blame, is driven further by the arrival of Park. Taeko's ex-husband, who walked out on her four years before, looks as though he has been living in a bin. Even so, he exerts a pull on his former wife, in part due to the fact that they share a means of communication — Korean sign language — which shuts out everyone else around them.
Taeko's empathetic instincts mean that she is inclined to prioritise the needs of the vulnerable above all else. But belatedly she comes to realise that it was arrogant to assume that, just because Park is deaf, he must be a victim; just because he is homeless, he must need help; just because he is disabled, he must be blameless.
Production companies: Nagoya Broadcasting Network, Chipangu, Comme des Cinemas
International sales: mk2 Films, quentin.bohanna@mk2.com
Producers: Yasuhiko Hattori, Masa Sawada, Yuko Kameda
Cinematography: Hideo Yamamoto
Production design: Daichi Watanabe
Editing: Sylvie Lager, Koji Fukada
Music: Olivier Goinard
Main cast: Fumino Kimura, Kento Nagayama, Atom Sunada, Hirona Yamazaki, Misuzu Kanno, Tomorowo Taguchi, Tetta Shimada