Phlippe Garrel stays true to form in this tangle of love and sex starring his daughter, Esther, Eric Caravaca and Louise Chevillotte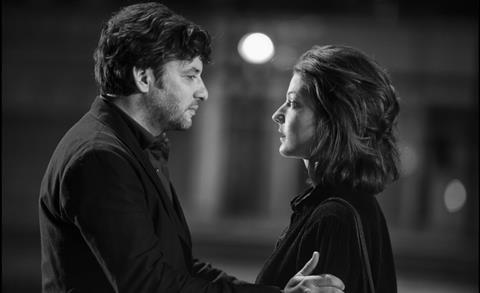 Dir. Philippe Garrel. France. 2017. 75mins
A delectable wisp of a film about love versus desire and young love versus mature love, Lover for a Day (L'Amant d'un jour) proves that, for half a century, Philippe Garrel has remained true to his roots with youthful panache. (He was born in 1948 and made his first feature at the age of 19.) While not quite as lilting and affecting as 2015's In The Shadow Of Women, this Directors Fortnight premiere knows what it's doing and does it well.
There are wonderful, quintessentially French flourishes scattered throughout
The basic premise could lend itself to either comedy or tragedy. A young woman who breaks up with her fiancé shows up as an emotional basket case at her father's door only to discover that dad's live-in girlfriend is the same age as she is: 23. Distraught Jeanne (the director's own real-life daughter, Esther Garrel) crashes on the couch while her father Gilles (Eric Caravaca) and Ariane (Louise Chevillotte) share a bed in the nearby bedroom of the smallish apartment.
A female voice-over fills us in on useful details. For example, "At the university, nobody knew that Ariane was Gilles' mistress."
Ariane is always up for a quickie, as we learn early on when she and Gilles, a philosophy professor whom she met in a class, have torrid sex up against a wall in the not-exactly-romantic staff toilets. For those in search of possible trends in French cinema, there are no fewer than three bouts of carnal ravishment in the upright position in less-than-optimally hygenic settings.
Garrel and veteran DP Renato Berta, shooting in splendid black and white, offer up a workaday Paris made of stairwells, near-empty streets, public toilets, spartan bedrooms, cafés, restaurants and kitchens. There's not a speck of glamour.
That leaves raw emotion, particularly doubt, dismay and jealousy. In Garrel's unmistakable universe, relationship queries are never far from anyone's lips. Gilles meets a 40ish man on campus and the new acquaintance asks him if he's married. When Gilles says he used to be, the guy's next question is, "how did you fare with being faithful?". Gilles gives a one-word French reply that means "Not so great."
A working definition of what it means to be "faithful" is central to the narrative and gives the film's title its punch. Since classmates have no idea that Ariane is shacked up with Gilles, younger men hit on her.
"Some people are faithful to things that have no meaning for others," says Gilles. But he's terrified of losing Ariane. Ariane assures Jeanne that she'll get over her abruptly ex-boyfriend Matteo. Ariane also believes that there's nothing wrong with casually sleeping around for the component of pure physical sensation. But she counsels that women who share her view should make sure their primary male partner is none the wiser when they stray.
There are wonderful, quintessentially French flourishes scattered throughout. For one thing, everybody still smokes indoors with unapologetic gusto. (That's been illegal for several years.) An unexpected development involving a magazine cover is a resolutely 21st-century detail in a movie that proudly harkens back to a low budget filmmaking template made popular in the second half of the 20th century.
Some viewers may find it difficult to believe that Gilles could ever attract a vivacious young woman less than half his age let alone hang on to her. He's borderline homely and hardly radiates charisma — if he's supposed to be a philosophy professor he doesn't seem to have seen enough Eric Rohmer films. And yet, Ariane's obvious sexual appetite and forthright approach to coupledom render him almost sexy against the odds.
A lot happens in just 75 minutes of screen time, offering viewers emotional fallout that lingers much longer.
Production companies: SBS, Arte
International sales: SBS International, contact@sbs-distribution.fr
Producers: Saïd Ben Saïd, Michel Merkt
Screenplay: Philippe Garrel, Jean-Claude Carrière, Caroline Deruas & Arlette Langmann
Cinematography: Renato Berta
Editor: François Gédigier
Production design: Emmanuel de Chauvigny
Music: Jean-Louis Aubert
Main cast: Eric Caravaca, Esther Garrel, Louise Chevillotte