A trio of female wrestlers do battle in and out of the ring in Juarez, Mexico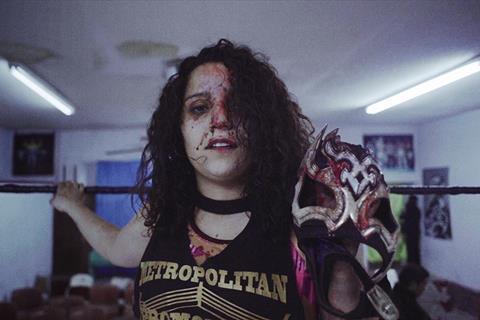 Dirs: Paola Calvo, Patrick Jasim. Germany, Mexico. 2021. 92mins
The Mexican city of Juarez seems like hell on Earth, particularly if you're a woman: an outlaw town, with one of the highest murder rates in the world, its most heinous feature is the routine murder of female factory workers – often abducted by bus drivers who are meant to be taking them home. From this bleak milieu, directors Paola Calvo and Patrick Jasim have fashioned something that is disturbing, yes, but also powerfully uplifting. Their prism is the world of Lucha libre – Mexican wrestling – focusing on three indomitable female wrestlers with battles in and out of the ring. It's an incredibly strong documentary, whose potent combination of the exotically particular and the grimly universal ought to see it travelling far beyond its borders.
The film builds a touching picture of female solidarity and self-empowerment
Those outside Mexico may be most familiar with the world of Lucha libre from the Jack Black comedy Nacho Libre. The reality is no less bizarre, featuring colourfully dressed wrestlers, often masked, displaying a series of flamboyant, high-flying moves and dastardly behaviour to enthusiastic audiences.
The focus here is on the experiences and aspirations of three, very different luchadoras. Lady Candy has a job in a funeral home (where there's no escaping the city's body count), but her passion is the wrestling ring, where this sweet-faced young woman is a formidable fighter. Outside work, she's on a mission to win back her two daughters, whisked illegally across the US border by her abusive ex-husband. Baby Star, a member of a dynasty of wrestlers, hopes to rebuild the successful career in the fight scene's mecca, Mexico City, which was sidetracked when she had a child. The oldest of the three, Mini Sirenita, is a wrestling dwarf who works in the factories and dreams of leaving the ghetto for a better life.
Their world is dominated by machismo and violence. "I've always wondered who brings the white sheet after a shooting," muses one of Candy's neighbours, as they observe a crime scene in their neighborhood. A wall is covered in missing persons posters, all women's faces, while the TV news reports the murder of a female activist who has been speaking out against the climate of femicide.
At the same time, though, the film builds a touching picture of strongly bonded female-centred families – single mothers, daughters and sisters – female solidarity and self-empowerment. One of the more joyous scenes is of a group of schoolgirls on a formal visit to the wrestling gym, for a lesson in self-defence. "This is our holy ring," they're told. "Here we cry and laugh and learn."
Production is polished and evocative, whether highlighting the contrast of the gorgeously glistening city lights from afar with the ghetto starkness up close, creating a lovely luchadoras tableau in the desert, or getting down and dirty in the low-rent wrestling venues, where the exuberant action is accompanied by an appropriately mariachi-inflected soundtrack.
There's no escaping the irony that a violent sport is helping these women in their self-expression and independence - and they really do endure some scary knocks and beatings along the way. But it's unlikely, in spirit at least, that these threw luchadoras would ever be out for the count.
Production company: Tumult
International sales: Rise & Shine. diana.karklin@riseandshine.berlin.de
Producer: Phillip Kaminiak
Screenplay: Patrick Jasim, Paola Calvo, Phillip Kaminiak
Editing: Gines Olivares
Cinematography: Patrick Jasim
Music: Lonski & Classen
Features: Lady Candy, Baby Star, Mini Sirenita