An intriguing debut from Malta, backed by Ramin Bahrani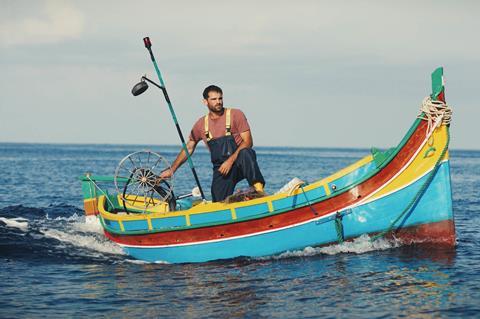 Dir/scr: Alex Camilleri. Malta. 2021. 94 mins
The luzzu – the traditional Maltese fishing vessel, with its cheerful primary coloured paint job, doubled-ended hull and eyes painted on its prow – is more than just a boat. Just as fishing the waters around the island of Malta is more than just a job for a man like Jesmark (Jesmark Scicluna), who has followed generations of the men of his family onto the sea. The impressive feature debut from Maltese-American writer and director Alex Camilleri manages to be both self-contained, in its depiction of an embattled community, but also unexpectedly far-reaching in its themes. The film is an exploration of masculinity in crisis, of the attrition of traditions by the forces of progress and of the agonies and uncertainties of new parenthood.
The choice to cast non-professional actors in the key roles brings an additional layer of authenticity
Camilleri, who also edited this picture, is a long-time collaborator of Ramin Bahrani, with assistant editor credits on several films and a Sigur Ros music video. In turn, Bahrani served as producer on Camilleri's short film, Prickly Pear, which screened at TIFF, and on this feature as well. The novelty of the film's Maltese setting, plus Bahrani's name should help to draw attention to a picture which will also likely benefit from positive word of mouth in further festival slots. And while the film doesn't break new ground with its socially conscious, naturalistic approach, it is compelling enough as both a character study and a persuasive account of a threatened way of life to be of commercial interest.
The choice to cast non-professional actors in the key roles brings an additional layer of authenticity: the grizzled fishermen clearly know their way around not only the boats but also the history and mythology which surrounds them. But – crucially – the casting decision is not at the expense of the quality of performances. In the central role, Scicluna is particularly impressive. Initially, Jesmark is explosively combative; even his closest relationships are characterised by a jostling, bickering tension. His brows hang over his eyes like storm clouds as he struggles with the knowledge that he is unable to provide for his wife Denise (Michela Farrugia) and their new baby Aiden, who is failing to thrive. But as he is forced to contend with his own failure, and the judgement of his wife's affluent family, Scicluna's performance grows more subdued, the Mediteranean machismo is muted, the briskly muscular energy of his movements is slowed.
Jesmark has never left the island and never looked beyond the traditional fishing techniques that supported generations of his family before him. His boat, a 12-footer named Ta' Palma, carries the paint print of his own foot, pressed against the wood when he was a baby. It also carries with it the legends of the men who came before him – his father who "with superhuman strength" rowed the boat and his catch back to shore when the engines failed; his grandfather who sheltered from a storm downwind from a ship and made it all the way to Tunis. The boats are a source of pride and honor to the men who work them, but also an intolerable burden.
With his marriage under threat, Jesmark is desperate. He's also resourceful enough to know that he can make himself useful to the new boss of the market where he sells his catch. Drawn into the boss' inner circle, he discovers a black market economy, adept at gaming the very system which has pushed Jesmark and his fellow Luzzu fishermen to the brink of bankruptcy.
Superb sound design emphasises a key wrench in the film's latter part, and a montage of the unblinking eyes on boats delivers another unexpected emotional punch.
Production company: Noruz Films, Luzzu Ltd, Pellikola, Maborosi Films
International sales: Memento Films International, sales@memento-films.com
Producers: Rebecca Anastasi, Ramin Bahrani, Alex Camilleri, Oliver Mallia
Editing: Alex Camilleri
Cinematography: Leo Lefevre
Production design: John Banthorpe
Music: Jon Natchez
Main cast: Jesmark Scicluna, Michela Farrugia, David Scicluna, Uday Maclean, Stephen Buhagiar