A terminally ill man contemplates his mortality in Anucha Boonyawatana's meditative film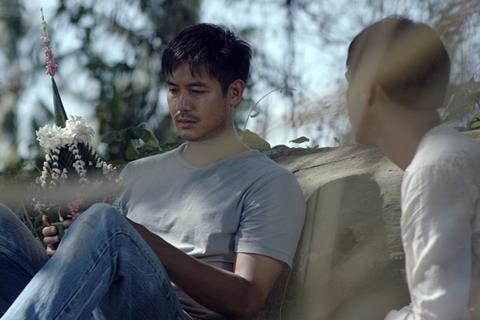 Dir/scr. Anucha Boonyawatana. Thailand, 2017, 97 mins.
With an eye for natural splendour and a feel for humanity's existential fears, Malila: The Farewell Flower adopts a fitting metaphor for the fragility of life and the inevitability of death: the art of crafting Thai Bai Sri ornaments.
Boonyawatana takes a patient but textured approach
Intricate, eye-catching ceremonial structures fashioned from folded banana leaves and threaded white jasmine flowers, they wilt and wither even as they're being made — a fact that isn't lost on the film's cancer-afflicted protagonist, who escapes into the pastime to find solace from his ailing condition.
Jumping from poetic parallels to hallucinatory interludes with rotting bodies, embracing a broad spectrum of attitudes to mortality and filling the frame with detailed greenery might sound like the domain of Apichatpong Weerasethakul. Yet writer/director Anucha Boonyawatana not only follows confidently and elegantly in his footsteps, but makes her own lasting imprint. Still, evident similarities between the compatriots should help boost Malila's appeal with festival audiences following its Busan premiere, as should the movie's gentle queer romance, Boonyawatana's second in as many efforts after 2015's The Blue Hour.
Where that Berlin-bowing debut took its coming-out premise into darker terrain — also with the dead playing a dream-like part — Malila is careful to find hope in its contemplative musings. With Bai Sri proving a more positive force than medication or chemotherapy, the outwardly calm, inwardly worsening Pitch (Anuchyd Sapanphong) doesn't rally against his terminal illness, but rather opts to do whatever makes him happy. Reuniting with Shane (Sukollawat Kanaros) happens by chance, but, like weaving floral arrangements, falls into that category.
Left by his wife and forever changed by his daughter's death, Shane has his own troubles to bear and his own path to walk. Physically, the former lovers first wander together, cutting through swathes of overgrown reeds to revisit the haunts of their past, reminisce and remember better days; spiritually, they ultimately move forward alone.
Already planning to become a monk as a brief respite from his ills, Shane eventually commits as a way of coping with Pitch's fate. After his training, the Buddhist practice of facing the fleeting nature of life by meditating over cadavers proves a difficult yet unexpectedly cathartic next step — as well as an opportunity to say goodbye.
Understanding the complexity of her topic, as well as the simple truth that mortality is something we all must confront, Boonyawatana takes a patient but textured approach. Nothing here is rushed or hurried, from tender conversations to hard moments; everything within its frames oozes detail, be it shared glances that say more than words, luscious grass and tropical growth, or the challenging sight of a decaying body. Indeed, once again working with cinematographer Chaiyapruek Chalermpornpanich, she lets the film's images do much of the talking. Dialogue, from a script co-written with fellow returning collaborator Waasuthep Ketpetch, isn't sparse but rather judiciously deployed, adding emotion where it's needed but knowing when words won't do.
Kanaros and Sapanphong give thoughtful performances synchronised with the feature's ruminative air, with the duo bringing naturalism and grace to their lead roles. There's an effortlessness to their portrayals that's brimming with nuance, never underplaying nor overstating the weight of their characters' respective tussles with life, death, grief, pain or uncertainty — a balance matched by the film itself.
The film's only other significant cast member, Sumret Muengput, also offers up a measured but effective turn as the more experienced monk guiding Shane through his meditative task, and the catalyst for his breakthrough.
Production company: G Village Co-Creation Hub
International sales: Reel Suspects, info@reelsuspects.com
Producers: Anucha Boonyawatana, Donsaron Kovitvanitcha, John Badalu, Kaneenut Ruengrujira, Jutamas Kaewchat
Screenwriters: Anucha Boonyawatana, Waasuthep Ketpetch
Cinematographer: Chaiyapruek Chalermpornpanich
Editors: Chonlasit Upanigkit, Lee Chatametikool
Music: Chapavich Temnitikul
Main cast: Sukollawat Kanaros, Anuchyd Sapanphong, Sumret Muengput