Dir: Aisling Walsh. Canada/Ireland. 2016. 115mins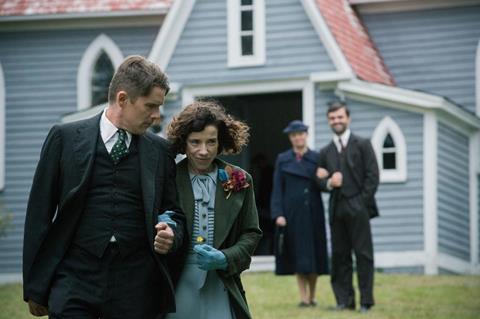 A romantic drama with a scruffy integrity, Maudie is, for better and for worse, an actorly exercise in presenting an audience with two wilfully peculiar characters and then trying to find a way to make us fall in love with them. Based on the true story of the marriage between arthritic painter Maud Lewis and her monosyllabic fishmonger husband, this modest curio benefits greatly from the prickly rapport between Sally Hawkins and Ethan Hawke, producing a familiar and eventually affecting movie about finding a little contentment amidst a world of heartache.
Like a lot of marriages, it's occasionally excruciating being around Maud and Everett. But in the end, you can't imagine your life without them.
Premiering at the Telluride Film Festival before moving to Toronto's Special Presentations, Maudie will court buyers on the strength of its previously Oscar-nominated leads. But with few acquainted with Lewis or her paintings, the movie may experience a short theatrical window — in fact, VOD could prove an attractive option for this minor-key offering.
Spanning about 35 years, the film begins in the late 1930s in Nova Scotia as Maud (Hawkins), who suffers from crippling arthritis and a curved back, seeks to break free of her overprotective family, taking a job as a live-in maid for the cantankerous loner Everett Lewis (Hawke), who sells fish around the community. At first, he doesn't want her interfering with his insular, rural life, but soon a stubborn affection develops between them, leading to marriage as Maud begins to find her voice as a painter.
Director Aisling Walsh and screenwriter Sherry White don't make it easy on the viewer, refusing to do anything to make either of these odd characters more lovable. Agonisingly self-conscious because of her ailments, Maud is so socially awkward that she struggles to conduct even the simplest of conversations. Meanwhile, Everett, who grew up an orphan, seems to detest humans, initially treating Maud less well than his dogs and chickens. (In a fit of rage, he even strikes her.)
But although Walsh and her stars dramatise this love affair as one that begins almost by default, Maudie uses that ambiguity to suggest the mysteries of romantic coupling. The film's high-wire act of telling a story about such an unlikely pair requires both actors to test just how far they can push their characters' eccentricities.
Hawkins' big eyes convey Maud's relief at meeting someone who learns to accept her, while Hawke's gruff exterior softens slightly as his character finally discovers a person who makes him feel safe. Portraying Maud's stiff gait, nervous smile and hunched posture, Hawkins could easily have devolved into disease-of-the-week showiness. Instead, she exudes a bruised sweetness that's wholly organic, ably navigating Maud's emotional highs and lows as her so-called naïve-art renderings of animals and landscapes start gaining notoriety at the same time she discovers dark family secrets.
By comparison, the layers of inarticulate rage within Everett can make Hawke's performance feel monotonously pained. At its weakest, Maudie defiantly withholds pleasure or insight as these characters stumble around in their insecurities while failing to make a connection with each other. But once the film finds its rhythm, the story's gentle twists — accentuated by Michael Timmins' elegiac score — feel so unhurried that they take on an offhand, everyday grace.
If ultimately Maudie doesn't have much new to say about love or art, at least its two misfits provide an insight into something deeply true about long-term commitment. Like a lot of marriages, it's occasionally excruciating being around Maud and Everett. But in the end, you can't imagine your life without them.
Production companies: Mongrel Media, Telefilm Canada, The Newfoundland and Labrador Film Development Corporation, Ontario Media Development Corporation, The Harold Greenberg Fund, Bord Scannán na hÉireann/The Irish Film Board, Corner Piece Capital, LLC, Citadel Canadian Films Inc., Rink Rat Productions, Screen Door, Parallel Films
International sales: Mongrel International, Charlotte@mongrelmedia.com
US sales: CAA, filmsales@caa.com
Producers: Bob Cooper, Mary Young Leckie, Mary Sexton, Susan Mullen
Executive producers: Heather Haldane, Hussain Amarshi, Mark Roberts, Sheldon Rabinowitz, Ross Jacobson, Ed Riche, Tyler Mitchell, Alan Moloney, Johanna Hogan
Screenplay: Sherry White
Cinematography: Guy Godfree
Production design: John Hand
Editor: Stephen O'Connell
Music: Michael Timmins
Website: www.mongrelmedia.com/international/film/maudie.aspx
Main Cast: Sally Hawkins, Ethan Hawke, Kari Matchett, Gabrielle Rose, Zachary Bennett, Billy MacLellan