Dir: Rodrigo Sorogoyen. Spain, 2016, 126 mins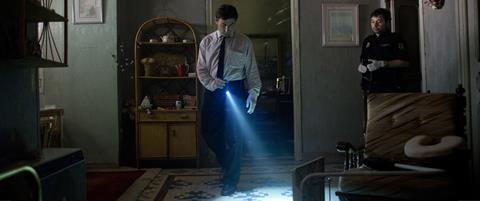 A dark, not quite by-the-book police procedural thriller, May God Save Us has a distinct touch of stop-me-if-you've-heard-this in its observation that some cops can be as disturbed as the criminals they're pursuing. A distinct shift for Spanish director Rodrigo Sorogoyen following his acclaimed Stockholm (2013), his third feature has a confident energy that should make for healthy business when released domestically by Warners in late October following a San Sebastian debut - especially given high-profile leads Antonio de la Torre and Roberto Álamo, the poster's main selling point.
Much of the film feels as if it was assembled from a 'Maverick Cops For Dummies' manual
However, without the distinct geographical and visual interest that gave 2014 Spanish thriller Marshland its art-house crossover appeal, May God Save Us is unlikely to have much of a prayer beyond Spanish-speaking territories.
The setting is Madrid in the baking summer of 2011, with the city on edge in anticipation of a papal visit. Homicide cop Alfaro (Roberto Álamo, best known to international audiences for Almodóvar's The Skin I Live In) is undergoing disciplinary action after his short fuse led him to attack a colleague.
Assigned to investigate what turns out to be a spate of rapes and killings of elderly women, he teams up with Velarde (de la Torre, another Almodóvar alumnus in Volver, also seen in TV's The Night Manager), a brilliant if unorthodox investigator with his own proverbial demons to combat. Velarde is a solitary man with a stammer, living alone with his collection of vinyl LPs, and with a shy longing for his apartment building's attractive cleaner (Maria Ballesteros).
The plot thickens, but not quite satisfyingly. There's a red herring pinned to a likely suspect and casually tossed aside; a bracing chase sequence in which our men pursue the real perp through a crowded city, with catastrophic results; and a conveniently efficient psychological profiler who walks in to announce that the suspect is someone with major oedipal issues. No surprise, then, when a young man shows up with a distinct touch of Anthony Perkins…
The most distinctive touch comes at the end, with one cop experiencing a dramatic moment of truth in a coda set three years after the main action. In most other ways, however, the film is steeped in cliché. Alfaro and Velarde are a regulation chalk-and-cheese duo – one a volatile macho blowhard with domestic tribulations that drive him off the rails, on the other a cerebral loner with mother issues of his own; it doesn't come as any surprise when Alfaro achieves a breakthrough by trying out an odd tactic of Velarde's.
There's tension with rival cops who nevertheless end up buddying up with our heroes, and a hostile apparatchik superior (a nicely snide José Luis García-Pérez). Much of the film feels as if it was assembled from a 'Maverick Cops For Dummies' manual, and the clumsiness isn't helped by distinct over-acting from both leads and some crass characterisation touches: Alfaro's mental state is signaled at one point by him staggering battered down the street, carrying clanking plastic bags of bottles.
The film's worst offense, however, is in showing zero interest in its female roles – neither Amparo's wife (Rocio Muñoz-Cobo) nor Velarde's love interest become anything more than functional figures, and it defies belief that the latter would stick around to lighten our man's life, given his behavior in one uncomfortably misjudged scene.
The graphic display of the victims' corpses, and one scene that shows the killer going about his brutal work, give the film a distinctly callous edge of misogyny. Bustlingly shot by Alex de Pablo, especially in the central chase sequence, the film nevertheless doesn't quite convince in its evocation of edgy Madrid street life, while the religious thematics suggested by the title never feel more than cursory background colour.
Production companies: Tornasol Films, Atresmedia Cine, Mistery Producciones AIE, Hernández Y Fernández PC
International sales: Latido Films, www.latidofilms.com
Producers: Gerardo Herrero, Mikel Lejarza, Mercedes Gamero
Screenplay: Isabel Peña, Rodrigo Sorogoyen
Cinematography: Alex de Pablo
Production designer: Miguel Ángel Rebollo
Editors: Alberto del Campo, Fernando Franco
Music: Olivier Arson
Main cast: Antonio de la Torre, Roberto Álamo, Luis Zahera, Raúl Prieto, María Ballesteros