Dir: Reed Morano. USA. 2015. 90mins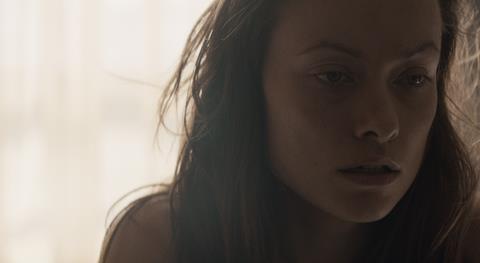 Cinematographer Reed Morano's auspicious directorial debut Meadowland harrowingly depicts the delayed and very different reactions of a New York wife and husband to their son's abduction some 12 months earlier.
Chris Rossi built Meadowland's screenplay on short, punchy scenes, and he deserves credit for crafting moments of quotidian ordinariness that are also charged with tension.
Wrenching performances by Olivia Wilde and Luke Wilson, enhanced by the intensely intimate lensing by Morano herself, should bring this Tribeca Film Festival entry modest-to-decent returns on the independent circuit. It'll be no surprise if Morano (as first-time hyphenate) and her excellent leads, Wilde especially, figure among year-end indie awards nominations.
Morano has also drawn strong supporting turns from Elisabeth Moss and John Leguizamo, both cast against type, alongside 13-year-old Ty Simpkins, highly sympathetic as a troubled kid whose foster parents (Moss and Kevin Corrigan) are as recklessly negligent as Sarah (Wilde) and Phil (Wilson) were lovingly attentive.
The film is not without problems, however. Focusing on Sarah, an English teacher at a working-class school who lives in denial about her child's likely fate, it flows inexorably and with psychological plausibility to her third-act meltdown. Memorably shocking though they are, the ensuing sudden rush of twists and revelations, which conclude with an unconvincing moment of transcendence, test the narrative's credibility.
Sarah and Phil, a beat-weary but patient Manhattan cop, suffer every parent's worst nightmare when six-ish Jessie (played by Casey Walker, Morano's son) disappears from a filling-station restroom during a family trip to the country (seemingly the Hudson Valley area). Despite the gaping hole in their lives and all the unanswered questions, they have tried to carry on as normal.
Chris Rossi built Meadowland's screenplay on short, punchy scenes, and he deserves credit for crafting moments of quotidian ordinariness – a dinner party at which Sarah gets tipsy, her after-class chats with truculent students – that are also charged with tension. Especially potent are her interactions with the couple's house guest, Phil's drug-addled dropout brother (Giovanni Ribisi), who is virtually oblivious of his sister-in-law's mounting grief.
Sarah unquestioningly sustains the belief that Jessie is alive while unhealthily foisting her desperate need to mother onto a boy at her school, Adam (Simpkins), who has Asperger's syndrome. She refuses to pay heed to a detective who brings the couple photographs of unidentifiable boys of Jessie's age who have been preyed upon by a known paedophile.
Suspecting Jessie is dead, Phil attends group counselling sessions in a church basement and befriends a fellow stricken father, Pete (John Leguizamo). Whereas Sarah, internalising her anguish, flirts with suicide, Phil barely withholds his rage. During one of his nocturnal visits to the scene of the crime, he desecrates a nearby roadside shrine to a dead father. He alienates Pete when he illegally passes on the address of the drunk driver who killed Pete's daughter in a hit-and-run.
The overall grimness is relieved briefly when Phil makes a house call to warn a rowdy couple (Juno Temple, Scott Mescudi) to give their neighbours a break from their blaring music and raucous fights over the woman's promiscuity. Temple injects the film with familiar amoral sparkle when her character hits on Phil, but Morano and Rossi resist expanding on this episode.
Sarah's increasing disassociation from reality has been described by Morano as a "fever dream". She wanders Manhattan's tourist spots and liminal spaces in a yellow hoodie that takes on the eerie symbolism of the red coat worn by the dead child in Don't Look Now, though it's no slur on Meadowland that it can't muster the metaphysical power of Nicolas Roeg's 1973 classic.
Shot by Morano in a realist style – extreme, disorientingly blurry closeups of Sarah's face adding an Expressionist flavor – it's closer in spirit to Lodge Kerrigan's Keane (2004), which starred Damian Lewis as a mentally ill man haunting the New York Port Authority Bus Terminal in hopes of finding his missing daughter a year after her disappearance.
That's until Sarah starts acting out. She not only starts to follow Adam with every intention of intervening in his unhappy existence, but stalks his slatternly foster mother and barfly foster father. This leads her to the first of two transgressions that arrive like hammer blows, smashing the film's rhythmic throb of misery.
Production company: Bron Studios
International sales: WME Entertainment www.wmentertainment.com; K5 www.k5mediagroup.com
Producers: Aaron L Gilbert, Margot Hand, Matt Tauber. Olivia Wilde
Production design: Kelly McGehee
Screenplay: Chris Rossi
Cinematography: Reed Morano
Editor: Madeleine Gavin
Music: Adam Taylor
Main cast: Olivia Wilde, Luke Wilson, Giovanni Ribisi, Elisabeth Moss, John Leguizamo, Juno Temple, Ty Simpkins