In Haifa, an unlikely friendship between two neighbours is the basis of a muted exploration of masculinity and mental illness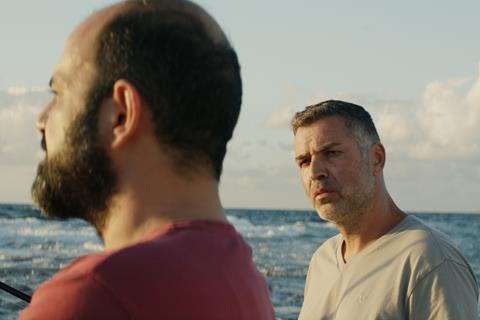 Dir/scr: Maha Haj. Palestine/Germany/France/Cypress/Qatar. 2022. 108 mins.
We don't always know what other people are going through: that's the lesson of Mediterranean Fever, a gentle drama about depression and life choices set among Haifa's Arab commmunity. Writer-director Maha Haj's second feature maps the unlikely friendship that develops between a flailing author and his mysterious new neighbour, who may hold the key to unlocking his writer's block. This slim tale is elevated by the performances of Amer Hlehel and Ashraf Farah, ably portraying men each dealing with secret struggles they can't always articulate.
It can be a challenge for an actor to play a depressive who doesn't come across as merely inert, but Hlehel gracefully embodies the character
This is Haj's second film to screen in Cannes' Un Certain Regard — her first, Personal Affairs, screened in 2016. An understated mixture of comedy, thriller and character study, Mediterranean Fever is so muted as to possibly dampen commercial prospects, but as an exploration of masculinity and mental illness, the picture could certainly find a spot at future festivals.
A Palestinian who lives in one of Haifa's poorer areas with his wife and young children, Waleed (Hlehel) dreams of being a novelist, except he can't find inspiration. He suffers from severe depression, and meetings with a therapist who offers no relief. But a breakthrough arrives in an unexpected place: Waleed meets his new neighbour Jalal (Farah), who's also raising a family but seems much tougher and more assertive than the melancholy Waleed. Pretty soon, Waleed deduces that this man is involved in criminal enterprises, and asks to spend time with him since his book is to be set in the world of crooks.
Haj positions these two men as perfect opposites. Initially, Waleed is turned off by Jalal's brusque behaviour. (Jalal is the kind of neighbour who keeps playing his music too loud, no matter how many times Waleed asks him to turn it down.) But, as one might predict, a bond starts to form between them, although Mediterranean Fever smartly keeps them at arm's length, never allowing their fundamentally different temperaments to entirely find common ground.
So what brings these two men together? At first, it's Jalal's willingness to allow Waleed a glimpse into his world. Jalal is hardly a flashy criminal engaged in sexy, high-stakes schemes— mostly, he's trying to shake down people who owe him money, in large part because he in turn owes money to some dangerous individuals. But there's something about Jalal that needs Waleed to understand his lifestyle, which he can't share with his wife — an understandable dilemma considering he has a mistress on the side.
Hlehel is superb as Waleed, who seems perpetually slumped over, his inability to find pleasure in his life visualised by the blank computer screen where his novel is supposed to go. It can be a challenge for an actor to play a depressive who doesn't come across as merely inert, but Hlehel gracefully embodies the character's fight not to give into the sadness that overwhelms him. That said, Mediterranean Fever shifts gears about halfway through once Waleed seeks Jalal's help for a personal project — one that nobody in his family is aware of. That request will tighten the connection between the two men, although it also exposes unspoken tensions within Jalal.
Perhaps that's why it's Farah who ultimately gives the sharper portrayal. While Waleed outwardly struggles with depression, feeling less manly than Jalal, we will discover that his cocky new friend has problems of his own. The film's final stretches pivot on a twist that's slightly forced, but Farah helps sell the surprise, his performance retroactively filling in the blanks on why what happens occurred. Haj sees these men as wounded souls, each clinging to his own coping mechanisms while trying not to appear too weak. What's lightly amusing but ultimately tragic about Mediterranean Fever is that they don't realise how much they actually have in common.
Production companies: Pallas Film, Still Moving, AMP Filmworks, Majdal Films
International sales: Luxbox, jennyfer@luxboxfilms.com, marie@luxboxfilms.com and fiorella@luxboxfilms.com
Producers: Baher Agbariya, Thanassis Karathanos, Martin Hampel, Juliette Lepoutre, Pierre Menahem, Marios Piperides, Janine Teerling
Production design: Andreas Antoniou
Editing: Véronique Lange
Cinematography: Antoine Héberlé
Music: Munder Odeh
Main cast: Amer Hlehel, Ashraf Farah, Anat Hadid, Samir Elias, Cynthia Saleem, Shaden Kanboura