Dir/scr. Anders Thomas Jensen. Denmark  2015. 104 mins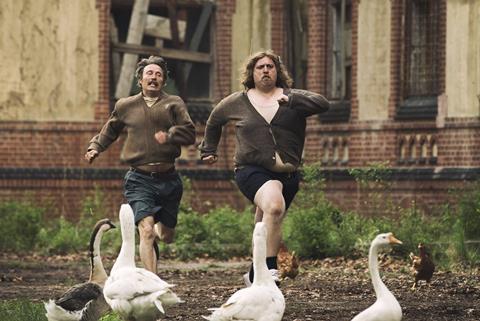 If Franz Kafka had ever devised a film for the Three Stooges, it might look something like Men & Chicken. Prolific screenwriter Anders Thomas Jensen's first film as a director in ten years is a joyously eccentric, darkly comic fairytale that combines screwball farce and slapstick violence with philosophical musings on the clash between religion and science. Bracingly original, defying easy classification and often uproariously funny, it will definitely not be for all tastes but has been a significant domestic hit in Denmark, achieving in excess of 350,000 admissions, The screening in Toronto's Vanguard section should confirm its commercial potential to a wider international audience. The chance to watch sleek Hannibal star Mads Mikkelsen throw himself into an uninhibited comic turn should be a ready selling point for some audiences.
Much of the film's gleeful humour arises from the similarities and conflict between siblings who tend to express themselves with violence rather than words.
Mikkelsen's Elias is an endearingly unhinged, agitated figure with an exuberant moustache, an unruly head of hair, a short temper and a constant need for sexual release. By contrast, his brother Gabriel (David Dencik) is a quiet, orderly academic. When their father dies, he leaves them a video message revealing that he was not their biological father and that they are only half-brothers. Their real father is a scientist who resides on the small island of Ork to the south of Denmark.
The duo sets off on a trip and discover much more than they had bargained for including a gloomy, dilapidated sanatorium, a host of family secrets and three other half brothers - Franz (Soren Malling), Gregor (Nikolaj Lie Kaas) and Josef (Nicolas Bro). The fact that all five share certain physical characteristics, including a cleft palate and squashed or swollen noses, instantly confirms the family connection.
As Gabriel and Elias are obliged to take up residence in the new family home, Men & Chicken starts to resemble classic madcap stage farces like Arsenic And Old Lace or You Can't Take It With You. Cheese and badminton play a big part in the lives of their three half-brothers. The sanatorium is overrun with a menagerie of animals, their 99 year-old father is confined to an upstairs bedroom and must not be disturbed and the basement is completely out of bounds according to the bossy Franz.
There are shades of Psycho and Hammer horror in every nook and cranny of this old dark house. Production design that lovingly depicts all the clutter and decay that surrounds the brothers and the shadowy browns of Sebastian Blenkov's beautiful cinematography all help to make the building a vital presence in the story.
Much of the film's gleeful humour arises from the similarities and conflict between siblings who tend to express themselves with violence rather than words. In the best Three Stooges tradition heads are repeatedly bashed with an array of kitchen implements and stuffed animals; Gabriel even winds up in a wheelchair from his injuries. Gabriel is the civilising influence in this set up, calming the deeply defensive Franz and gaining the confidence of Gregor with the promise of girls. Prone to oversharing, the gormless, horny Gregor reveals that the many chickens around the building have been useful for practising, "until we meet girls".
One of the brightest scenes comes as Gabriel introduces a Bible into the household for the first time, hoping it has something to teach the other siblings about morality. Instead, Josef starts to analyse the meanings of certain stories, speculating on the mental illness that must have caused the likes of Abraham to hear voices and sacrifice his own son.
The joy of Men & Chicken is the way the absurdist comedy can dissolve to expose some intriguing philosophical arguments. As the plot unfolds, we become aware of what has been long suspected but even then the film turns events into a poignant championing of the sanctity of human life, regardless of how adulterated the genetic content might be.
Production Company M & M Films
International sales: Level K natja@levelk.dk
Producers Tivi Magnusson, Kim Magnusson
Executive producers Christoph Fisser, Carl Woebcken, Henning Molfenter, Dario Suter, Christoph Daniel, March Schmldheiny, Joel Brandeis
Cinematography Sebastian Blenkov
Editor Anders Villadsen
Production design Mia Stensgaard
Music Frans Bak, Jeppe Kaas
Main cast Mads Mikkelsen, David Dencik, Nikolaj Lie Kaas, Soren Malling, Nicolas Bro