The practice of "mermaiding" is gently examined in this fluid, slippery doc.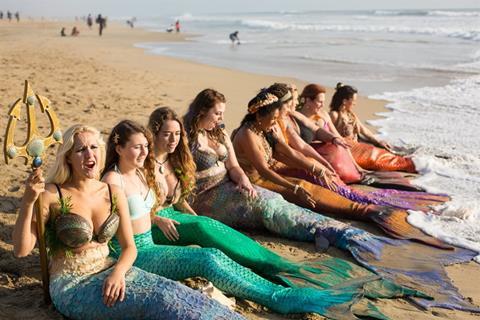 Dir. Ali Weinstein. Canada. 2017. 76 mins
Just for its warmth, humanity and respect for its kooky subjects, Mermaids deserves to swim the festival circuit and dive into a haul of VOD deals after its Hot Docs premiere. That shouldn't be too hard, given its unusual subject matter – "mermaiding" - and dreamy, fluid production values. In a sea of angst, Mermaids celebrates the outlandish by reminding us to look deeper before we judge. It's a happy, touching film about broken people who have patched themselves together with plastic fins and spangly fishscales.
He talks of "merpes" being the disease you get when you want to be a mermaid, and a "mergasm" as the sensation of putting on the fin.
Mermaids is no more a fetish film than Splash! was in its day, and its limpid underwater sequences, scored Satie-style, go beyond a series of talking heads. We have a mermaid in Harlem, who marries her partner of 30-years in a swimming pool at "Merfest", dressed in a mono-fin (he hand-stitches her costumes); a mother-and-daughter team of professional mermaids, who pose at children's parties; and a heartsore, transitioning woman from Virginia whose costumes clearly work as a balm.
Dotting the piece are sequences featuring the pool princesses of Florida's Wecki Wachee Springs (the "mer-sisters" who have become "mature mermaids") at their 50-year reunion.
In other hands, this might be presented as a fishy business, but Weinstein sees the beauty in these troubled souls, and her film often feels like an underwater essay, slippery in its own way. These accomplished sequences start out with an extended shot of Rachel, a mermaid in a Sacramento, CA dive bar, swimming through a giant tank above the liquor bottles. What begins as something funny yet slightly creepy is somehow transformed into fluid shots of a fantasy underwater princess at play.
Weinstein's talent is that she sees her subjects how they imagine themselves. So a shot of the portly, transitioning Julz, who has "always wanted to be one of the girls" sitting on the rocks in Huntington Beach in a plastic tail becomes a beautiful, noble manifestation of all the underwater legends of the ancient world. Harem resident Cookie is pushed by her adoring husband Ralph through the annual Coney Island mermaid parade, bruised but glorious in the face of overwhelming personal difficulties. It's hard not to be moved.
"Mermaiding" isn't a long-established pursuit, surfacing in the early-2000s, although it clearly has its 20th-century origins in the films of Australia's Annette Kellerman and, later, Esther Williams, Disney's Ariel, and Darryl Hannah in Splash!. But, as Weinstein points out, the concept has roots in ancient myths which seem far removed from the bearded fin-maker Tom's "zombie tail". Providing some of the film's many laughs, he talks of "merpes" being the disease you get when you want to be a mermaid, and a "mergasm" as the sensation of putting on the fin.
In smooth and insistently repeated sequences, Weinstein presents archive footage of the Weeki Wachee girls of the 1950s alongside the 50th reunion of these "ultimate mermaids". All speak of the underwater sensations they still crave, and Weinstein – complete with her synchronised technical team – achieves something notable in allowing the viewer to understand why. The laughs here are always gentle and they lead the viewer to a warm place indeed.
Production company: Naiad Productions
International sales: Films We Like
Producer: Caitlin Durak
Executive producer: Ron Mann
Screenplay: Ali Weinstein
Cinematography: Catherine Lutes
Editor: Robert Schewarz
Music: Ohad Benchetrit, Justin Small