Dir: Sally Sussman. US-Turkey-UK. 2015. 99mins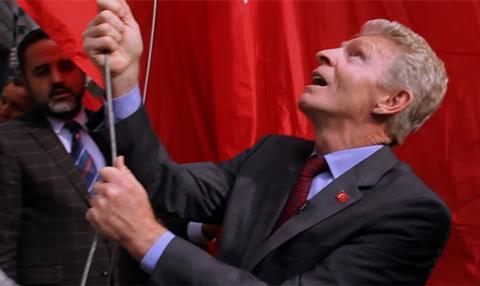 Even with their penchant for dramatic license, movies based on true stories often prove less fascinating than the actual events. That axiom gets a twist with Midnight Return, a solidly engaging documentary that reveals how the Oscar-winning film Midnight Express has had a remarkably long and unexpected afterlife, and examines how its controversial depiction of the Turkish people affected its makers, an entire nation and the man whose imprisonment inspired the movie.
What makes this making of documentary so unique is that it's something of a corrective to the original work
Screening in Cannes Classics, Midnight Return will chiefly be of note to fans of the 1978 drama, but movie buffs in general might be intrigued to hear from Midnight Express principals such as director Alan Parker and filmmaker Oliver Stone (who won an Oscar for his screenplay), as well as Billy Hayes, the real American who was incarcerated by the Turks in 1970 for trying to smuggle hashish. A modest, talking-head-driven documentary that doesn't necessarily lend itself to the big screen, Midnight Return should enjoy festival play with theatrical prospects only marginal.
Written and directed by Sally Sussman, who worked on the project for eight years, Midnight Return recounts how 23-year-old New Yorker Hayes was arrested in Istanbul, eventually escaping from an island prison five years later to avoid a lifetime sentence. Captivated by Hayes' story of being brutalized while incarcerated, Hollywood transformed the ordeal into Midnight Express, which received rave reviews but also rampant accusations of racism. Midnight Return explains how those criticisms stung Hayes, who returned to Turkey in 2007 to mend fences with the country's officials.
Many making-of documentaries focus on the preparations that go into a film and the response after its release. But what makes this one so unique is that it's something of a corrective to the original work, which paints its Turkish characters in such an unflattering light as to cast a pall over the entire film. Neither Parker nor Stone flat-out apologize for that, but they're both thoughtful while discussing the regrets they have about the negative messages of their movie. (For years after the film's release Turkey reported a drop in tourism, certainly in part because of Midnight Express's hyperbolic depiction of its prison system.)
Preferring a slick, accessible approach, Sussman includes some fun behind-the-scenes anecdotes, including the fact that Parker and Stone didn't much like each other during the movie's making. But Midnight Return is much more invested in the film's long shadow, exploring how the storyline was parodied and referenced for decades, leaving a damaging lasting impression of Turkey as a scary, barbaric society.
Additionally, the movie portrays Hayes, a self-described ham, as someone who's always been an attention-seeker and rebel, Midnight Express's notoriety only fueling that element of his personality. On camera, Hayes is a sincere individual, deeply troubled that the infamous film's invented sequences helped perpetuate negative Turkish stereotypes, but there remains a bit of showman to him that's intriguing. Indeed, Midnight Return reveals that, for Hayes, his time in prison was both blessing and curse, helping him make a living to this day but also leaving permanent emotional scars. In a sense, he's never really escaped that jail.
Production company: Old Forest Hill Productions
International sales: The Film Sales Company, andrew.herwitz@filmsalescorp.com and lucas.verga@filmsalescorp.com
Producers: Anthony Morina, Sally Sussman
Screenplay: Sally Sussman
Cinematography: David Mackie, William Kaufman
Editor: Sean H. Fanton
Music: Anthony Marinelli
Features: Alan Parker, Oliver Stone, Billy Hayes