Dir/scr. Jeff Nichols. US, 2016, 112 mins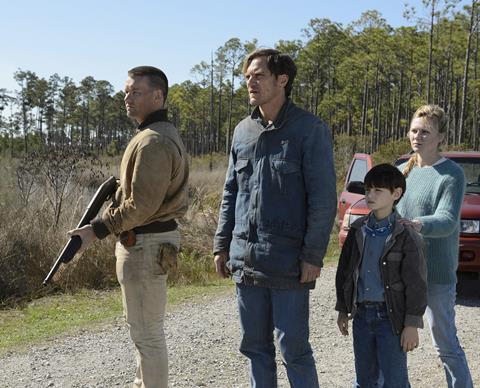 Jeff Nichols' urgent, unsettling Midnight Special is a crafted progression from such beloved 1970s dramas as Close Encounters of The Third Kind or Starman. Low-key, intense, and very, very secretive, it should be just as loved by similar audiences today. Special effects, world-building and an 8-year-old boy who must wear goggles may all require viewer buy-in, but faith is a huge human driver for this feature. Michael Shannon, burning with a father's all-consuming love for his son, is again transfixing in his fourth feature for Nichols.
Like Midnight Special itself, commercial prospects are slow-burning, but excellent.
As director and screenwriter, Nichols has stripped out much of the exposition in his thriller - along with daylight - in its early, tense stretches. The viewer is, literally, in the dark, scrabbling to piece information together from multiple strands. A laser-like light which flows from the hunted boy's eyes is Midnight Special's only, stunning, brightness, and clue to what may come. When the characters finally emerge from grubby motel rooms to the bright world and beyond, Nichol's careful build-up results in an almost visceral response to the film's climax (with credit to Minority Report's visualiser Alex McDowell).
Good notices and support from the sci-fi crowd probably won't deliver enormous, Interstellar-level grosses to distributor Warner Brothers (in the US) or other independent territories when Midnight Special begins its global run in March after a world premiere in Competition at the Berlinale. Although it's his first film for a major studio, Nichols is too low-key a director for that, focusing instead on performance and build-up. This will please the many fans of his earlier work, in particular Take Shelter (with which it shares many themes). Sixth Sense audiences may also give it a try. Like Midnight Special itself, commercial prospects are slow-burning, but excellent.
As with Take Shelter, Michael Shannon is cast as the man possessed. He is the one driving the flight which the film catapults us into. News reports reveal, first of all, that we are in Eldorado, Texas, and that an eight year-old boy, Alton Mayer (Jaeden Lieberher), has been abducted, A man named Ryan (Shannon) is connected to his disappearance. Ryan and his partner Lucas (Joel Edgerton) pack their weapons and the boy, a frail lad who wears blue goggles and reads comics by torchlight, into the back of a car to drive through the American south. Lucas switches the headlights off, using night goggles.
Nichols then switches his attention to a doomsday-style cult, led by Sam Shepard. Called, simply, The Ranch, its members are desperate to get the boy back, sensing he is the key to their salvation. And the inexperienced NSA advisor Paul Sevier, played by Adam Driver, is also sniffing around. Alton is the key to everything here; we can sense he has special powers before they are revealed. But what is he? What are they? Where is Roy taking him and how are all these people connected? Nichols is daring in how he spins the audience into his drama, disorientated and looking for answers which aren't always provided.
DoP Adam Stone's imagery bristles, long before effects shots are introduced. (And those are thrilling. One sequence which takes place at night at a gas station manages to pull off the difficult feat of being dramatically intriguing and visually exhilerating; the viewer isn't pemitted to simply switch off and watch the fireworks). Low-tech highlights include sequences of Roy and Lucas driving at night; daybreak comes to further unsettle, when trucks come over the hill at dawn to roust The Ranch.
Midnight Special, named after the Lead Belly song, is, clearly a tough film for Nichols to sustain. Armed with a burning performance from Shannon but also from Joel Edgerton as a silent, questioning, yet steady ballast and a convincing Kirsten Dunst, The director aims high with this film and toughens out the bumps in the road. Details are satisfyingly rich; the parents who can't quite shake off the Ranch in their demeanour or dress. Lucas's backstory, delivered casually. Alton himself (Jaeden Lieberher), small and dignified. Adam Driver is less successful in a jerky performance, the most light-hearted element of Midnight Special. Through it all, though, is a father's love, so convincingly portrayed by Shannon. We understand why his character will stop at nothing.
As with all of Midnight Special's cinematic precedents, which must also include The Man Who Fell To Earth, there's a multi-party race to be in a specific destination at a specific time. It's fraught, dangerous, and at times the going can be uneven. The payoff, though, is well worth it.
Production company: Tri-State Productions
International distribution: Warner Brothers Pictures (Sales: FilmNation Entertainment)
Producers: Sarah Green, Brian Kavanaugh-Jones
Executive producers: Hans Graffunder, Christos V. Konstantakopoulos
Cinematography: Adam Stone
Production designer: Chad Keith
Editor: Julie Monroe:
Musuc: David Wingo
Main cast: Michael Shannon, Joel Edgerton, Kirsten Dunst, Adam Driver, Jaeden Lieberher, Sam Shepard.