A taut and involving family drama is at the heart of Emanual Parvu's second feature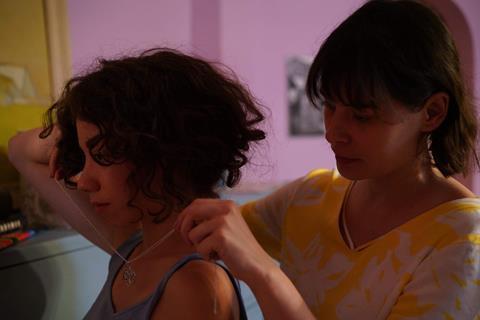 Dir. Emanuel Parvu. Romania/Czech Republic. 2021. 96 mins
The delicately constructed Mikado has something of a touch of the Romanian New Wave old school. This second feature from writer-director and established actor Emanuel Parvu feels very much in the spirit of the stripped-down first generation of his country's post-Ceausescu revival and, while more seasoned film-makers like Radu Jude, Corneliu Poromboiu and Cristi Puiu have branched out in surprising new thematic and aesthetic directions, Parvu's social drama very much recalls the feel of those film-makers' earlier work. Mikado is none the worse for that, however, knitting a taut, involving, impressively acted mesh of narrative. Familiarity of feel won't enhance international exposure, but it should benefit from its Transilvania competition showcase in Cluj-Napoca, following slots in San Sebastián and Haifa last autumn.
Unpicks its edifice of power, guilt and complex causality to confident and largely satisfying effect
The title Mikado – in the original, Marocca – refers to the game of pick-up sticks, in which any one false move can displace all the wrong pieces. It might seem like chutzpah to signal your film's narrative tricksiness in the title, but Mikado pretty much earns its name as pieces pile up with undeniable finely-judged complexity. Everything revolves around a necklace given as a birthday gift to a teenager, Magda (Ana Indricau), by her father Cristi (Serban Pavlu) and his younger partner Maria (Crina Semciuc), some years after the death of Magda's mother.
Magda is seen dropping in at a hospital where her boyfriend Iulian (Tudor Cucu Dumitrescu), an aspiring conjurer, is doing tricks for young patients in a children's ward. Cristi, an anxious and controlling parent, starts wondering where the necklace has got to, not realising that Magda has given it to a child on the ward who shares her birthday; excessively suspicious, he accuses a nurse of stealing the item and insists that she be sacked. He has some clout at the hospital as a fundraiser with the power to make a brand new ward happen, or not, and, under pressure, a doctor decides to cede at least partially to his demands. The consequences are terrible – although the film doesn't reveal whether these really are direct results of Cristi's bullying.
Co-writing with Alexandra Popa, Parvu keeps these ambiguities hovering, heightening the anxiety both for the audience and for the characters – whose motivations in doing, or appearing to do, the right thing are constantly kept in question. The initial situation is cleverly built upon as revelations are made, vital cards are left unturned till the right moment, and diverse characters make their own disastrous moves, including Iulian's pushy, macho and increasingly obnoxious best friend Mihai (Vlad Brumaru).
This is very much an ensemble piece, the story told in episodic fragments as the action shifts between different groups of characters in different combinations. Nevertheless, Cristi stands out as the sort of largely unlikeable character that has often proved a magnetic focus in Romanian films (e.g. Puiu's Aurora), as his pushiness, entitlement and neurosis are gradually unpacked to teasing and often painful effect; he's played with a memorably prickly, agonised edge by Serban Pavlu, a veteran of multiple Radu Jude films as well as Parvu's 2017 debut feature Meda or the Not So Bright Side of Things.
The overall feel in terms of mood and visuals, not to mention the social and moral analysis, very much recall the minimalist realism (with free-floating camera) of Romanian films like Child's Pose, Poromboiu's Police, Adjective and Cristian Mungiu's Graduation, in which director Parvu acted. Mikado may not strike anyone as especially new – and an abrupt, contrived ending does indeed bring the edifice tumbling a little awkwardly. Even so, it unpicks its edifice of power, guilt and complex causality to confident and largely satisfying effect.
Production companies: Famart Association, IO Post
International sales: Wide, infos@widemanagement.com
Producer: Miruna Berescu
Screenplay: Alexandra Popa, Emanuel Parvu
Cinematography: Silviu Stavila
Editor: Stefan Parlog
Production design: Cezara Armasu
Main cast: Serban Pavlu, Ana Indricau, Tudor Cucu Dumitrescu, Emilia Popescu