Dir: Oliver Laxe. Spain-Morocco-France-Qatar. 2016. 93 mi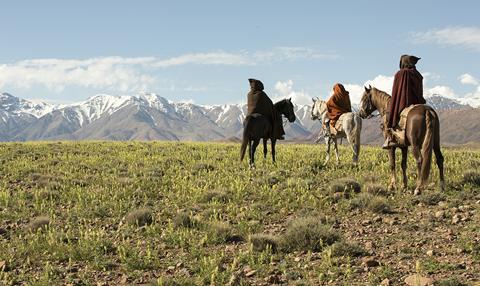 Adventurous viewers are invited to take the road less travelled, and then some, in Mimosas, an enigmatic mountain odyssey by Morocco-based Spanish director Oliver Laxe. Following his 2010 documentary You Are All Captains, about making a film with children in Tangiers, Laxe turns further south in Morocco, and towards fiction, albeit with a decided flavour of ethnographic documentary.
The cast makes striking use of non-professionals, and Laxe has an unerring eye for faces that tell a story
This mystically-inflected travelogue will be mesmerising for some, perplexing for others, but will have a strong pull for aficionados of Arab-themed drama (e.g. recent Oscar-nominated Theeb) as well as adepts of such oblique 'slow cinema' peregrinations as Lisandro Alonso's Jauja. It should certainly appeal to adventurous niche distributors and the festival circuit will accommodate it warmly, not least where there's an element of art-world crossover.
The art aspect comes to mind partly because Mimosas is, to all intents and purposes, the film seen being shot in UK artist/director Ben Rivers' recent feature The Sky Trembles and the Earth is Afraid and the Two Eyes Are Not Brothers (footage from which also appears here) and the accompanying Artangel installation, part of which comprised a sort of 'Making of Mimosas'. Laxe himself was the lead in The Sky Trembles…, but, despite spiritual and aesthetic affinities with Rivers's work, Mimosas is very much its own film.
A quest narrative influenced by the tradition of Sufi narrative, Mimosas has been described by Laxe as being about faith rather than religion. The action begins in a Moroccan city, where a man recruits a workforce to drive a fleet of taxis across the desert. He also hires a strange, possibly mad young man named Shakib (Shakib Ben Omar, who also appeared in You Are All Captains and The Sky Trembles…), who allegedly has Baraka, i.e. is blessed.
First seen regaling a puzzled crowd with a tale about God and the Devil, Shakib is entrusted with ensuring that a caravan travelling through the Atlas Mountains reaches its destination. The caravan is headed by an elderly sheikh who wishes to be buried close to his loved ones in a place called Sijilmasa, but two dissenters in his retinue, Ahmed (Ahmed Hammoud) and Said (Said Aagli) have other plans. In the event, the sheikh dies en route and, with Shakib now erratically taking charge of the mission, the two men transport the body across increasingly perilous mountain terrain; deep snows, down deep gorges and along torrential watercourses.
Mimosas is divided into a prelude and three chapters, named after different 'positions' (bowing, standing, prostrating), but the story doesn't go in a linear direction any more than the trajectory taken by its characters. Section 3 in particular offers some disorienting jumps in space and time, and an unexpected conclusion in which the journey suddenly becomes a rescue mission.
This is partly a consummate figures-in-a-landscape study, with characters – and their accompanying mules - often merging into the vastness of a varied, but usually profoundly, inhospitable landscape. But the cast makes striking use of non-professionals, and Laxe has an unerring eye for faces that tell a story – including that of Ahmed El Othemani who plays Mohammed, an old man who helps the travellers on their journey. In particular, Ben Omar as wise fool or holy innocent Shakib has a mesmerising otherworldly presence, with his candid features, intense gaze and eccentric delivery.
Production companies: Zeitun Films, La Prod, Rouge International
International sales: Luxbox, fiorella@luxboxfilms.com
Producers: Felipe Lage Coro, Lamia Chraibi, Nadia Turincev, Julie Gayet
Screenplay: Olivier Laxe, Santiago Fillol
Cinematography: Mauro Herce
Editor: Cristóbal Fernández
Music: Vicente Vázquez
Main cast: Ahmed Hammoud, Shakib Ben Omar, Saïd Aagli, Ikram Anzouli