A Korean family struggles in the Arkansas countryside in this loving portrait by Lee Isaac Chung ('Munyurangabo').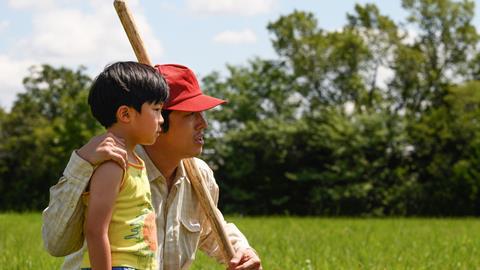 Dir/scr: Lee Isaac Chung. US. 2019. 115min.
Named for a Korean herb that grows naturally in the wild, Minari is a loving, delicately crafted portrait of a Korean American family struggling to sustain itself. Following his much-heralded 2007 Cannes premiere Munyurangabo, Lee Isaac Chung offers further confirmation of his abilities as a extremely talented, humanist storyteller with his latest project. While the film succeeds as an intimate arthouse family saga, with the backing of Brad Pitt and Dede Gardner's Plan B Entertainment and distributor A24, it's also a heartwarming one with wide-reaching potential.
Filmed in the orange glow of the Arkansas sunlight as the buzzing of field crickets fill the soundtrack, Minari is never downbeat, despite the challenges the characters face
We first meet the family driving on a dirt road to their new Arkansas home—a dilapidated trailer, perched atop cinder blocks, sitting in the middle of a field. It's hardly a picture of the white-picket-fence American Dream—much to the chagrin of discontented wife Monica (Yeri Han). While she and her husband Jacob (Steven Yeun) do the thankless job of working in a chicken hatchery to make money, Jacob has big dreams of building out a small farm on his land, composed of Korean vegetables to cater to the growing Korean immigrant population in America. Meanwhile, their seven-year-old son Daniel (Alan Kim) has a heart murmur, yet another cause for concern for his parents on top of basic worries about their livelihood and well-being in an entirely foreign culture.
Not all is well in Jacob and Monica's relationship, and to appease Monica, they agree to invite her mother, Soon-ja (Yuh-Jung Youn), to move in with them from South Korea. Not your conventional grandmother, the cursing wily matriarch only adds more conflict: young David, in particular, resists her presence and becomes every bit the rascal toward her. While predictably, the two misfits eventually form a bond, Minari expands upon this clichéd connection between grandmother and grandson (yes, Ozu's Tokyo Story comes to mind) to tackle more substantive issues of what it means to cultivate a better life and what it takes for relationships to survive and thrive, even in the worst of times.
Chung sprinkles his script with a number of humorous and tender moments, particularly involving David and his grandmother, two peas from the same troublemaking pod. But he's just as deft, if not more so, in his handling of the more serious and fundamentally strained relationship between husband and wife. There are some fierce arguments between them about their present circumstances ("If the tornado hits, the house will fly away!"), but there are also subtle unsaid tensions and slight touches between them that set the stage for a powerful confrontation towards the film's end.
Filmed in the orange glow of the Arkansas sunlight as the buzzing of field crickets fill the soundtrack, Minari is never downbeat, despite the challenges the characters face. Chung's love for his characters—and the Arkansas farmland where he grew up—always shines through, and there's never a moment where you don't root for and care for Jacob, Monica, Soon-ja, David and his sister, Anne (Noel Kate Cho). There's even a fondness for Will Patton's Paul, a batty evangelical farmer with stringy hair and big glasses, who carries a giant cross, akin to Jesus, on Sundays—a wild detail that could only come from real life (as apparently, Chung remembered it from his youth.)
Such specificity and care makes Minari a special experience that should resonate with audiences. Credit should also be given to star Steven Yeun (Burning), who delivers a sympathetic performance as a father striving for self-respect, while actress Yeri Han portrays Monica as an intensely loyal mother and wife, but one who has her limits.
Production companies: Plan B Entertainment, A24
International sales: A24, info@a24films.com
Producers: Dede Gardner, Jeremy Kleiner, Christina Oh
Production Design: Yong Ok Lee
Editing: Harry Yoon
Cinematography: Lachlan Milne
Music: Emile Mosseri
Main cast: Steven Yeun, Yeri Han, Youn Yuh Jung, Will Patton, Alan Kim, Noel Kate Cho