Entertaining, timely film about the targeting of the 1970 Miss World contest by feminist activists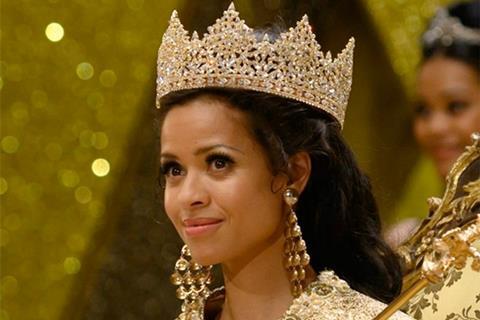 Dir. Philippa Lowthorpe. UK. 2019. 106 mins.
As any beauty queen might attest, it's easy to trip on your way up to the podium. Philippa Lowthorpe's Misbehaviour is a remarkably sure-footed film. Well written, -acted, -cast and -produced, this wholly entertaining yet stingingly relevant story of the 1970 Miss World finals should have been a smash hit when it opened in UK theatres on March 13, but events overtook its release.
The hardest thing to accept about Misbehaviour is that it's all based on real life
Comparable in tone and appeal to films such as Pride or Made In Dagenham (all from a Full Monty pedigree), Misbehaviour now moves quickly onto UK streaming platforms to catch some momentum. Lowthorpe's astutely-directed and sensitively scripted picture certainly deserves to be seen widely: to coin a cliché, it really is the feelgood film that we all need right now. It's got a shot at a wide audience from teens on up, female-skewed admittedly, even if it's about a breathtakingly-sexist beauty pageant which took place a half century ago, organised by the legendary Eric and Julia Morley (Rhys Ifans and Keeley Hawes).
Another resounding success for production company Left Bank (TV's The Crown), Misbehaviour sets itself a difficult task: to mine the collision of the chauvinist and racist attitudes of the time exemplified by Miss World with the rise of militant feminism in order to produce you'll laugh/you'll cry entertainment. The film places Keira Knightley, Gugu Mbatha-Raw and rising star Jessie Buckley front and centre, but also adds cameos from Ifans, Hawes, and Greg Kinnear playing a bewildered Bob Hope, the show's hopelessly sexist MC, with an underused Lesley Manville as his wife. They almost all visibly relax into a script by Rebecca Frayn and Gaby Chiappe which doles out its cards judiciously.
Frayn finds her heroine in Keira Knightley's London-based single mother and aspiring academic Sally Alexander, whose efforts to break the glass ceiling only result in a sore head. As her consciousness grows, she encounters squat dweller and radical women's libber Jo Robinson (Buckley). Meanwhile, across the pond, entertainer Bob Hope debates whether or not to take on the MC gig for the Miss World finals given his chequered history with the show. And in London, the Morleys, household names in 1970, are putting the finishing touches to the event and welcoming the contestants to the city. These include the first-ever Miss Granada Jennifer Hosten (Mbatha-Raw) and the apartheid-era's "Miss Africa South" Pearl Jansen (Loreece Harrison).
The hardest thing to accept about Misbehaviour's narrative is that it's all based on real life. Eccentric, outrageously sexist, well-meaning Eric and his buttoned-up wife Julia were actually world-famous back then: if Ifans seems to be enjoying himself a little too much in the role, closing footage reminds the viewer how accurate his depiction is. And as the swimsuit-clad contestants, in the film's most shocking moment, turn to show the judges their bottoms, it's tempting to gasp at how bad things were and make a congratulatory note about how much they've changed. But have they?
Even for those who remember the events of that time, Misbehaviour is full of engaging detail as faces from the faded headlines come back to life. Knightley's serious, uptight academic is a great role for the actor, while Mbatha-Raw's performance is pitched precisely as a dignified woman who found herself in a rare and difficult position. And their support team is terrific all round, from a smarmy Kinnear to the irrepressible Buckley to Ifans, all contributing to an energy which helps the 106 minute running time glide by.
While technical credits are all smooth as silk, extra words of praise go to production design and particularly costume design (by Charlotte Walter); both seem destined to figure in year-end best-of lists. It's a rare film which dares to charge at sexism and racism head-on in these Twitter pile-on times but nobody here is short on bravery. Lowthorpe and her crew may have dressed it up in the guise of period film-making, ensured it's funny and sensitive and "light entertainment" but Misbehaviour has points to make. And even though they're delivered in a generous, kind-hearted way, they still ring true across the decades.
Production company: Left Bank Pictures
International sales: Pathe International
Producers: Suzanne Mackie, Sarah Jane Wheale
Screenplay: Rebecca Frayn, Gaby Chiappe, story by Rebecca Frayn
Cinematography: Zac Nicholson
Production designer: Cristina Casali
Editor: Una Ni Dhonghaile
Music: Dickon Hinchliffe
Main cast: Keira Knightley, Gugu Mbatha-Raw, Jessie Buckley, Keeley Hawes, Phyllis Logan, Lesley Manville, Rhys Ifans, Greg Kinnear