Did the author of a renowned Holocaust memoire really cry wolf?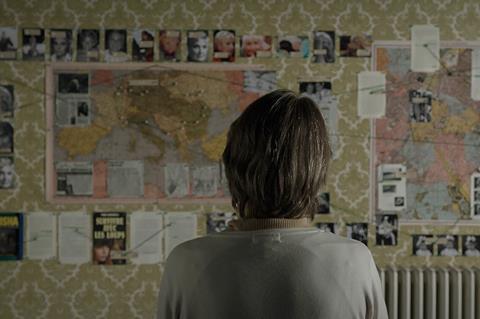 Dir/scr: Sam Hobkinson. Belgium/UK. 2020. 90 mins
Misha Defonseca's poignant autobiography 'Misha: A Memoire Of The Holocaust Years' was a global bestseller on its publication in 1997. A successful film adaptation Survivre Avec Les Loups followed in 2007. The bigger story surrounding the memoir and its aftermath proves even more extraordinary in Misha And The Wolves, a well-paced, compelling documentary ride full of twists, revelations and shifting sympathies.
Even if you already know the outcome, Misha And The Wolves unfolds with the page-turning urgency of a great detective mystery
Defonseca claimed to have been seven years-old when her parents were arrested and deported by the Nazis. She set out alone to find them, walking from Belgium to Germany. She took shelter in the woods, she said: stole scraps of food from isolated farms and avoided human contact. Along the way, she also encountered a pack of wolves who became her companions and protectors.
Director Sam Hobkinson traces the Defonesca story back to the small Massachusetts town of Millis where she was living in the late 1980s. Friends and neighbours in this tight-knit community were deeply moved by the tales of her childhood. A local radio interview was arranged. A publisher suggested that she should write a book and events began to snowball. Suddenly Disney was interested in the rights, Oprah Winfrey wanted to showcase it in her Book Club and the world became aware of Defonseca.
It was the feeling that Defonseca was not profiting sufficiently from the sales of her book that ultimately led to a lawsuit and a ruling in her favour. Damages of $22.5 million were awarded. Facing financial ruin, her publisher Jane Daniel started to question how much she really knew about Defonseca. That was the beginning of a forensic investigation into her past, undertaken by a woman ashamed to challenge the testimony of a Jewish Holocaust survivor.
Hobkinson retraces the investigation instigated by Daniel, sharing the sense of discovery and astonishment as it moves to Belgium, Brussels, through archives, records and revelations to a competely different understanding of who Defonesca was and what she experienced.
Even if you already know the outcome, Misha And The Wolves unfolds with the page-turning urgency of a great detective mystery. Hobkinson introduces his witnesses like characters from an Agatha Christie whodunnit as titles are imposed on a selection of floral wallpaper backgrounds and we meet The Friend, The Wolf Expert and The Holocaust Survivor among others.
The combination of archive footage, fresh interviews and extensive dramatic reconstructions is tightly edited. Hobinkson makes the most of a hugely involving story and a collection of fascinating individuals. Holocaust survivor Evelyne Haendel provides some of the most eloquent, emotional testimony as she tracks down Defonseca's family records and reflects on the parallels with her own childhood.
It is a film that keeps you hooked but also nudges you to reflect on whether you can believe what is right in front of your eyes. How can you establish truth in a world of fake news fraudulence? It also constantly pivots our perceptions of the heroic Defonesca and the aggrieved Daniel to a point where the only thing that remains is a recognition of human fraility and a reluctance to judge.
Production companies: Arts Alliance Productions, Met Film, Bright Yellow Films
International sales: MetFilm Sales vesna@metfilm.co.uk
Producers: Poppy Dixon, Al Morrow, Matt Wells, Gregory Zalcman, Jurgen Buedts
Editing: Peter Norrey
Cinematography: Will Pugh
Music: Nick Foster