Dir: Christopher McQuarrie. US. 2015. 131mins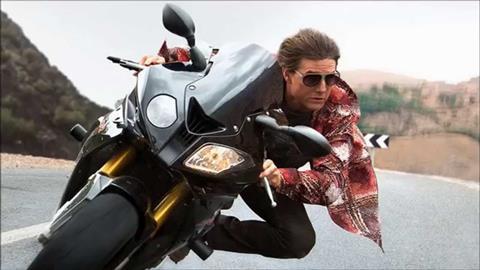 How about this for an impossible mission: a film franchise on its fifth chapter — and nearly 20 years removed from its first instalment — that actually gets better over time? Mission: Impossible – Rogue Nation succeeds on that front and several others, proving to be the most satisfying, gripping and intelligent film yet in the series. At this late date, it's hardly news that Tom Cruise brings his dependably combustible, kinetic energy to the character of Ethan Hunt, but writer-director Christopher McQuarrie has fortified him with a ripping yarn, expanding on the can-you-top-this? scope of 2011's very fine Ghost Protocol and adding a noir-ish moodiness. The action scenes are predictably magnificent, and an excellent supporting turn from fetching new cast member Rebecca Ferguson helps make this a sexy, propulsive, top-notch thriller.
Like James Bond movies, Mission: Impossible films can sometimes be measured by the strength of their villains and love interests. Rogue Nation has superb examples of each
Opening across much of the globe by July 31, Rogue Nation will have some action competition in upcoming weeks thanks to Fantastic Four and The Man From U.N.C.L.E., but it's hard to imagine this Paramount release facing significant resistance in the marketplace. Despite Cruise's slightly faded box-office appeal, the Mission: Impossible movies have been consistent performers, especially considering that Ghost Protocol was the highest grosser of the series, pulling in almost $695m worldwide. In an era of the $1bn blockbusters, that might seem like a comparably measly sum, but strong reviews and good word-of-mouth will drive audiences to this crowd-pleasing sequel.
While a cursory knowledge of previous instalments, particularly Ghost Protocol, is helpful, newcomers can go into Rogue Nation without much trouble. Master secret agent Hunt (Cruise) is on the search for The Syndicate, a clandestine organisation that he believes is behind the mysterious deaths of several major international figures. Since CIA Director Alan Hunley (Alec Baldwin) wants Hunt's IMF team dismantled because of their risk-taking approach to protecting national security, Hunt and his trusty cohort, technology expert-turned-field agent Benji (Simon Pegg), must go underground to track down a coldly brilliant terrorist, Solomon Lane (Sean Harris), whom Hunt suspects is The Syndicate's ringmaster.
The challenge for Mission: Impossible, as with other long-running franchises, is to increase the stakes with each new instalment while maintaining the faintest whiff of plausibility. Rogue Nation suffers a tad from this problem — yet again, IMF's future is threatened as Hunt undertakes a mission that seems, well, impossible — but McQuarrie (taking over the reins from Ghost Protocol director Brad Bird) has done a fabulous job of upping the urgency without artificially inflating the suspense.
Part of his secret may be his first calling as a screenwriter. Winning an Oscar for the twisty The Usual Suspects, McQuarrie has gone on to become a director, helming the 2012 Tom Cruise vehicle Jack Reacher. (He was also one of the writers on Bryan Singer's Valkyrie, which again starred Cruise.) The collaboration between filmmaker and star hits a new peak with Rogue Nation, which McQuarrie envisions more as an espionage thriller than a conventional action picture. As a result, the new film (with a story credited to McQuarrie and Drew Pearce) represents a merging of the franchise's best elements, offering a labyrinthine plot similar to the first Mission: Impossible (except that it's not impenetrable) while creating spectacular set pieces that aren't so over-the-top that they defy logic, a welcome feature of the more recent instalments.
Hunt has never been a particularly complex character, and in Rogue Nation he remains a resilient, heroic, slightly opaque figure. But remarkably, this continues not to be an issue, Cruise imbuing him with intensity, athletic grace and just a touch of humour so that he comes across as a witty, compelling protagonist. At 53, Cruise has held onto his boyish enthusiasm and daredevil spirit. (When we first see him in Rogue Nation, he's running at full speed. Soon after, Hunt will be hanging off the edge of a plane as it takes off — a stunt Cruise performed himself.) The movie spends a lot of time reminding us how adroit an agent Hunt is, but Rogue Nation rarely comes across as a mere vanity project for Cruise, the venerable star investing so deeply in the character's life-or-death vocation that one can only agree with the other characters' admiring assessment of the man's skill.
Like James Bond movies, Mission: Impossible films can sometimes be measured by the strength of their villains and love interests. Rogue Nation has superb examples of each, which may come as something of a surprise for long-time fans of the series. Curiously, the new film makes no mention of Hunt's wife Julia, played by Michelle Monaghan, who appeared in the third and fourth movies. In her place, McQuarrie introduces a formidable new character in Ilsa (Ferguson), a ravishing beauty who may be working for Lane, may still be part of MI6 (though the agency has officially disowned her), or may be genuine in her desire to help Hunt shut down The Syndicate.
With more than a few nods to Hitchcock's romantic spy thrillers, Rogue Nation isn't just about Hunt unravelling Ilsa's true motives but also reconciling his suspiciousness and his attraction. There are no love scenes between the two characters, but McQuarrie emphasises their sense of being lonely kindred spirits, these elite agents who recognize that they'll never feel safe and that they can't entirely trust anyone. Admittedly, McQuarrie's failure to mention Julia may be a strategic ploy to make us forget the fact that he's married — but, on the other hand, her shadowy existence casts an intriguing cloud over Hunt and Ilsa's interactions, his tentativeness around Ilsa perhaps speaking to conflicted emotions within himself. Cruise and Ferguson have dynamic chemistry that's grownup-sexy rather than cutesy-jokey, and McQuarrie has given her dimensions to play, envisioning Ilsa as a resourceful, fearsome, soulful spy whose torn loyalties haven't impaired her moral compass.
If Ilsa is arguably among the most daunting adversaries Hunt has faced in the franchise, Lane also belongs on the list. Harris plays him as a pale, slightly creepy genius, and the cold-hearted serenity in his eyes proves significantly chilling. Even better, McQuarrie has concocted for Lane a rather clever evil scheme that shouldn't be revealed here — suffice it to say that it requires Hunt to match his nemesis move for move in entertaining fashion.
Ghost Protocol still earns top honours for including the single best sequence in a Mission: Impossible film, which was Hunt's death-defying walk outside Kabul's Burj Khalifa tower. (Again there, Cruise did the stunt himself.) McQuarrie comes close with a bravura underwater sequence that forces Hunt to hold his breath longer than is probably humanly possible, but his specialty in Rogue Nation is pulse-pounding chases and maniacally elaborate set pieces in, say, an opera house in the midst of a performance. Globetrotting across London, Casablanca and Vienna, Rogue Nation has plenty of eye-popping treasures, all of them shot with rich shadows by cinematographer Robert Elswit.
Because Cruise deservedly gets most of the attention in write-ups about this series, it can be easy to forget his supporting cast. With more to do than in previous instalments, Pegg sheds some of Benji's jokester-sidekick silliness without the actor losing his comedic spark. Renner, who joined the franchise with Ghost Protocol, is a bit on the sidelines for this sequel, sticking up for IMF in Washington, DC and trying to curtail Hunley's plans to scuttle the operation. But when his William Brandt is called upon later in the film, he's a fine addition to Hunt's excellent team. May they all come back for a sixth go-round.
Production companies: Skydance Productions, Odin, China Movie Media Group, Alibaba Pictures, Bad Robot
Worldwide distribution: Paramount Pictures, www.paramount.com
Producers: Tom Cruise, J.J. Abrams, Bryan Burk, David Ellison, Dana Goldberg, Don Granger
Executive producer: Jake Myers
Screenplay: Christopher McQuarrie, story by Christopher McQuarrie and Drew Pearce, based on the television series created by Bruce Geller
Cinematography: Robert Elswit
Production design: Jim Bissell
Editor: Eddie Hamilton
Music: Joe Kraemer
Website: www.missionimpossible.com
Main Cast: Tom Cruise, Jeremy Renner, Simon Pegg, Rebecca Ferguson, Ving Rhames, Sean Harris, Alec Baldwin