Dir. Wuershan. China, 2015, 127 mins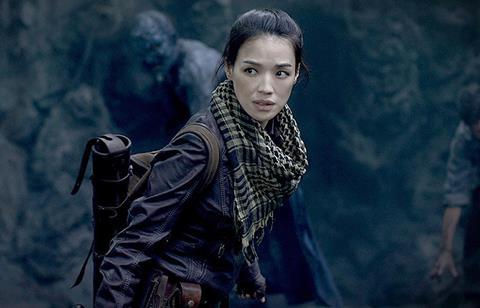 After breaking box office records in China with his 2012 film, Painted Skin: The Resurrection, director Wuershan returns with the star-studded fantasy adventure Mojin - The Lost Legend, which follows a team of expert tomb raiders in search of a mythical stone that grants eternal life. Chen Kun, Shu Qi and Huang Bo star as the legendary "Mojin Xiaowei" adventurers, whose centuries-old team retires after Bayi (Chen) sees a hallucination of his long-dead first love while on a mission. But when mysterious cult leader Madame Ying (Liu Xiao Qing) hires Wang (Huang) to return to their last site and seek out the powerful Equinox Flower, Bayi feels compelled to join him.
While the sub-par effects make it difficult to become fully immersed in the tomb raiding exploits of the Mojin, the r camaraderie between the central trio helps sustain the film's momentum
Mojin topped the charts in China last month, and has taken over $250m in its first three weeks - already doubling the take of Wuershan's previous film. The film's performance in other diaspora markets, where it was released day-and-date by Well Go USA, has also been respectable (currently $1.2m in the US). The film clearly hopes to attract the same audiences that made Indiana Jones and The Mummy series international juggernauts, but an over-reliance on CGI and obvious sound stage work dilutes the film's adventurous energy, which may ultimately keep crossover audiences at bay.
It is no coincidence that female lead Shu Qi, as Bayi's love interest and teammate Shirley, sports the braided hair and familiar vest top and combats of Lara Croft, heroine of the Tomb Raider video games and portrayed twice onscreen by Angelina Jolie. Despite her Mojin credentials, however, Shirley is soon reduced to jealousy and tantrum-throwing - more concerned by Bayi's preoccupation with his lost love Ding (Angelababy) than with their own burgeoning romance.
As we learn through multiple flashbacks, Bayi, Wang and Ding were childhood friends. As enthusiastic communist students, they ventured into a remote Mongolian tomb in order to destroy it in the name of Mao. Instead they crossed paths with a legion of reanimated zombies, and in the ensuing melee, only Bayi and Wang escaped with their lives, with Bayi believing he saw Ding die. They are now sent back to the very same Mongolian mausoleum by Madame Ying and her cult.
While the sub-par effects make it difficult to become fully immersed in the tomb raiding exploits of the Mojin, the rivalries, romances and camaraderie between the central trio do hold water and help sustain the film's forward momentum. Chen Kun cuts a suitably heroic figure as the sullen Bayi, and seems equally at ease dangling from ropes, fighting off the undead or wrestling with unchecked remorse. Huang Bo brings his signature regional rawness to the role of Wang, and while the actor is something of an acquired taste, he is perfectly suited as the morally flawed comic foil to Bayi's emotionally complex hero.
Liu Xiao Qing's Madam Ying, leader of a mysterious cult in search of the Equinox Flower, only ever feels a step away from Belloq and his Nazi muscle from Raiders of the Lost Ark. Her assorted gang of international minions includes Jonathan Kos-Read (Ip Man 3) as her British financier and Hong Kong's Cherry Ngan (The Way We Dance), inexplicably cast as a Japanese schoolgirl assassin, which proves just as out of place as it sounds. Xia Yu also crops up as the duplicitous go-between who puts Wang and Ying together.
Despite the film's technical weaknesses and objectification of women, The Lost Legend does prove fleetingly enjoyable. The central performances are engaging, the pacing brisk as Wuershan seeks to genuinely entertain his audience. Composer Koji Endo's score works when incorporating traditional Mongolian folk songs, but at other times indulges in more contemporary rock riffs that sit less well. Likewise, Jake Pollock's cinematography captures the vast landscapes of the Northern region beautifully, but soundstage artifice is immediately apparent.
An early segment set unnecessarily in New York City even hints at an attempt at fostering some East-West cross-cultural engagement, though that is never fully explored. Nevertheless, Mojin - The Lost Legend emerges as China's most promising attempt to make a film with genuine Western commercial appeal since Dragon Blade - and does so without the assistance of Hollywood A-list talent.
Production companies: Wanda Media Co., Huayi Brothers Media, Enlight Pictures
International sales: Wanda Media Co., Beijing
Producer: Jerry Ye
Executive producer: Chen Kuo Fu
Screenplay: Zhang Jia Lu, based on the web series The Ghost Blows Out The Light by Tianxia Bachang
Cinematography: Jake Pollock
Editor: Du Yuan
Music: Koji Endo
Production Design: Hao Yi
Main Cast: Chen Kun, Shu Qi, Huang Bo, Angelababy, Xia Yu, Liu Xiaoqing, Cherry Ngan