A debut from Israel which is surprisingly light on its feet, given the weighty matters it addresses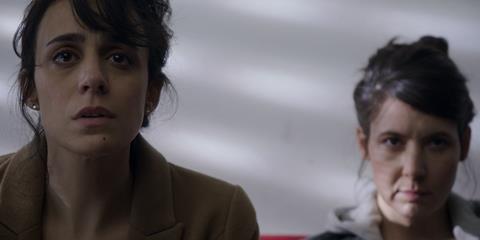 Dir. Limor Shmila. Israel. 2017. 74 min.
In Linor Shmila's Montana, a young woman returns to her distant family to unearth old traumas and bring closure to her past, all while kicking up an passionate affair with a married mother-of-two now living in her childhood home. And though it packs in a number of hefty plot points alongside weighty ruminations about the lasting effects of childhood abuse and the quiet complicity in which it thrives, Shmila's debut feature remains surprisingly light on its feet, confronting these difficult questions with wryness, subtlety, and a slightly arch tone that helps the whole thing pass like a breeze.
Actress Noa Biron gives a terrifically calibrated star turn, letting her emotional guard rise and fall with the crest of her brow
Inspired by real elements from the director's own life, set in her coastal hometown of Acre and shot in her actual family house, Montana marks a highly personal – if hardly autobiographical – feature debut for the Israeli filmmaker, who has previously worked as a casting director on films like Big Bad Wolves and Sand Storm. The bemusedly understated Montana benefits from the director's prior experience, spotlighting a cast of expressively featured performers and letting them do much of the narrative heavy lifting, often in casually composed sequences that allow the actors room to simply exhale and exist onscreen.
As Effi, the young woman who returns to her family home after 15 years of silence, actress Noa Biron gives a terrifically calibrated star turn, letting her emotional guard rise and fall with the crest of her brow. Warm critical support for her performance should spur on additional festival interest for this otherwise modest film, which could find particular purchase along the LGBT circuit thanks to a matter-of-fact same-sex romance and a lesbian main character who neither hides nor is defined by her sexuality.
When Effi returns for her grandfather's funeral, she finds much as she left it. Her unmarried aunt and uncle, thomebody Shosh (Keren Tzur) and cop Yossi (Avi Malka), still stay close to the nest, resentful of Effi and her unseen mother for having left them behind. In the intervening years, Yossi's policeman partner and wife and kids have moved into the house next door, and the two families have enmeshed in more ways than one. While Shosh has begun a not-so-hidden affair with the cop Avi (Hai Maor), Yossi has struck a particularly strong bond with the partner's young daughter (Netta Orbach). And so it only makes sense for Effi to instantly click with schoolteacher Keren (Neta Shpigelman), falling quickly into a mutually fervent coupling.
As Effi's passion for Keren grows, so does her unease about the close relationship between her uncle and the young girl. As is eventually made clear, Effi has first-hand cause to believe that Yossi's affections are more than avuncular, but the film never shifts into a wolf-among-the-flock psychodrama.
Shmila lets the story play out as number of seemingly normal interactions, where subtle glances and silences between words can often speak as loud as the dialogue proper. Effi and Yossi dance around the subject every time they interact, and those subsequent reverberations affect her relationship with Keren. The film often insinuates more than it says outright, up to and including the precise nature of Yossi's predatory actions.
Ultimately, that might be for the best, as Montana is more interested in evoking the sense and feel of a very specific place than it is in tracing the enduring legacy of trauma. Shot mostly in and around the family home and its surrounding neighbourhood, Montana (the title goes unexplained) nevertheless conveys the airy calm that comes from its sleepy Mediterranean setting.
Production company/international sales: UCM, Info@ucm-film.com
Producers: Chilik Michaeli, Tami Leon, Avraham Pirchi
Screenplay:Limor Shmila
Cinematography: Eitan Hatuka
Editor: Dafi Farbman
Production Design: John Yonatan Jacoby
Music: Asher Goldschmidt
Main cast: Noa Biron, Netta Shpigelman, Avi Malka