Dir/scr: Larry Yang. China/US. 2015. 117mins.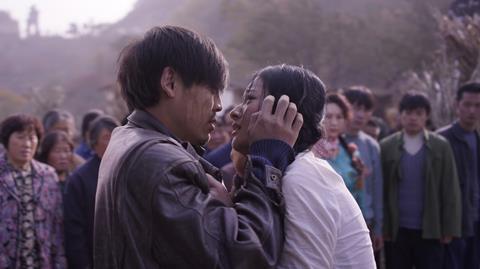 The closing film at the 20th Busan Film Festival, Mountain Cry is based on the award-winning novel of the same name by Ge Shuiping and is a poignant feature set in a remote Chinese village in the 1980s about the relationship between a young mute widow and a man who accepts responsibility for having killed her husband.
While the film is essentially a social drama dealing with issues such as child abduction and domestic violence, what's especially interesting to watch is the unfolding romantic relationship between the two leads
The production, which is the first of a five-picture deal between Beijing Hairun Pictures and Village Roadshow Pictures Asia (VRPA), should also find an audience beyond the festival circuit given the film's quiet power and its focus on a female character dealing with psychological trauma in post-Cultural Revolution China.
Mountain Cry screened in a 117-minute cut at Busan, which is how it will be seen on release in China next year, although the international version runs to 107 mins. While the film's downbeat subject matter may be initially offputting, its screenplay was awarded the "Best Commercial Potential" prize at the Beijing International Film Festival and could potentially generate a slow-burn strong word-of-mouth at home in China.
Set in 1984 in the north of the country – a remote village perched on two opposing slopes of the Taihang Mountain Range in Shanxi province – Mountain Cry follows a naïve young man named Han Chong (Ziyi Wang) who grinds flour at a nearby town. He also sets traps for badgers in a local ravine, but when he hears a cry following the sound of an explosion, he discovers a man has stepped on one, severing his foot.
The man, La Hong (Ailei Yu) is a newcomer to the village with his wife Hong Xia (Yueting Lang) and two young children. Soon after being taken up the mountain to his home, he dies in front of Hong Xia.
The villagers, temporarily headed by the elder Qiliu (Caigan Xu), are concerned that if the police are informed it will be a black mark for their community, so they make the decision to handle it themselves. In what appears to be a makeshift courtroom, Han Chong accepts guilt, and agrees to look after the mute Hong Xia and her two children, providing them with three meals a day until he is able to sufficiently compensate them. Hong Xia also surprises the villagers by being able to write her name and thus communicate – the first step to revealing something of her past.
Although initially not enthusiastic about the idea, Han Chong agrees. As time passes, the two begin to develop feelings for each other, but it also becomes clear through flashbacks that Hong Xia is quietly suffering from psychological scars owing to years of severe abuse.
While the film is essentially a social drama dealing with issues such as child abduction and domestic violence, what's especially interesting to watch is the unfolding relationship between Han Chong and Hong Xia, although Yang is careful to ensure that his story doesn't get bogged down in sentimentality. He's helped by international heads of department including some expansive lensing by Patrick Murguia (Abel) and French composer Nicolas Errèra's (The White Storm).
The cast also includes Taishen Cheng as Han Chong's father and Qin Hua (Jin Guo) as a widow who takes an interest in Han Chong, forming something of a love triangle. Performances are strong across the board, particularly Yueting Lang (Johnnie To's Office, Blind Detective) and Ziyi Wang (who also co-starred in Office and Blind Detective) with an expressive Lang shining in a role with no dialogue.
Yang's debut Sorry, I love You, about an adopted Chinese-Canadian man searching for his roots, premiered at the United Nations in New York in 2013. This, his follow-up, is a much more accomplished feature which should make an impact.
Production companies: Hairun Pictures, Village Roadshow Pictures Asia
International sales: Fortissimo Films, info@fortissimo-hk.com
Producers: Ellen Eliasoph, Victoria Hon
Associate Producers: Eva Chan, Yuchun Dou
Screenplay: Larry Yang, based on the book by Ge Shuiping
Cinematography: Patrick Murguia
Editor: Super Zhang
Production Design: Jeffrey Kong
Music: Nicolas Errèra
Main Cast: Yueting Lang, Ziyi Wang, Taishen Cheng, Ailei Yu, Jin Guo, Caigen Xu, Chendong Zhao, Siying Li