Dramatisation of the real-life trial of Austrian war criminal Franz Murer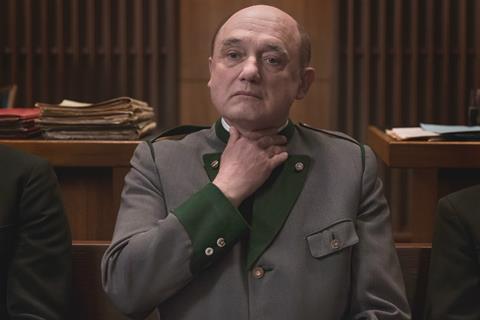 Dir/scr: Christian Frosch. Luxembourg/Austria. 2018. 137mins
The subdued but engrossing Murer – Anatomy Of A Trial slowly unspools its righteous anger over two-and-a-quarter hours, depicting in despairing detail how a war criminal who orchestrated the murder of thousands of Jews was acquitted of his horrendous acts. Writer-director Christian Frosch's starchy courtroom drama focuses on the true-life trial of Franz Murer, but the film quickly evolves from a legal battle into a resonant, timely exploration of political expediency, the manipulation of the truth, and the normalcy of evil.
Even if viewers know Murer's outcome, Frosch has some elegantly turned twists in store for audiences
Screening in the Munich Film Festival's Spotlight section, Murer could receive international attention because of its potent contemporary themes and familiar genre. Holocaust memorial organizations may also take interest in a film that dramatizes a war-crime trial in which justice was not served.
The film takes place over a handful of days in Graz in 1963 as Franz Murer (Karl Fischer) stands trial, accused of killing Jews during World War II when he was known as "The Butcher of Vilnius." Now a respected politician and pillar of his community, Murer is defended by the polished, poised attorney Böck (Alexander E. Fennon), while the prosecution is led by Schuhmann (Roland Jaeger), a frazzled, awkward man driven by his desire to put this murderer behind bars.
Frosch (Rough Road Ahead) reportedly built his film around the actual court records, and so it's not surprising that Murer exudes the dry, crisp air of a procedural, eschewing flashy theatrics for the simple presentation of witness testimony, attorney rebuttals and interjections from the presiding judges. But if audiences are willing to be patient with Frosch's process, Murer eventually expands its scope, giving us snippets of other lives involved in this court case. Journalists, witnesses, jury members and spouses start to enter the foreground, and Frosch subtly draws out the intertwining human dramas without reducing the proceedings to mere soap opera.
Instead, Murer uses these disparate perspectives to suggest the anxiety, anguish and mistrust that inform the lawyers' every legal maneuverer. Even though the war has been over for nearly 20 years, the lingering guilt, bigotry and nationalism haven't faded, and Frosch deftly illustrates the conflicting emotions in the community, which colour every scene of survivors sharing their stories of Murer's cruelty.
It would seem that Schuhmann's wealth of witnesses will easily win him the case, but Frosch slowly reveals the obstacles in this attorney's path to a conviction. Certain jury members are determined to protect Murer. Böck's commanding presence and incisive questions create doubt in survivors' minds about their memory of events. And defence witnesses provide testimony that aims to discredit the survivors' stories.
Amidst an ensemble that creates sharp portraits with a minimum of effort, Fennon makes Böck a model of unflappable, slightly haughty confidence. Murer's guilt is never in question, but Böck's ability to muddy the waters with technicalities and conflicting accounts speaks to our modern era in which the notion of truth has been replaced by passionately held views backed up only by emotion and bias.
Murer provides very little perspective on the man himself, and Fischer portrays the accused with utter opaqueness. The character's enigmatic, unknowable nature seems entirely intentional, letting Murer's blustery, proud demeanour serve as his shield for whatever crimes he committed. Murer isn't wicked in a stereotypically cinematic way; he's a rather drab man of wealth and influence who's unperturbed about his past acts. When Murer explains that he was merely following orders, Fischer conveys the serene monstrousness of so many bad men who have learned to set aside their conscience.
Even if viewers know Murer's outcome, Frosch has some elegantly turned twists in store for audiences, each of them speaking to our shared complicity with others' terrible crimes. The film has no happy ending, but its sting comes in Frosch's indictment of a society in which our prejudices and complacency allow the reprehensible free rein to shape the world in their toxic image.
Production company: Prisma Film, Paul Thiltges Distributions
International sales: Paul Thiltges Distributions, info@ptd.lu
Producers: Viktoria Salcher, Mathias Forberg
Production design: Katharina Wöppermann
Editing: Karin Hammer
Cinematography: Frank Amann
Music: Anselme Pau
Main cast: Karl Fischer, Alexander E. Fennon, Melita Jurisic, Ursula Ofner-Scribano, Karl Markovics, Gerhard Liebmann, Roland Jaeger