Dir/scr. Keishi Otomo. Japan, 2016, 132 mins.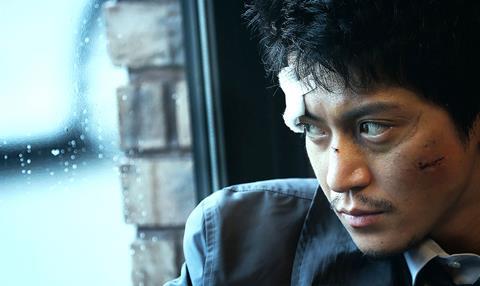 For viewers somehow unacquainted with recent serial killer cinema heavyweights Seven and Saw, Museum holds definite appeal as it delves into a series of elaborately staged murders, a disguised villain intent on simultaneously crafting morbid art and teaching his victims a twisted lesson, and a determined detective who discovers his own links to the crime. For everyone else, however, writer/director Keishi Otomo's latest feature squanders an effective first half by devolving all-too-willingly into generic and violently indulgent territory.
Once Otomo perfects his grim and gritty genre look, he's content to ape rather than truly try to engage
This is particularly disappointing given that Otomo once again brings a popular manga to the screen, though repeating his Rurôni Kenshin trilogy success with this take on Ryôsuke Tomoe's cult comic Museum: The Serial Killer Is Laughing In The Rain is far from guaranteed. A modest response in the filmmaker's native Japan is likely, with the movie opening on November 12 following its first local showing at the Tokyo International Film Festival. After premiering in Busan earlier in October and subsequently screening in Sitges, additional festival stops appear to be Museum's probable international destination.
Co-scripting with previous collaborators Izumi Takahashi (The Top Secret: Murder in Mind) and Kiyomi Fujii (Rurôni Kenshin: Densetsu no saigo-hen), Otomo starts with the kind of curious scenario that usually sustains such thrillers, or sets them on a fascinating course. A horrific homicide attracts attention, and then a second piques the interest of keen cop Hisashi Sawamura (Shun Oguri). Yet even when he traces the blatant clues, ascertains that both victims served on the jury of a high-profile trial and hones in on a suspect, his case isn't closed in a hurry. Instead, it swiftly takes a personal turn when Sawamura realizes that his estranged wife, Haruka (Machiko Ono), was also a juror — and that the frog mask-wearing perpetrator wants to play with and punish not just her and their young son, but him as well.
As familiar as Museum's narrative sounds, Otomo initially fights formula with savvy stylistic choices, drawing the audience in through a selection of creatively staged, urgently shot and frenetically edited sequences. Early murder, chase and investigation scenes benefit from the director's obvious desire to immerse and entertain, as well as the skills of seasoned cinematographer Hideo Yamamoto (the versatile talent who was so instrumental in ensuring Sion Sono's ambitious Why Don't You Play in Hell? paid off).
Once Otomo perfects his grim and gritty genre look and knows he has viewers hooked, however,he's content to ape rather than truly try to engage. That the film's slide into the by-the-numbers realm happens just as Sawamura becomes trapped by the killer's trickery offers a perhaps-unintended instance of on- and off-screen mirroring.
Accordingly, Museum proves a movie of two halves, pace and interest-wise, as united by an increasingly thinly stretched story. As the stakes are raised alongside the instances of gruesome imagery, the suspense and tension dissipates, largely because the film chooses to show and tell rather than tease and toy. Character backstories on both sides of the killer-potential victim divide only add to the expected motivations, helping to pad out the 132-minute running time. Further, an attempt to wrap the tale up in a statement about the importance of family, the motivating factors behind evil deeds and the legacy of pain and trauma only manages to do the same.
That leaves star Oguri with a considerable task: maintaining attention as intrigue wanes. While he impresses, it's not at all surprising that he can't always achieve this feat. He essays a range of emotions that veer from appropriately motivated to openly exasperated, as well as fearful, furious, desperate and devastated in between, but can't stop the film from struggling from its mid-point onwards. Accordingly, the fact that room is left for a follow-up is hardly rousing news, though a sequel that took the popular source material beyond the standard serial killer movie template would be welcome.
Production company: Warner Bros Japan, "Museum" Film Production Committee
Sales: GAGA Corporation, intlsales@gaga.co.jp
Producer: Atsuyuki Shimoda
Screenwriters: Izumi Takahashi, Kiyomi Fujii, Keishi Otomo
Cinematography: Hideo Yamamoto
Music: Taro Iwashiro
Production Designer: Toshihiro Isomi
Costume Designer: Kazuhiro Sawataishi
Cast: Shun Oguri, Machiko Ono, Satoshi Tsumabuki, Shuhei Nomura, Yutaka Matsushige