Dir. Kirk Jones. US, 2016. 94 mins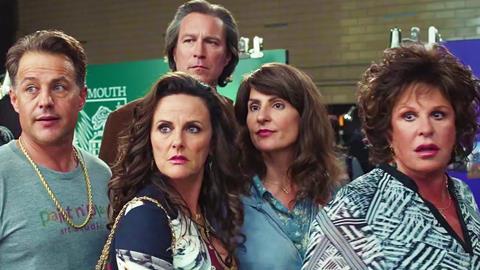 It has been a big fat 13-year wait for the sequel to Nia Vardalos' 2002 smash-hit romantic comedy, but any hopes the comedian has spent the intervening time honing her screenplay are quickly dashed in the blandly undemanding My Big Fat Greek Wedding 2. Even given that lazy stereotyping is the point of her schtick, Vardalos' broad routine hasn't aged well, her heavily-(and widely-) accented 'oily' Greek family an uncomfortable, almost retro fit for today's global sensitivities. Apart from that, the gags just aren't that funny.
Vardalos has reunited the cast and crew of her original film but they somehow feel like less than the sum of their parts.
By opting to leech drama out of her screenplay and plump instead for the everyday travails of middle-aged parents, Vardalos has set her film a commercial challenge. Directed by Nanny McPhee's Kirk Jones, My Big Fat Greek Wedding 2 will be counter-programming to Batman V Superman: Dawn of Justice when it opens in major markets on March 25, targeting a nostalgia audience who may now be struggling with the same issues. With the wait between films, what remains of Vardalos' cachet after the disappointing My Life In Ruins and the fact the original is still the highest-grossing rom-com in the US, publicity could be good; word-of-mouth perhaps less so.
Now 53, Vardalos was, according to the press notes, finally inspired to write her well-intentioned sequel when she adopted a daughter (husband Ian Gomez has a cameo role) and experienced some separation anxiety on the first day of kindergarten. Wedding 2 is thus woven around the curiously drama-free concept of the empty nest when Paris (Elena Kampouris), the goth-ish teenage daughter of Toula (Vardalos) and Ian (John Corbett) contemplates attending a university outside the big fat Greek family's home state of Illinois.
Vardalos, last seen fronting the US version of TV cookery show Bake-Off, has some interesting points to make about middle-aged multi-tasking – how to be the parent of a sulky teenager while struggling to look after your demanding, ageing parents and keep a marriage fresh. Added to the mix is the revelation that her father Gus (Michael Constantine) and mother Maria (Lainie Kazan) were never properly married, thus adding in some elderly, slightly infantile shenanigans to the mix as Maria demands a proposal from curmudgeonly Gus before the film can inch its way slowly to fulfilling the promise of its title.
Vardalos has reunited the cast and crew of her original film but they somehow feel like less than the sum of their parts. (This was, like the original, produced by Tom Hanks and Rita Wilson, who has a cameo alongside John Stamos.) Vardalos herself is sweetly charming as Toula, the happily put-upon daughter of the rabidly-Greek Gus and Maria and their widely extended family and, reconciled, like her husband Ian, to never having a moment alone. There's not much romantic spark left between Toula and school headmaster Ian, however, and the fact their marriage may be a little tired isn't a gripping storyline. It's largely left to Constantine and Kazan, backed by Andrea Martin as the irrepressible Aunt Voula, to carry the show, picking up where they left off in the same restaurant with the same gags.
Shot in Toronto, My Big Fat Greek Wedding 2 is standard-issue rom-com on a technical level, even considering that there's no rom and not very much com. Exteriors are minimal and mainly revolve around the street in which Toula's family are sandwiched like sardines in their small-scale homages to the Acropolis. As a screenwriter, Vardalos is is excessively fond of the magical makeover moment; Toula goes from drab school mum to date-night dynamo, her mother becomes a bride and her daughter gets a prom night revelation. Even black-garbed Granny is put into a red neglige, a wedding dress, and finally, is awarded a modern makeover. The film itself could have done with a similar freshen up.
Production company: Gold Circle Films, HBO Films, Playtone
International distribution: Universal Pictures
Producers: Gary Goetzman, Rita Wilson, Tom Hanks
Executive producers: Paul Brooks, John Powers Middleton, Scott Niemeyer, Steve Shareshien, Nia Vardalos, Norm Waitt
Screenplay: Nia Vardalos
Cinematography: Jim Denault
Editor: Marcus Czyzewski
Production design: Gregory P Keene
Music: Christopher Lennertz
Main cast: Nia Vardalos, John Corbett, Lainie Kazan, Michael Constantine, Andrea Martin, Ian Gomez, Elena Kampouris