Stand-out documentary about the life of the late INXS frontman seems destined for wider release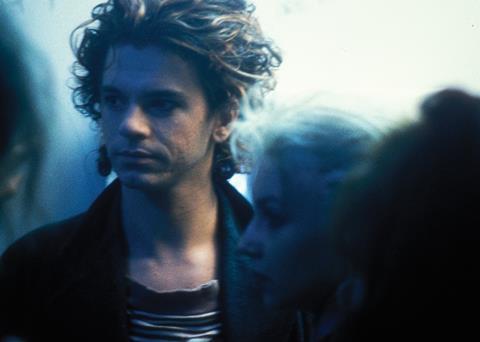 Dir/sc: Richard Lowenstein. Australia/UK. 2019. 102mins
Twenty-two years after Michael Hutchence's death at the age of 37, Richard Lowenstein's documentary portrait of the Australian singer justifies his status as a genuine rock god. The densely woven and worshipfully presented archival footage of the INXS frontman, on stage and off, is a reminder that in terms of wild talent and Dionysian sexiness, he belongs in the same company as Mick Jagger, Jim Morrison, and Robert Plant. Much more importantly, the film makes a powerful case that, despite a troubled upbringing, Hutchence was not naturally self-destructive.
What lifts it above the majority of documentaries about celebrities and artists is its extraordinary intimacy.
Commercial and awards prospects are promising for Mystify, which premiered in the Tribeca Film Festival's Documentary Competition. What lifts it above the majority of documentaries about celebrities and artists is its extraordinary intimacy. Lowenstein was INXS's main pop video director and a close friend of Hutchence (whom he also directed in the 1986 feature Dogs in Space). He had access to a trove of film and photos chronicling Hutchence's life and secured moving and insightful interviews with his sister Tina, their younger brother Rhett, and with Hutchence's lovers Michèle Bennett (who was his longtime confidante), Kylie Minogue, and Helena Christensen. His bandmates and pal Bono also contribute, among many more,
The aural testimony Lowenstein accrued (having jettisoned the idea of using talking heads) leave little doubt that the depression, uncharacteristic aggressiveness, increased recreational drug use, and Prozac dependency that shaded Hutchence's last five years sprang directly from the brain damage he suffered after being assaulted by a Copenhagen cab driver in August 1992. As it did Amy Winehouse, the British tabloid press pushed the vulnerable Hutchence into paranoia – sadly revealed in his late on-camera interviews – when reporting his ruinous affair with Paula Yates and her rancorous child custody battle with ex-husband Bob Geldof.
The November 1997 hearing adjournment that meant Yates wouldn't be able to bring her and Hutchence's infant daughter Tiger Lily to visit him in Sydney seemingly triggered the star's spontaneous suicide by hanging. Entrapment in the relentless INXS touring machine played its part in the emotional erosion of a homebody whose deep-seated shyness and sensitivity were at odds with his public persona.
Among the home movies Lowenstein excerpts, there is endearing 16mm footage, much of it photographed by the singer himself, of Minogue and Hutchence cavorting on a ship's deck and exploring the Venice-bound Orient Express. (At the post-premiere Q&A, Lowenstein said this footage had been lost in his attic for twenty years.) Video clips of Hutchence and Christensen partying in Italy capture, as Christensen admits, the unashamed hedonism of their lifestyle.
Chronologically organised, Mystify feels a little hagiographic in its first half, which traces INXS's rise, attributable as much to Hutchence's magnetism as to the band's music. Around the midway point, though, Lowenstein smartly flips the film into an interrogation of the Hutchence siblings' unstable childhoods. In the prolonged absences of their parents, businessman Kell Hutchence and makeup artist Patricia Glassop, schoolgirl Tina was left to raise Michael. Left behind by Patricia when she took Michael to live in California for a year. Rhett was looked after by a series of druggy babysitters, one of whom fatally OD'd in front of him. A teenage addict himself, Rhett was re-embraced by Michael after he went through rehab. He shows admirable courage in speaking so candidly to Lowenstein.
During his romance with Minogue, Hutchence delighted in teaching her about movies and books that he'd discovered for himself. He gave her a copy of Patrick Süskind's 'Perfume', and Lowenstein included Minogue's film of him joyfully summarising its story. The scene meshes ironically with the disclosure that the severing of Hutchence's olfactory neurons during the Copenhagen altercation caused him anosmia, the loss of the sense of smell. That in turn would have radically depleted his quality of life, a psychologist says in the film. This cautions against treating the Michael Hutchence tragedy as part of a doomed rock star syndrome. In life and death, he carved his own niche, and Mystify is a more than worthy tribute.
Production company: Ghost Pictures
International sales: Dogwoof Ltd. ana@dogwoof.com
Producers: Maya Gnyp, John Battsek, Andrew de Groot, Mark Fennessy, Richard Lowenstein, Lynn-Maree Milburn, Sue Murray
Cinematography: Andrew de Groot
Editors: Richard Lowenstein, Lynn-Maree Milburn, Tayler Martin
Music: Warren Ellis
Featuring: Michael Hutchence, voices of Tina Hutchence, Rhett Hutchence, Michèle Bennett, Kylie Minogue, Helena Christensen, Martha Troup, Bono