Dir/scr Debbie Isitt. UK. 2009. 105mins.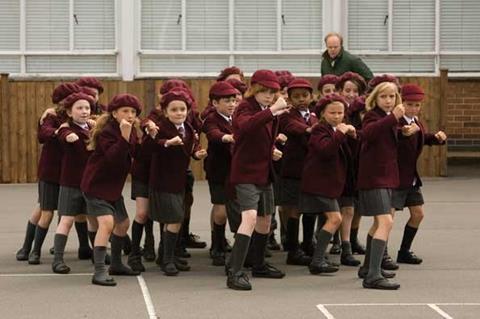 There's no denying the allure of tiny tots – they bat films like Kindergarten Cop or Daddy Day Care way above their average attributes. Much the same goes for British Christmas hopeful Nativity!, an endearingly predictable festive heartwarmer in which a class of adorable if disadvantaged state school children help their "loser" teacher put on a showstopper and get the girl back.
Editing is brisk, but at 105 minutes this is a stretch for the family audience it's targetting.
While the lengthy finale here is as bum-numbing as sitting on small school chairs during the Christmas play itself, that won't stop Nativity! occupying pole position on festive British TV schedules for years to come. Commercial to the point of featuring a primary-school version of Pop Idol/X-Factor, Nativity's pitch is localised (it has been picked up by E1 for the UK and Ireland), where a warm central performance from The Office's Martin Freeman will help boost numbers. Healthy ancillary awaits as do remake rights.
Debbie Isitt (Confetti) is trying out the Richard Curtis feelgood chair for size here, with a relaxed Freeman not only dealing with scores of rambunctious 10-year-olds, but also given a cute dog called Cracker to contend with. He looks game throughout.
A prologue shows the future Mr Maddens at drama school with his girlfriend Jennifer (Ashley Jensen) and rival, Gordon Shakespeare (Jackson Watkins). Years later, Jennifer has left for the bright lights of Hollywood and Maddens and Shakespeare are both primary school teachers, battling it out in Coventry out with rival Christmas nativity plays; Shakespeare at posh private school Oakmoor, and Maddens at failing state St Bernadettes.
Central to their success, or, in the case of Mr Maddens, dismal failures, is a snidey local theatre critic played by Alan Carr.
When St Bernadettes' outgoing headmistress (another British favourite, Pam Ferris) hands over the staging of her last play to Mr Maddens – and a clown-like classroom assistant called Mr Poppy (Wooton) – the stage is set for a final showdown, culminating in an explosion of cuteness and gooey romance. Isitt ups the stakes considerably during a wrap which includes camels and a child being dangled from Coventry Cathedral, but Nativity! pretty much leaves realism behind at the opening credits.
Having said that, Isitt's technical team are on target – credit must go to production designer Chris Roope for assembling classrooms, halls and schools which are incredibly redolent of primary school colours, paints and paste. Casting by Rachel Freck is also smart; these children are far from saccharine and they don't have predictable faces or talents.
Editing is brisk to begin with, but at 105 minutes this is a stretch for the family audience. Despite the cast and crew's most strenuous efforts, the razzle-dazzle finale drags, and while the children's ditties (Things are Really Cool in Nazareth, etc) are briefly amusing, it's exhausting to listen to the full chapter and verse. Isitt and editor Nicky Ager wrote the songs themselves, perhaps explaining the reluctance to shave, but a montage might have sufficed for all but the most doting parental units.
To sign up for Screen's weekly Reviews Newsletter with all the week's new releases, international openings and full festival reviews delivered free to your mailbox every Friday, please click HERE
Production company
Mirrorball Films
International sales
Protagonist Pictures
+ 44 + 207 306 5155
Producer
Nick Jones
Cinematography
Sean Van Hales
Production designer
Chris Roope
Costume designer
Stephanie Collie
Original songs and music
Nicky Ager and Debbie Isitt
Main cast:
Martin Freeman
Ashley Jensen
Jason Watkins
Marc Wooton
Alan Carr
Pam Ferris
Ricky Tomlinson