An arresting debut from new Danish enfant terrible Laurits Flensted-Jensen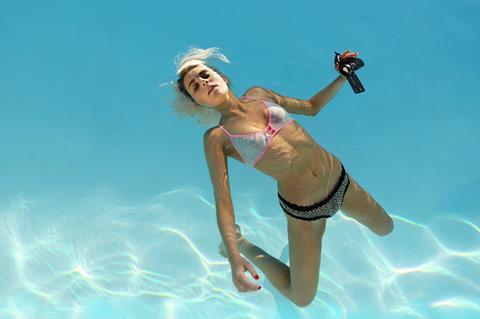 Dir. Laurits Flensted-Jensen. Denmark. 2018. 86 mins.
Danish writer-director Laurits Flensted-Jensen isn't one to make things easy for himself. His debut feature Neon Heart addresses themes including pornography, drugs rehab, disability, gay-bashing and football hooliganism; does it with a cast that's roughly two-thirds non-professional; puts both cast and audience through experiences that some viewers may find awkward verging on excruciating; and yet manages to pull it all off with wit and lightness of touch, avoiding accusations of voyeurism or exploitation.
Where the film goes into controversial territory is in its depiction of disability and sexuality
Neon Heart features impressive, committed performances all round, both from its newcomers and from leads including Victoria Carmen Sonne, who proves here - as she did earlier this year in Isabella Eklöf's Holiday - that she's a performer with a sense of nuance and nerves of steel. The content will make Neon Heart a tough call commercially, although festivals and other outlets looking for the latest incumbent of Danish cinema's mandatory enfant terrible slot may feel that Flensted-Jensen has a strong claim to being the real thing.
Picking up a theme from his 2015 short Melon Rainbow, in which Sonne played a 'webcam girl', Flensted-Jensen casts the actress in another sexually charged role as Laura, a Danish woman in her late teens, seen at the start of the film in rough video footage auditioning for a porn shoot in the US. After a brief career in adult movies, Laura returns to Denmark and tries to slough off this period of her life, partly through the symbolic act of getting a tattoo removed.
She's seen tending her baby and working with disabled people, but throughout the film, we see repeated flashbacks, some fairly graphic, to her porn work. These largely comprise footage shot 'gonzo' style from the p.o.v. of the American man, heard off-screen, who is employing her – and who, in one swimming pool sequence, turns distinctly nasty.
Meanwhile, Laura's ex-boyfriend Niklas (Niklas Herskind) is seen at a meeting of Narcotics Anonymous, talking about how he and his younger brother Frederik (Noah Skovgaard Skands) were raised in a feminist commune – which may explain their neurotic commitment to a hyper-macho view of life. Frederik and another teenage boy join a gang of football hooligans, preparing themselves for a big showdown with rivals. But when both lads are rejected by the gang, they decide to go mugging at a gay cruising ground – very unwisely, as it turns out.
Meanwhile Niklas, who works in a centre for people with Down's Syndrome, takes two middle-aged residents, Kevin and Christian (Kevin Lakomy, Christian Andersen Busk) on a birthday trip – stopping off to rob his grandmother before making an illicit visit to a brothel. The entire film, Laura's flashbacks apart, takes place in the course of a single day – by the end of which, Laura, Niklas and Frederik have all faced painful moments of truth, as has a care client of Laura's.
If there's a structural weakness to the film, it's an imbalance that comes from the video inserts of Laura's porn career. Flensted-Jensen also uses an obtrusive device of rapid-fire montages of stills from Laura's earlier life, going back to infancy – making the obvious point, as if we didn't know, that sex workers are people too, and were even once babies.
The film hardly needs this device to remind us of Laura's vulnerability: Sonne brings this home perfectly well, her performance conveying a sense of weary physicality, along with determination and compassion. Laura isn't the only vulnerable person here: the brothers, beneath their flawed machismo, are as fragile as they come, and Frederik's performance of masculinity in particular will come seriously unstuck when he underestimates the toughness of the gay men he attempts to rob.
Where the film goes into controversial territory is in its depiction of disability and sexuality. One of Laura's disabled clients turns out to be more fond of her than she realises, leading to a moment of painful drama. And the sequence in which Kevin and Christian enjoy sessions with two prostitutes - played by real-life sex workers – may be discomforting for some viewers. There's also a very amusing follow-up as Niklas rehearses the two men in a fake account of their big day out.
Throughout, Flensted-Jensen and DoP Balthazar Hertel use mundane Copenhagen locations to strong effect, for both range and drabness, rooting Neon Heart in a grubbily tangible real. The South of France, meanwhile, stands in serviceably for an L.A. porn location.
Production company: Walenciak Film IVS
International sales: Stray Dogs, sales@stray-dogs.com
Producer: Julie Friis Walenciak
Screenplay: Laurits Flensted-Jensen
Cinematography: Balthazar Hertel
Music: Peter Peter
Main cast: Victoria Carmen Sonne, Niklas Herskind, Noah Skovgaard Skands, Kevin Lakomy, Christian Andersen Busk