An Italian teen dreams of a new life with the circus in Nunzia De Stefano's autobiographical drama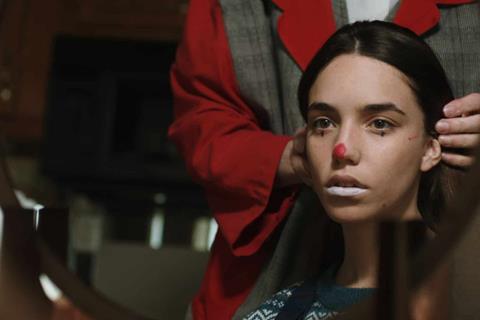 Dir/scr. Nunzia De Stefano. Italy. 2019. 86mins
In the narratively slight but emotionally heaving Nevia, writer/director Nunzia De Stefano takes inspiration from three influential sources: 10 years of her childhood spent living in a container park outside Naples; her experiences working with a circus; and her decade-long professional relationship with filmmaker Matteo Garrone. Charting a 17-year-old's determined efforts to transcend her struggling upbringing, the result is an involving and affecting debut feature that's shot with expressive naturalism and anchored by impressive acrobat-turned-actor Virginia Apicella. Screening in Tokyo's official competition after picking up the Lizzani Award in Venice, the sombre, thoughtful and moving Garrone-produced film should continue its modest tour of the festival circuit.
This is no fairy tale, and nor does De Stefano ever treat it as such
A coming-of-age drama with firm social-realist leanings, Nevia steps into tense and jittery circumstance as its eponymous teenager (Apicella) weaves her way through the makeshift two-level site she's forced to call home. Shooting on location in Ponticelli, DoP Guido Michelotti surveys the feature's rundown setting with a careful eye; taking in its cracked surfaces, fading decor and cramped apartments, but also seeing the park for what it is — a last-chance stop balancing on a knife-edge of poverty, crime and despair, yet still offering its residents a hard-won sense of community.
As the film soaks in these details, De Stefano's personal ties make a noticeable difference; this isn't the work of an outsider looking in, but of someone acquainted with the park's intricacies and difficulties. Indeed, it's that sensation that lingers when Nevia treads through familiar narrative territory, following its plucky namesake as she's plunged deeper into a tough world then scrapes and scrambles to escape.
Living with her grandmother (Pietra Montecorvino) and younger sister Enzo (Rosy Franzese) — and with her beloved aunt Lucia (Franca Abategiovanni) just a few containers away — Nevia is accustomed to making the best of a bleak situation. She dotes on her primary school-aged sibling like a surrogate mother, takes whatever work around the park that she can find, and knows that subverting the law is often an inescapable fact of life. But she'll never be comfortable with her grandmother's latest moneymaking choices, her reliance upon slick local heavy Peppe (Gianfranco Gallo) or the persistent advances of his entitled son Salvatore (Simone Borrelli).
As Nevia's 18th birthday approaches, she stumbles across a beacon of hope — and while it's just a big top belonging to a touring circus, it's her portal to a different destiny. A piglet, iguana and hippopotamus all make an appearance; however this is no fairy tale, and nor does De Stefano ever treat it as such. That said, she wholeheartedly understands the power that an unexpected ray of light can have in illuminating the path to a better future (and viewers will just as clearly recognise the circus' gleaming symbolism).
Nevia's vision of Naples slots smoothly alongside Dogman's, the last Garrone film that De Stefano worked on (as a director consultant). Her unflinching yet discerning directorial style falls straight from the Gomorrah filmmaker's playbook, too. There's a sensitivity to Nevia that's all her own, though — and a resonant, deeply felt tone of empathy as well.
Of course, it's nearly impossible to look into Apicella's eyes and not feel for her wise-beyond-her-years character, with the first-timer proving an absorbing presence. Scouted doing circus work herself, she's radiant whenever Nevia flirts with life in and around the ring — and suitably weighty and weary elsewhere. In scenes with Franzese and Abategiovanni, she's also tender, a trait that the film around her deploys exceptionally well. Nevia may lurk in a grim realm, but it does so with affection for those wading through the murkiness and endeavouring to weather it the best they can.
Production companies: Archimede, Rai Cinema
International sales: True Colours, catia@truecolours.com
Producers: Matteo Garrone, Alessio Lazzareschi, Davide Tovi
Screenplay: Nunzia De Stefano, Chiara Atalanta Ridolfi
Cinematography: Guido Michelotti
Editing: Sarah McTeigue
Production design: Daniele Fabretti
Music: Michele Braga
Cast: Virginia Apicella, Pietra Montecorvino, Rosi Franzese, Pietro Ragusa, Franca Abategiovanni, Simone Borelli, Gianfranco Gallo