Dir: Drake Doremus. US. 2016. 112mins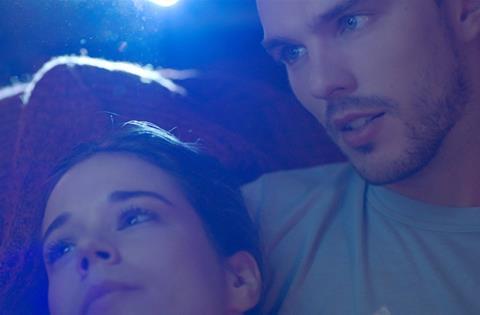 The exciting, passionate early days of a new relationship are intoxicating — but how do you keep the spark alive once familiarity sets in? This common lament provides the dramatic engine for Newness, an initially captivating drama that loses steam once predictability starts to take hold.
Newness has an intimate, kinetic, almost improvisational flair as Martin and Gabi get to know each other and have magnificent sex everywhere
The new film from Drake Doremus shares with his Like Crazy a compassionate curiosity for the way couples negotiate seemingly insurmountable obstacles. He skilfully portrays modern courtship in all its buzzy, fleeting electricity, which helps mitigate the fact that he's merely adding a new coat of paint to an old romantic dilemma. Newness stars Nicholas Hoult and Laia Costa, which will help raise its commercial profile. And the film's examination of contemporary dating rituals may strike a chord with younger viewers dealing with their own romantic travails. But it doesn't seem zeitgeist-y enough to be a cultural phenomenon.

When American pharmacist Martin (Hoult) and Spanish physical therapist Gabi (Costa) meet late one night in Los Angeles, it's arranged through a popular dating app. Both of them are just looking to hook up, but their strong sexual compatibility soon leads to a blissful, committed relationship. Still, Gabi confesses that she's into "newness," always attracted to the latest gadget, trend or hot spot. Can a person like that stay faithful?
Working with cinematographer Sean Stiegemeier, Doremus wants to get viewers addicted to the volcanic rush of young love. Set mostly in L.A.'s hip downtown area, Newness has an intimate, kinetic, almost improvisational flair as Martin and Gabi get to know each other and have magnificent sex everywhere.
That initial thrill, though, belies a nagging anxiety that it can't last. In Like Crazy, trouble started when the impetuous lovers discovered that a whirlwind romance doesn't guarantee long-term contentment — especially when jealousy and immaturity rear their ugly heads. With Newness, the couple's fear of keeping things fresh compels them to be candid about their romantic fantasies and secret crushes. Together, Martin and Gabi resolve to give each other permission to flirt with other people — even having sex with them — as long as they maintain their commitment to one another and hide nothing.
It will surprise no one that their plan doesn't work out, but for a while Doremus seems to have figured out a way to examine this kind of open relationship with less judgment than we normally see in movies. Rather than suggesting that Martin and Gabi are "weird" or "damaged," Newness outlines how their approach is a progressive attempt to find a romantic arrangement that can work for them — even if it wouldn't be most people's preference.
Sporting a convincing American accent, Hoult portrays Martin with casual cool — the character is a confident, soulful, funny guy, and the actor makes him awfully appealing. Costa, who was superb in 2015's single-take thriller Victoria, has a sexy rapport with her co-star, but Doremus hasn't developed the character as much as Martin. There's an element of patronising "generic exotic beauty" in the way that Gabi has been conceived, and the actress lacks the onscreen presence to elevate the underwritten role.
Eventually, Newness starts to lose its way once the lovers begin focusing more on their flings than each other. The predicament would sting more if these affairs were more emotionally resonant, but Martin's dalliances and Gabi's serious relationship with a wealthy, much older businessman (Danny Huston) feel set up so that our leads can be presented with easy either/or choices. The viewer never really doubts what decision Martin and Gabi will make, and as a result Newness ultimately doesn't seem like a seriously considered debate about the pros and cons of monogamy. Just like people in long-term relationships, moviegoers tend not to appreciate it when filmmakers cheat.
Production companies: Lost City, Scott Free
International sales: UTA Independent Film Group, RonsonR@unitedtalent.com
Producers: Drake Doremus, Ben York Jones, Michael Schaefer, Michael Pruss Robert George, John Finemore
Executive producers: Ridley Scott, James Hoppe, Mason Novick, Elizabeth Grave, Shea Kammer, Nicholas Hoult
Screenplay: Ben York Jones
Cinematography: Sean Stiegemeier
Production design: Katie Byron
Editor: Lisa Gunning
Music: Gwilym Gold, Keegan DeWitt
Main Cast: Nicholas Hoult, Laia Costa, Courtney Eaton, Matthew Gray Gubler, Danny Huston