Anne Fontaine's drama boasts weighty performances from Omar Sy, Virginie Efira and Gregory Gadebois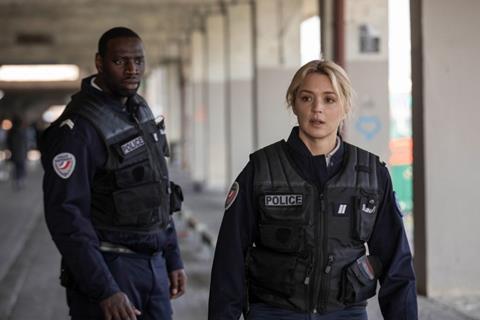 Dir. Anne Fontaine. France. 2020. 134 mins.
Cops have private lives too, and consciences… These revelations are nothing new in police procedural films, especially when genre meets psychological drama in French cinema. All credit to versatile if uneven director Anne Fontaine for trying to tackle this theme in a tough, emotionally serious way, but Night Shift – despite its clever, multi-angled opening gambit – proves a solemn, emotionally overwrought, narratively implausible affair.
Virginie Efira – clearly on the verge of an international breakthrough with Paul Verhoeven's Benedetta – continues to impress with a cool command
Fontaine, previously known for lighter, glossier fare, has in recent years focused on weightier material (The Innocents, Reinventing Marvin) but this solemn, clenched-jaw affair doesn't find her entirely comfortable. Strong performances by high-profile leads Virginie Efira and Omar Sy should bolster up the film's domestic profile when it opens in France in April, while consistent interest in France's mainstream crime-themed output should provide moderate export prospects.
Based on a novel by Hugo Boris, the film has the original French title POLICE, spelled backwards across the screen – not to be confused with either Maurice Pialat's Police or Maiwenn's Polisse, although it shares their theme of getting behind the blue uniforms. A cleverly layered build-up introduces the three principal coppers. Central is Virginie (Virginie Efira), married with a young child, and with a husband who comes across as something of an ineffectual pain. Hard-bitten and reluctant to reveal her emotions, she's seen on the force as distant – colleague Aristide (Sy), who plays the macho buffoon at work, calls her 'Miss Norway'. But once we get to know Aristide in a section devoted to him, we discover that he's a lot more sensitive than he appears, and that he and Virginie have a close, supportive rapport and mutual professional and personal respect. They have also slept together, and Virginie – certain that it's Aristide she is pregnant by – is about to have an abortion. Then there's Erik (Gallic character stalwart Grégory Gadebois), an irascible middle-aged man with a by-the-book approach, simmering marital frustrations and an edge-of-the-volcano relationship with the bottle.
Adroitly overlapping episodes, scenes repeating to very different effect, Fontaine, co-writer Claire Barré and editor Fabrice Rouaud promisingly set the scene for tensions to boil, but the subsequent central episode plays out flatly. One night, the three sign up for a delicate job: accompanying Tajik asylum seeker Tohirov (Iranian actor Payman Maadi) to Charles de Gaulle Airport to be deported. But he clearly faces danger at home, and he stands a chance of reprieve if only he can remain in France that bit longer. On the road to the airport, a mystified Tohirov sits handcuffed in the back seat while the cops argue about the conflict between their duty as police officers and their moral duty. Finally, they take a decision to act, but it's an implausible one that plays out at a creaky dramatic pace, much of it in the enclosure of the police car. Murky night atmospherics, designed to intensity the drama, instead have an oppressive effect.
However, the evocation of routine police business is solidly achieved, and the acting is good, with Gadebois – an expert at testy agitation – giving Erik some imposingly moody heft. Omar Sy makes Aristide well nuanced, a boor one moment, sensitive and warm the next. And Virginie Efira – clearly on the verge of an international breakthrough with Paul Verhoeven's Benedetta – continues to impress with a cool command, never giving away too much about her character, but evoking intense emotional turmoil behind the calm exterior. Unfortunately, Payman Maadi, a.k.a. Peyman Moadi – such a potent presence in Asghar Faradi's A Separation - struggles with a thankless role as the bewildered, panicked prisoner, which, contrary to the film's humanist intentions, is uncomfortably close to stereotyping Tohirov as an interchangeable, unknowable foreigner.
Production companies: F Comme Film, Ciné-@
International sales: Studiocanal, info@studiocanal.de
Producers: Jean-Louis Livi, Philippe Carcassonne
Screenplay: Anne Fontaine, Claire Barré, based on a novel by Hugo Boris
Cinematography: Yves Angelo
Editor: Fabrice Rouaud
Production design: Arnaud de Moléron
Main cast: Omar Sy, Virginie Efira, Grégory Gadebois, Payman Maadi [aka Peyman Moadi]