Derek Chiu's tearjerker looks back at the protests of 1967 and the aftermath of the 'Umbrella Revolution' in Hong Kong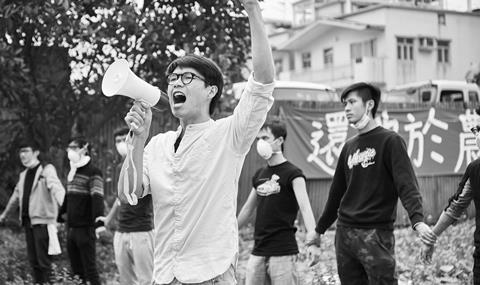 Dir/prod. Derek Chiu. HK. 2018, 118 mins.
This is a heartfelt, touching film by veteran director/producer Derek Chiu about his homeland, Hong Kong. Cinematically, the territory has lost out in the Chinese market gold-rush; politically, it is troubled and facing into an eternally uncertain future. Chiu ties together Hong Kong's colonial past – namely the little-known and deadly riots of 1967 encouraged by Mao's Red Brigades across the border – and now, as a Special Administrative Region of China, in the aftermath of the Umbrella Revolution.
Set in the border village of Sha Tau Kok in the New Territories, the black-and-white, independently-financed No 1. Chung Ying Street is set up as a mirror, with the same actors playing different characters in 1967, when they faced down the British administration, and 2019, after they have protested China's erosion of their political freedoms. Poignant to watch for anyone who has had contact with the indomitable spirit of Hong Kong and its people, Chiu's film failed to appear in March's Hong Kong International Film Festival and instead played in Osaka, where it won the festival's grand prize, before moving on to Udine this week.
Chiu's lament is an undeniably political piece, although entirely truthful in its picture of a population buffeted by ruling powers which have never had Hong Kong's best interests at heart. No 1. Chung Ying Street currently doesn't have local distribution; should it secure any, it is certainly set to out-perform the more abrasive Ten Years, to which it will be compared. As the Hong Kong film business struggles, both this and last year's Our Time Will Come, by Ann Hui, show how the territory's creative minds are preoccupied by the past and how it plays on an uncertain present. Outside Hong Kong and Southeast Asia, it should continue to play select festivals and although general audiences may struggle with the context of the plot, not helped by time jumps, this is a genuinely moving film.
Set in the leafy "frontier" village of Sha Tau Kok, No 1. Chung Ying Street revisits the largely-forgotten riots of 1967 in British-administered Hong Kong, a time when China agitated for a return to the "homeland" and students, in particular, responded. Bombs were laid, 51 people were killed and almost 2,000 arrested at a time when the Cold War was at its height and tensions were red-hot. In a way, that time dwarfed the Umbrella Movement of 2014, when the territory came to a standstill as descendants of the original protesters agitated for a future after the British packed up in 1997, leaving behind a rackety "Joint Declaration" and an even wobblier concept of "one country two systems".
Yau Hawk Saw (Ten Years) stars initially as the hotheaded Chunmun, a student who joins the 1967 protests with his father and uncle, leaving his friend Lai Wah (Fish Liew) fearful for his future and, ultimately, involved in the struggle. Working with a small budget, art director Fok Tat Wah suggests all the turmoil and passions of 1967 in small spaces and villages that haven't changed much in the intervening years. Cutting to 2019 in the wake of the Umbrella Revolution is perhaps less impressive visually, but Chiu is now more focused on – successfully - bringing the emotion to the fore. The leads have more to work with in the earlier section, but a wonderfully-judged score by the Interzone Collective is able to join the dots in this fragile, courageous film as villagers try to hold onto their ancestral lands in the face of a pinzer-movement of Chinese - and Hong Kong - commercialism.
Production company: Boundary Film Production
International sales: Day Day Creative, daydaycreativelimited@gmail.com
Production design: Fok Tat Wah
Editors: Angie Lam, Josie Tang
Cinematography: Yai Yat Nam
Music: The Interzone Collective
Screenplay: Derek Chiu, Tse Ngo Sheung
Main cast: Fish Liew, Yau Hauk Saw, Lo Chun Yip