Life with Wexford shepherd Orla Barry makes for an entrancing, compact documentary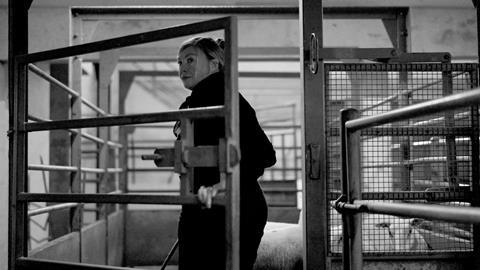 Dir: Cara Holmes. Ireland. 2023. 71mins.
Orla Barry operates on the intersection between art and farming. A hard-working shepherd in rural Wexford, she is also a visual artist creating video and sound installations. Notes From Sheepland offers a beguiling immersion into her life and the tapestry of profound connections she experiences with the animals, the land, the elements, words and language. Funded by an Arts Council of Ireland initiative to support experimental documentaries, it would seem an obvious fit for gallery spaces and screenings but the beautiful images captured by cinematographer Luca Truffarelli and an engaging mixture of the poetic and practical should earn it a wider platform following a world premiere at Dublin.
What happens in Barry's little corner of Ireland becomes a reflection of global events and challenges for everyone
Holmes's compact documentary takes its inspiration from Barry's i-phone 'Sheepland Diary' and her 2019 book 'Shaved Rapunzel, Scheherazade And The Shearing Ram From Arcady'. Barry provides the words in a reflective narration that explains how she returned to her native Ireland after 16 years in Brussels and found purpose in running a farm where she raises a pedigree Lleyn flock. Television audiences who have followed the life of Yorkshire Shepherdess Amanda Owen and arthouse cinema goers who embraced Rams (2015), Woman At War (2018) and The County (2019), among others, should provide a fertile potential market here.
Notes From Sheepland captures a potent sense of the backbreaking work and the rewards that come from raising a flock in all weathers. Barry is seen squelching through mud in rain-sodden fields, mucking out barns, toiling all hours in the lambing season. Sheep are given names and have distinctive personalities. Looking directly at the camera they can appear to be observing us as much as we are watching them.
Personal details are kept to a minimum but Barry clearly gains a sense of calm from her largely solitary life surrounded by sheep, chickens, geese and her trusty sheepdogs. She describes it as "primal care for the soul". It is that tranquility that allows her mind to range and take flight in poems, inscriptions, sound installations, the depiction of language in visual forms and the creation of objects including a selection of crooks carrying the words Gallant Sheep, Innocent Sheep, Karma Sheep etc.
The anger underlying her view of the world occasionally interjects with excerpts from a piece of performance art on global warming or exhortations to stop watching anthropomorphic YouTube videos of animals behaving cutely. A sense of urgency is enhanced by the vibrant, Nymanesque musical score by Verity Susman and Matthew Simms.
There is a steel and hardiness in Barry as she carries on working, creating, wild swimming and wondering how long she can continue now that she is in her 50s. Cara Holmes conveys the appeal of her lifestyle using sweeping drone shots, slow-motion moments, still photography, slides, notebooks and fast-moving montages of her past work and installations. Who couldn't see the appeal in those golden sunsets, peachy, blush-coloured skies, bonfire sparks floating into the black night?
Notes From Sheepland has a streak of light, playful wit in the way it incorporates a stirring performance from the Wexford Male Voice Choir or cuts to Hannah Miller on the farm performing on a range of Alpine horns. There is also something of a lament about the film. Barry is initially told that there is more money to be made growing salad crops than raising sheep. Traditional ways are dying out. Sheep are raised to see the requirements of supermarkets. The fleeces that lie piled high in her barn are not even worth the money that was paid to have them sheared. There no longer seems a market for the wool that once made sweaters and blankets. What happens in her little corner of Ireland becomes a reflection of global events and challenges for everyone.
Production Company / International Sales: Reel Art, caraholmes@gmail.com
Producers: Cara Holmes, Aideen O'Sullivan
Screenplay: Orla Barry
Cinematography: Luca Truffarelli
Editing: Mick Mahon, Cara Holmes
Music: Verity Susman, Matthew Simms