Dir. Peter Middleton, James Spinney. UK. 2016. 87mins.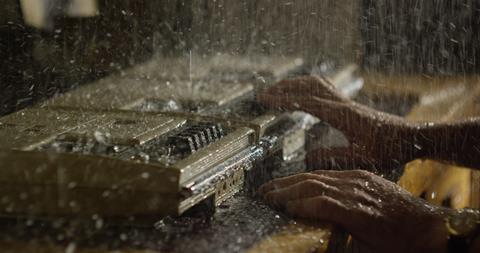 It is often said that the loss of sight can lead to a heightened acuity in the other senses. In the case of the academic and theologian John Hull, who lost his sight in 1983, it wasn't just his other senses which sharpened, but his already brilliant mind. Hull's wisdom, and the agility of his insights as he struggles to make sense of his condition, form the basis of this elegant, evocative and deeply affecting documentary.
"If I didn't understand it, it would defeat me."
The debut feature from award-winning short film directors, Peter Middleton and James Spinney, Notes On Blindness receives its world premiere in Sundance's New Frontiers strand where it plays with a VR sister project, Notes On Blindness: Into Darkness. The combination of the fascinating subject matter and the expressive, almost immersive execution should make this a popular fixture on the festival circuit. Given the relative dearth of cinema which deals intelligently with disability, it is possible that theatrical distributors could benefit from an untapped audience appetite for high quality, thought-provoking works tackling the subject.
Hull's sight loss came on suddenly, shortly after the birth of this first son. His initial response was practical. "I needed serious books, recorded sensibly", he recalls. But after the initial flurry of coping strategies for navigating his work obligations, his spatial environment and his family life, there came a point when he realised that now he had to think about blindness. "If I didn't understand it, it would defeat me."
Hull's studies took the form of audio cassettes onto which he recorded notes on his condition, comprising profound philosophical musings and achingly personal observations (taking place over three years, they have already formed the basis of a book). In them, he explored everything from the religious implications of his condition to the subconscious dream life which rejected his sightlessness to, in one of the most striking sequences of the film, the experience of hearing rainfall. This audio diary, together with more informal recordings of the family made in lieu of letters to his parents, and recent conversations between Hull and his wife Marilyn, form the framework around which the film is assembled.
Delving into the old tapes, Middleton and Spinney have recreated scenes from his life, with actors (Dan Renton Skinner, Simone Kirby) miming to the actual audio recordings. It's a technique which is reminiscent to that of Clio Barnard's The Arbor, however the approach here is gentler and more naturalistic. The visual key comes from an observation that Hull recorded: while his visual memories of his family had started to dissipate, he could still remember photographs with clarity. The filmmakers used vintage Super Baltar lenses and a dusty, slightly brownish colour palette in order capture the sense of aging snapshots from the period.
Eyes – or the absence of them – become an important motif. We see Hull's, sightless, behind redundant spectacles, and capture the expressive glances of his wife. But most of the other characters are framed so that we see their mouths but not their eyes. Middleton and Spinney also evoke Hull's experiences in other ways: meticulous sound design, by Joakim Sundström, is instrumental in creating an aural architecture for Hull's world.
Perhaps the most moving element of the film is Hull's journey from the blindness that he initially regarded as 'a religious crisis' to his acceptance of the condition as a paradoxical gift from God. "not a gift that I want, but a gift nonetheless. The question is, not why have I got it, but what am I going to do with it." Hull was closely involved in the filmmaking process, but passed away at the age of eighty in July 2015, before the project was completed.
Production company: Archer's Mark, 104 Films, Fee Fie Foe Films, Agat Films
International sales: Cinephil philippa@cinephil.com
Producers: Mike Brett, Jo-Jo Ellison, Steve Jamison, Peter Middleton, James Spinney, Alex Usborne
Screenplay: Peter Middleton, James Spinney
Cinematography: Gerry Floyd
Editor: Julian Quantrill
Production design: Damien Creagh
Main cast: Dan Renton Skinner, Simone Kirby