Emmanuelle Devos plays an executive who is head-hunted to be the first woman CEO on France's CAC 40 in a lively and suspenseful drama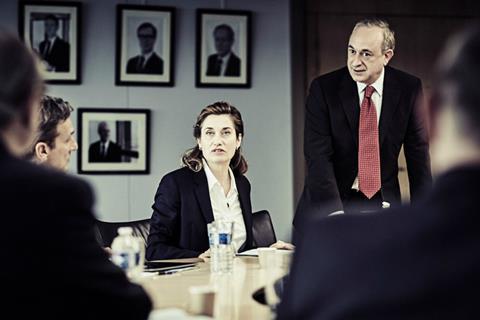 Dir/co-scr: Tonie Marshall. France- Belgium. 2017. 110mins
Wielding an entertainingly sharp narrative scalpel throughout incident-rich Number One, (Numero Une) Tonie Marshall posits that women getting promoted solely on merit is a quaint notion. Set during the year separating the 2016 and 2017 editions of the annual Women's Forum held in the Normandy town of Deauville, this lively and suspenseful ensemble film features a wonderfully modulated turn from Emmanuelle Devos as engineer, executive, wife and mother Emmanuelle Blachey who is head-hunted by a club of ultra-accomplished women to jockey for the about-to-open top spot at a world-class water company – something she would never have thought of or attempted on her own.
There's a genuine aura of intrigue in high places and we get to eavesdrop
Ready-made for arguments and think pieces about ambition and the status of women in the workplace, this is the kind of snappy tale with contemporary relevance that should go over very nicely with non-French viewers.
Well-connected no-nonsense Adrienne Postel-Devaux (Francine Bergé, fantastic) presides over a close-knit circle of impressive can-do women. Adrienne knows that the head of one of France's most important firms is seriously ill and has not anointed a successor. She also knows that silent power brokers will be pushing their favorite candidates and not one of them will be female.
Adrienne and her closest associates – future president of the group Vera Jacob (Suzanne Clement) and Claire Dormoy (Anne Azoulay, terrific) who heads her own PR firm – think Emmanuelle has what it takes to become the first woman CEO of a company on France's CAC 40 stock market index. She's amused and flattered but not interested. Her current responsibilities, which are considerable, suit her.
Blachey not only speaks fluent Chinese – which puts her male superiors and colleagues at an uncomfortable (for them) disadvantage – but she knows how to deploy strategy in their native language when working with important Chinese business partners. But some condescending developments on the French side spur Emmanuelle to consider jumping ship.
Because aiming for the new position wasn't Emmanuelle's own idea, her doubts and bouts of ambivalence are that much more interesting. She knows that she's good at what she does, she just never got around to aiming sky high until other women decided to give her a boost.
Emmanuelle has a sparring relationship with her father (Sami Frey), a retired philosophy professor who loves his daughter but has never valued the sort of success she has earned. He's currently in the hospital, adding to the stress Emmanuelle seems to handle well, although she does reach for pills now and then. "If there's water in faucets" it's because of the water distribution firm with 10,000 employees she will be running if all goes according to plan, Emmanuelle tells her dad. If he's impressed he doesn't let on.
Benjamin Biolay is great fun to watch as Marc, a smooth operator who has the goods on everybody, seduces women with ease but is thinking of breaking free from his subordinate role with power broker Jean Beaumel (Richard Berry).
Despite non-stop obligations, Blachey is a good mother to her young daughter. Her husband of 20 years (John Lynch) has a high-flying career of his own but here – in a nice touch – is relegated to the role female characters traditionally play in movies. His part isn't very big. When we do see him he's often upset or dissatisfied and he's not nearly as well-written as his wife is.
Taken-for-granted luxury is everywhere: gorgeous apartments, ornate government offices, the Opera. But the machinations underway in exquisite settings are often, in contrast, down and dirty.
It takes more than boasting the qualifications and determination to rise to the top – strategic relationships and having a bit of irrefutable dirt on powerful people are part of any arsenal. Since extra-marital dalliances aren't the career-breakers they can be in say, the US or the UK, French adversaries have to dig deeper to damage or outsmart each other. There's a genuine aura of intrigue in high places and we get to eavesdrop.
For the record, Marshall is the only woman ever to have won the Best Director Cesar – for Venus Beauty Institute, the film that put young Audrey Tautou on the map.
Production companies: Tabo Tabo Films, Versus Production, France3, CN7 Productions, VOO and Be TV, Noodles Production
International sales: Pyramide International sales@pyramidefilms.com
Producers: Tonie Marshall, Véronique Zerdoun
Screenplay: Tonie Marshall, Marion Doussot in collaboration with Raphaëlle Becqué
Cinematography: Julien Roux
Editor: Marie-Pierre Frappier
Production design: Anna Falguères
Music: Mike Kourtzer, Fabien Kourtzer
Main cast: Emmanuelle Devos, Suzanne Clement, Richard Berry, Sami Frey, Benjamin Biolay, Francine Bergé, Anne Azoulay, John Lynch