Oleg Sentsov's stage play is reimagined for the screen in its first-ever public outing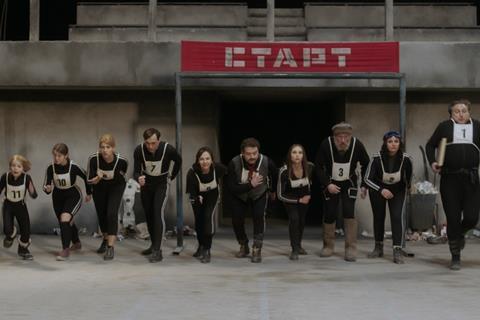 Dir: Oleg Sentsov, in collaboration with Akhtem Seitablaiev. Ukraine/Poland/Czech Republic/France. 2020. 100 mins
If ever a film's backstory was relevant to place in context, it is here. Ukrainian filmmaker Oleg Sentsov directed this dystopian fable from a Russian prison following his detention for planning terrorist acts, a sentence widely condemned as political in nature. He did so largely via notes passed to his lawyer, which were given cinematic form by his directorial stand-in Akhtem Seitablaiev. So Numbers' major flaw – that it's a curiously dated kind of Orwellian parable that comes across at times like a rather earnest school play – is tempered by the fact that Sentsov was himself an unwilling player in an autocratic theatre of the absurd performance for almost five years, until his release as part of a prisoner swap in September 2019.
There are shades of Lars Von Trier's Dogville or Mandalay in Sentsov's decision to keep the theatrical feel in this adaptation of his never-performed theatre work
The copy of Numbers that screened at its Berlinale premiere opened with a video message from Sentsov, as if in recognition of the indissoluble link between artist and work. It's a link that will not hurt the film's search for an audience. But there's a more interesting reason why Numbers might reach out internationally, possibly via VOD platforms – the fact that the world may be starting to need stark, simplistic, over-acted message films like this one once again. As Sentsov freely admits in that video prologue, "this is not only a film – it's also a manifesto of sorts".
The staginess of Numbers derives at least in part from the fact that it's based on a play Sentsov wrote around ten years ago, well before the 2014 Ukrainian Revolution and the Russian annexation of the director's Crimean homeland. There are shades of Lars Von Trier's Dogville or Mandalay in Sentsov's decision to keep the theatrical feel in this adaptation of his never-performed work.
The action is entirely set on a concrete stage that is also a kind of small rectangular arena, with banked seating. Here, ten characters identified only by the numbers they wear tied to their one-piece tracksuits are watched over by two mute, gun-toting 'Judges' dressed in the futuristic Fascist uniforms. There's a hierarchy within the group, with fearful petty bureaucrat First guarding the book of regulations that govern this small community's daily rituals – which include strictly scheduled feeding sessions during which they all have to run around in circles, and a daily race, called 'the start', in which First always comes first, Second second… and Tenth last.
Odds are male and evens female, with each paired in strict numeric order – so First (Oleksandr Yorema) is with the scheming gossip Second (Irinya Mak), while the bumbling, elderly Third (Viktor Zhdanov) is the official partner of curvaceous brunette Fourth (Lorena Kolibabchuk). Who the casting director with the warped sense of humour might be is soon revealed when the camera cranes up to reveal a boxy metal living room suspended over the stage on a lighting gantry, where the slobbish Zero – the god the ten fear but cannot see – watches the goings-on below distractedly, occasionally communicating his wrath via silver-foil thunderbolts or calling in orders to the Judges on a vintage telephone. We'd be straying into Truman Show territory if Zero weren't so pathetic – as it is, he most reminds us of that sad charlatan the Wizard of Oz, but without any of the latter's pathos.
Rebels against the system Seventh (Evhen Chernykov) and Ninth (Oleksandr Begma) are at the core of a five-act allegory that culminates in a not exactly unpredictable ironic epilogue, staged as an infernal dance straight out of a 1990s pop video. The even women and odd men are separated by a fence at night (an artificial night, of course, created by Zero's masking of the stage spotlights), but encounters still take place – like the tryst between Seventh and Fourth that will lead to the arrival of a small disruptor in a wicker basket, who is christened, naturally, Eleventh.
We're left to speculate whether the submissive lack of agency of the female characters is part of the film's message about the way repressive societies encourage their citizens to self-censor. One other issue with Numbers is that there's no consistency to the acting styles, with Second and Fourth simpering stagily for all they're worth, while Agatha Larionova as Seventh's partner, the lovelorn Eighth, gives a much more naturalistic performance.
At times, the comic allegory verges on slapstick, while at others it's more incisive – especially in a fourth act during which a messianic Eleventh, now all grown up, tries to pass himself off as the Son of Zero. Just occasionally, as in a tender scene between the imprisoned Ninth and his partner Tenth, real drama peeps through the hammed-up veneer. Veering between jaunty circus-style music dominated by strident brass and percussion and more sentimental piano breaks, the soundtrack seems equally in the throes of an identity crisis. But for all its tonal wobbles, Numbers, if taken purely as a cinematic manifesto about totalitarianism, works just fine, even smuggling in a few subtle points among its broader targets.
Production companies: 435 Films, Apple Film Production
International sales: Latido Films, latido@latidofilms.com
Producers: Anna Palenchuk, Violetta Kaminska, Dariusz Jablonski, Izabela Wojcik
Screenplay: Oleg Sentsov
Director: Oleg Sentsov in collaboration with Akhtem Seitablaiev
Production design: Kirill Shulavov
Editing: Jaroslaw Kaminski
Cinematography: Adam Sikora
Music: Milosh Elich
Main cast: Evhen Chernykov, Agatha Larionova, Oleksandr Begma, Maksym Devizorov, Iryna Mak, Oleksandr Yarema, Viktor Zhdanov, Lorena Kolibabchuk, Denys Rodnianskyi, Olena Uzliuk, Mariia Smolyakova, Evhen Lebedin, Viktor Andrienko