Basil Da Cunha's impressive second feature is set in the slowly gentrifying Reboleira district of Lisbon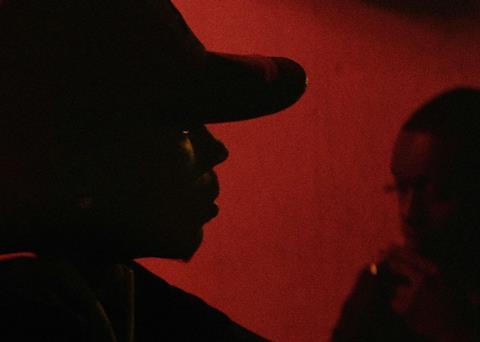 Dir: Basil Da Cunha. Switzerland. 2019. 107 mins
Basil Da Cunha continues to draw inspiration from the urban jungle of Lisbon's Reboleira slums in his second feature O Fim Do Mundo. The story of a prodigal son's return to the neighbourhood reflects bigger truths about the poverty, violence and deprivation that are endemic. The result is an accomplished, immersive drama that confirms the filmmaking talent that was evident in Da Cunha's 2013 debut After The Night. Festival invitations and theatrical interest shall surely follow.
This is a dog-eat-dog place where one wrong word can turn friends to adversaries, where gossip hurts and reputation is everything.
Spira (Michael Spencer) returns to Reboleira after eight years in a juvenile detention centre. Nothing appears to have changed apart from himself. Old friends Chandi (Alexandre De Costa Fonseca) and Giovanni (Marco Joel Fernandes) find him more guarded and prone to introspection. His ghost-like presence silently condemn streets where rubbish has gathered uncollected for the past two months. He observes houses being demolished with no concern for the fate of the inhabitants. It may not be the end of Reboleira but it could be the beginning of the end as it falls victim to gentrification.
Da Cunha has clearly spent a good deal of time in Reboleira and won the trust of those who appear in the film. He has a fantastic eye for faces and presents a gallery of youthful defiance and middle-aged resignation, etched on gnarled features, scarred by the battle to make it through another week. He really seems to immerse the viewers in the sights and sounds of the community and capture its complex, powderkeg atmosphere. This is a dog-eat-dog place where one wrong word can turn friends to adversaries, where gossip hurts and reputation is everything.
Da Cuhna and fellow cinematographer Rui Xavier capture a burnished vision of Reboleira as a place where daylight is never seen. Shadowy night streets filled with menace could grace any film noir. A sickly orange glow seems to hang over the neighbourhood, broken by pools of citrusy lime and lemon seeping from homes.
The taciturn Spira is attracted to Iara (Iara Cristina Cardoso), a young woman who already has a baby son. His constant presence in her life is supposedly enough to make his intentions known. Michael Spencer plays the character with the poise and presence of a prizefighter, his sleepy eyes never miss a trick and are set to seduce. He will do anything to impress Iara regardless of who might suffer in the process. We witness his violent acts but also see the sensitivity concealed beneath the macho facade expected of him and the menfolk of Reboleira.
The story of a maverick tough guy's swaggering independence has been a Hollywood crime film staple from James Cagney to Al Pacino. Basil Da Cunha's command of craft and commitment to authenticity lends a distinctive, compelling edge to O Fim Do Mundo, drawing us into a fully realised world. The film starts with a baptism and ends with a funeral procession, underlining the sense of Reboleira as a place where hope is born and just as surely is destined to die.
Production company: Thera Production, RTS Radio Television Suisse
International sales: Wide Management infos@widemanagement.com
Producers: Julien Rouyet, Kaspar Schiltknecht
Screenplay: Basil Da Cunha, Saadi, Martin Drouot
Editing: Basil Da Cunha, Jean Reusser, Kostas Makrinos,Ines Gracia Marques, Irina Lobo Fortuna
Cinematography: Basil Da Cunha, Rui Xavier
Main cast: Michael Spencer, Marco Joel Fernandes, Alexandra De Costa Fonseca.