Dir.Walt Becker. US. 2009. 89 mins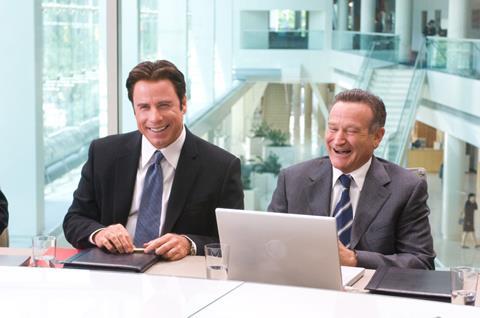 There are no new tricks in Old Dogs, a broad and frenetic family comedy which puts John Travolta and Robin Williams together with two cute kids in a cozily predictable family-comes-first scenario.
The supporting cast members overact even more than the stars.
Reuniting Travolta with his Wild Hogs director Walt Becker, this Disney romp will be aiming for the same kind of audience as that surprise 2007 hit, though this time the demographic will be a little younger and female. Dogs may not be able to match Hogs' $250-plus global take but it should still do good business, at the theatrical box office and especially in ancillary markets.
The mix of humour and schmaltz will undoubtedly work best in North America (Wild Hogs earned two thirds of its tally domestically), where the film opens, with a PG rating, at the start of the long Thanksgiving weekend. Th film's star pairing and undemanding style should suit the mood of holiday audiences.
Neither Travolta nor Williams is performing at their peak internationally, so the package is likely to be a tougher sell outside the US, where openings take place either side of Christmas.
The script, by David Diamond and David Weissman, combines elements from two familiar set-ups: the buddy comedy and the unlikely-dad dramedy.
Travolta's fun-loving bachelor Charlie and Williams' hapless divorcee Dan are lifelong best friends but a bit of an odd couple, in life and as partners in their sports marketing firm. Just as they are negotiating a career-making deal with a Japanese company, Dan gets a surprise visit from old flame Vicki (Travolta's wife Kelly Preston).
Dan, it turns out, is the unsuspecting father of twin seven-year-olds Zach (Connor Rayburn) and Emily (Travolta's daughter Ella Bleu, making her feature debut). And thanks to a hard-to-swallow plot contrivance, the children have to be left in the temporary care of their newly discovered dad.
The comedy is pretty basic stuff, with scatological jokes for the kids and well-worn slapstick for the adults. Even though the quality is not particularly high, though, the quantity is impressive: rather than milking any one set-up Becker keeps throwing new situations and characters at the audience, giving the first half of the film an energetic if somewhat desperate feel.
Among the secondary characters that appear briefly and to varying effect are Charlie and Dan's ambitious protégé Craig (Seth Green); an unbalanced scout master (Matt Dillon); an emotional grief counsellor (Ann -Margaret); Vicki's cross-eyed best friend (Rita Wilson); and an outrageous puppeteer (the late Bernie Mac). The supporting cast members overact even more than the stars.
The warmth and fuzziness comes from the developing relationship between Dan and his children (though there's also an adorable dog whose cocked head is used frequently to emphasise gags). But the supposedly touching moments often feel manufactured and before long the film reverts back to slapstick for a finale where a zoo setting allows for an additional dose of cuteness in the shape of more animal characters.
To sign up for Screen's weekly Reviews Newsletter with all the week's new releases, international openings and full festival reviews delivered free to your mailbox every Friday, please click HERE
Production companies
Walt Disney Pictures
Tapestry Films
Worldwide distribution
Walt Disney
Producers
Andrew Panay
Robert L Levy
Peter Abrams
Screenplay
David Diamond & David Weissman
Cinematography
Jeffrey L Kimball
Production design
David Gropman
Editors
Tom Lewis
Ryan Folsey
Costume design
Joseph G Aulisi
Music
John Debney
Main cast
John Travolta
Robin Williams
Kelly Preston
Seth Green
Ella Bleu Travolta
Conner Rayburn