Life mirrors art in Hong Sangsoo's latest meditation, about a director who has an affair with an actress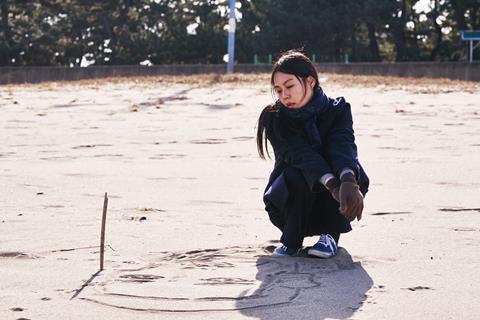 Dir/scr: Hong Sangsoo. South Korea, 2017. 101mins.
Discussing life and love over copious amounts of alcohol is nothing new when it comes to the work of Hong Sangsoo, but the striking similarities between this film - about an actress who has an affair with a married film director - and the intense local speculation surrounding Hong's own private life distinguishes it from the renowned auteur's other work.
Unsurprisingly, On the Beach at Night Alone doesn't attempt to offer any answers.
International viewers unaware of the media attention in the Korean press will inevitably read this film, which is set in Hamburg for the first half hour, in a different light. It clearly lacks the the formal layers of his other work, for example, and its structure is weak. But once Hong is back on home soil, the awkward encounters and conversations become more fascinating, especially as he has cast the actress in question in the lead role. This apparently self-reflexive twist will delight his fans.
In Hamburg, Korean actress Young-hee (The Handmaiden's Kim Min-hee) is avoiding the spotlight, having had an affair with a married man. She walks around the German city talking to a friend about her feelings for this man, and wondering whether he will come and visit her in Europe. They both encounter locals, including a man who runs a bookshop.
The film's second chapter is set in the town of Gangneung, on Korea's East coast, where Young-hee comes to meet her friends, still unsure what to do given the feelings she has for this married man. who happens to be a film-maker. That's aside from the rampant rumours which are circulating in the media about their relationship.
As with many of Hong's features, when the Korean liquor (Soju and Makgeolli) starts flowing, some of the most memorable scenes are delivered. This includes a ten-minute conversation between Young-hee and her friends about love which involves laughter, insults and even kissing that almost appears spontaneous yet is likely to have been carefully constructed under Hong's unorthodox direction.
In another sequence, when Young-hee has dinner with the film-maker and his crew (which later appears to be a dream after she falls asleep on the beach), the director (played by Moon Sung-keun) even shares a physical resemblance to Hong. It is an intense and awkward scene as the film-maker and Young-hee struggle with their feelings, but Hong also engages in self-parody. When asked by Young-hee how he will go about making his next film, he responds, "just as the thought comes to me. To not set anything in advance. So I shoot the first scene and go where it takes me."
Unsurprisingly, On the Beach at Night Alone doesn't attempt to offer any answers. Love is an abstract concept that is discussed between the lovers, often in a heated manner, but Hong refuses to offer resolutions as Young-hee remains conflicted and alone on a beach.
The film's long takes and occasional zooming are characteristic of Hong's work, which inevitably makes it harder on the actors but Kim Min-hee, especially, gives another stellar performance following recent roles in Park Chan-wook's The Handmaiden and Hong's last film Right Now, Wrong Then.
Hong's pictures often feel like narrative puzzles, but this is certainly less so in On The Beach At Night Alone, which is more linear in terms of its storytelling as it focuses on the film's central protagonist. As such, the film is sympathetic to this character as she finds herself in isolation, which some may interpret as a response to the scandal that has put both director and Kim in the public spotlight even though the film was shot before news of their alleged affair broke.
Production Company: Jeonwonsa Film Co.
International sales: Finecut (cineinfo@finecut.co.kr)
Producer: Hong Sangsoo
Cinematography: Kim Hyung-koo, Park Hong-yeol
Editor: Hahm Sung-won
Main cast: Kim Min-hee, Seo Young-hwa, Jung Jae-young, Moon Sung-keun, Kwon Hae-hyo, Song Seon-mi, Ahn Jae-hong