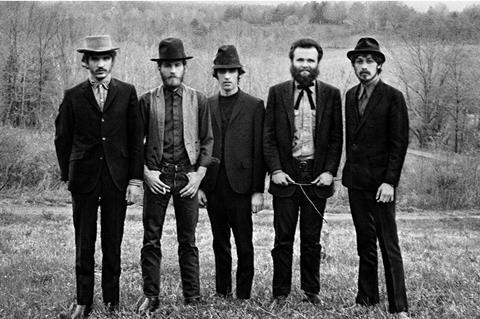 Dir: Daniel Roher. Canada. 2019. 100mins
The mythology of The Band has often been as potent as its music — this mystical image of woodsy troubadours singing romantic tunes about a fabled American past, even if the principal songwriter was actually Canadian. Perhaps not surprisingly then, the likeable, nostalgic Once Were Brothers is heavy on both The Band's artistry and its lore, told from the perspective of Robbie Robertson, who has long been the group's leader and flag-bearer. This conventional rock-doc is light on new insights — and its focus on Robertson's viewpoint short-changes his former bandmates in this often-contentious group — but it tells its story with considerable affection.
Robertson, now 76, walks us through The Band's history, and he's an engaging if slightly pompous figure, always mindful to frame his reminiscences with maximum significance.
Toronto's Opening Night Film will appeal to aging rock fans or those curious about a band whose debut album arrived 51 years ago. And considering The Last Waltz's status as a beloved concert documentary, there should be a receptive audience for this addition to the group's cinematic catalogue.
Inspired by Robertson's recent memoir Testimony, director Daniel Roher (Ghosts Of Our Forest) recounts the songwriter's journey from Canada, where he was an only child transfixed by rock 'n' roll, to the American South, eventually hooking up with the musicians who would form The Band. At first, Robertson felt he had found a true brotherhood, but soon addiction and bitterness take their toll.
Once Were Brothers' narrative isn't that different from so many other musical acts — success often comes with unexpected downsides — but The Band's origin story remains a compelling one. Back when psychedelic rock and Summer Of Love good vibes pervaded hippie culture, the late-1960s records Music From Big Pink and The Band offered a stark counterbalance: these humble, earthy songs of community and loss, drawing from old-fashioned styles like country and blues, seemed to emanate from a mysterious, distant land.
Robertson, now 76, walks us through The Band's history, and he's an engaging if slightly pompous figure, always mindful to frame his reminiscences with maximum significance. Once Were Brothers also makes room for testimonials from artists like Bruce Springsteen and Eric Clapton, but although their observations aren't particularly enlightening — outside of Last Waltz director Martin Scorsese's comparison of the group's music to 19th century American literature — these supplemental talking heads keep the film from being so dominated by Robertson's presence.
Of course, the documentary's biased viewpoint is inevitable considering that Band members Rick Danko, Levon Helm and Richard Manuel have all died. (Surviving band mate Garth Hudson apparently chose not to participate.) Once Were Brothers tends to place Robertson in a positive light, while blaming friction on others' drug use and jealousy of his stardom. A richer, better documentary would have been more scrutinising instead of accepting Robertson's account of events.
Still, one of The Band's central fascinations has always been how this group of likeminded, bonded brothers could tear apart, leaving only animosity (and great music) in its wake. Roher is generous in his inclusion of deathless tunes such as "Up On Cripple Creek" and "The Weight," reminding us once again how that medley of beautiful, rugged voices brought such stirring sentiments to life. But like Robertson himself, Once Were Brothers is probably too hung up on the legend — the music is legendary enough.
Production company: White Pine Pictures
International sales: Endeavor Content, lcopland@endeavorcontent.com
Producers: Stephen Paniccia, Andrew Munger, Sam Sutherland, Lana Belle Mauro
Editing: Eamonn O'Connor, Daniel Roher
Cinematography: Kiarash Sadigh